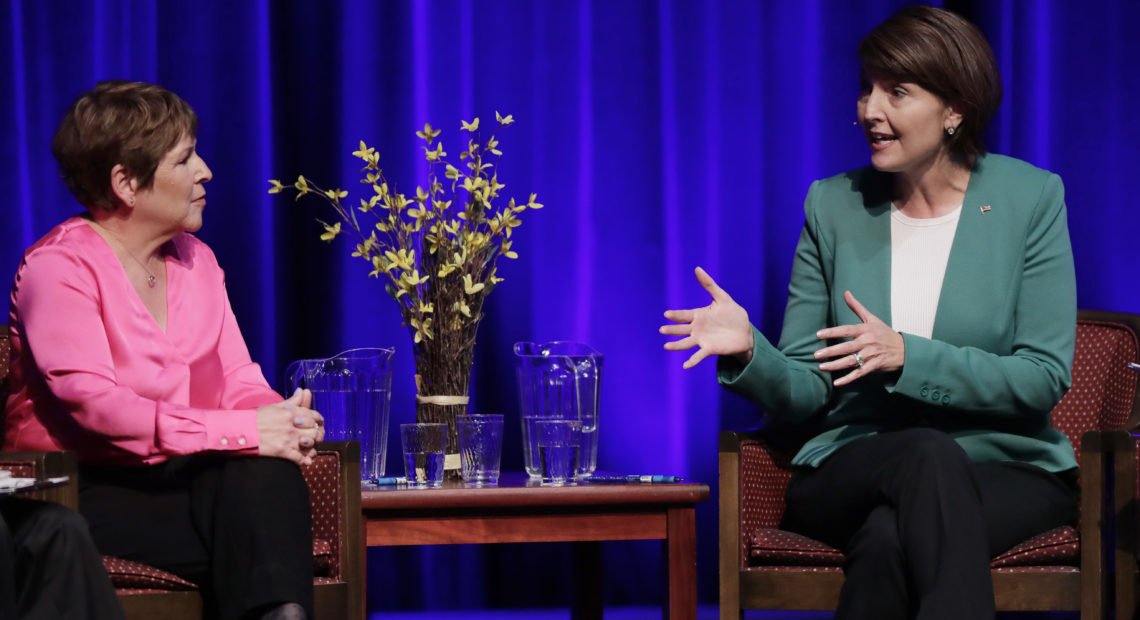 Fact Check: Cathy McMorris Rodgers' Tuition Increase Claim Against Lisa Brown Inaccurate
BY NICHOLAS GERANIOS / AP
In a tight race for Washington State's 5th Congressional District, Republican U.S. Rep. Cathy McMorris Rodgers contends in a television ad that her Democratic opponent Lisa Brown voted to raise college tuition in Washington by more than 80 percent while serving as a state lawmaker.
High college tuition rates are a major concern for many voters in Washington. Tuition at the University of Washington and Washington State University rose from about $5,000 per year in 2004 to nearly $12,000 a year in 2014. That figure has declined slightly as the state has provided more money for higher education in recent years.
McMorris Rodgers, the highest-ranking Republican woman in the House, is seeking an eighth term and faces her toughest re-election challenge since winning an open seat in 2004. Brown served in the Legislature from 1993 until 2013, when she stepped down to become chancellor of Washington State University's Spokane branch. Brown has made college affordability an important part of her campaign.
A look at McMorris Rodgers' claim:
MCMORRIS RODGERS CAMPAIGN AD: "Lisa Brown voted to raise college tuition by over 80 percent."
THE FACTS: The claim is inaccurate. There was no single vote or action by lawmakers to increase tuition by more than 80 percent. However, it's true that tuition rates did rise by that much while Brown was serving in the Legislature.
Under Washington law, state tuition rates are set by the board of regents for each of the state universities. The boards determine tuition rates based on how much the state puts toward higher education each year.
The tuition increases were incremental over a period of about a decade — with increases averaging just under 10 percent a year — as state higher education budgets declined. Figures provided by the state show tuition at Washington and Washington State rose 81 percent between the 2006-07 and 2012-13 enrollment years, when Brown was in office.
However, Brown did not vote directly for those tuition increases.
"Lawmakers do not set tuition rates," Brown's campaign said. She did, however, vote for state budgets that cut funding for higher education, leading to tuition increases.
Copyright 2018 Associated Press