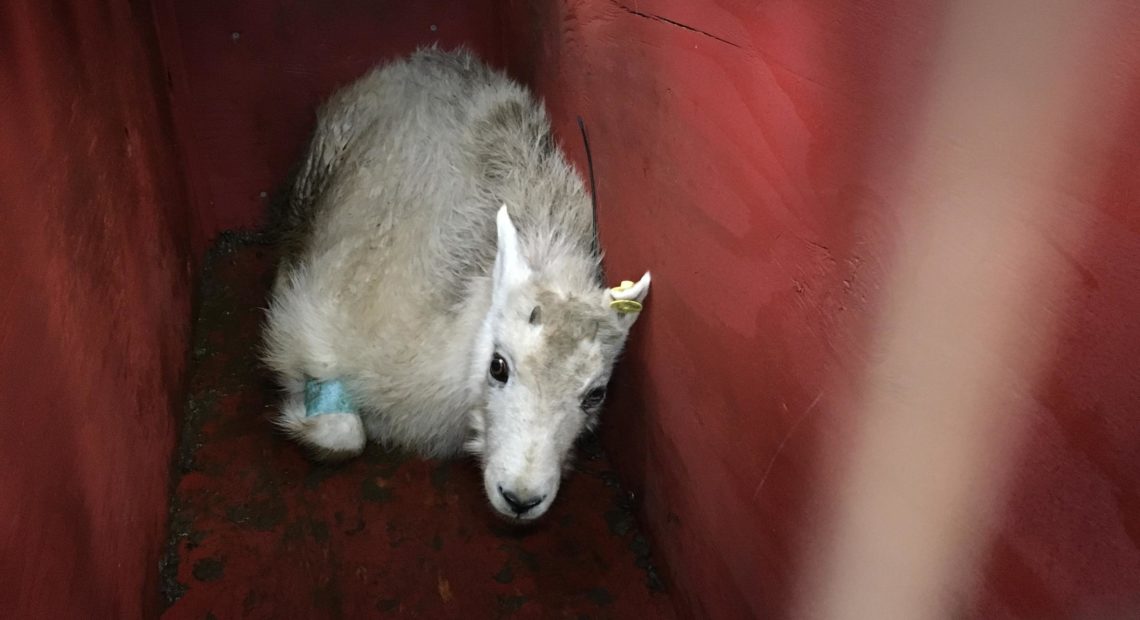 Nearly 100 Olympic Mountain Goats Moved To North Cascades; 11 Dead After First Relocation
The eye-catching scenes of mountain goats flying through the air under helicopters, riding in refrigerated trucks and taking ferries to new homes are done for the year. Roundups and relocations of non-native Olympic National Park goats will resume next year.
Over the past two weeks, biologists captured 115 of the woolly wild animals for transfer to the North Cascades. Mountain goats are native to the North Cascades, but depleted there — just the opposite of the glut of exotic goats in the Olympic Range. A joint statement from the National Park Service, U.S. Forest Service and Washington Department of Fish & Wildlife called the initial relocations a "success." Two more roundup periods are planned next year with possibly more in 2020.
Good morning! May your Thursday start as smoothly as these mountain goats being airlifted from Olympic National Park. pic.twitter.com/INUhrpxPUP

— KUOW Public Radio (@KUOW) September 13, 2018
"I am cautiously optimistic," added state wildlife biologist Rich Harris in an interview Thursday. "Ultimately, it will be a few years before we really know how we've done."
Harris was looking at satellite GPS tracking signals on his computer as he spoke to public radio. Nearly three-quarters of the captured mountain goats were fitted with tracking collars before their release into new terrain.
"They split up and they are exploring, and in time, we believe that a sufficient number will find each other — particuarly in the breeding season — to produce new offspring," Harris said.
Olympic National Park and the surrounding national forest are home to an estimated 700 mountain goats currently. The park service wants to remove all of the herds. A management plan that was years in the making contemplates killing the mountain goats that evade capture.
Mountain goats were originally introduced to the Olympic Range by a sportsmen's group in the 1920s. They were ticketed for removal for damaging the fragile alpine environment and occasionally menacing hikers. In 2010, an Olympic Peninsula man bled to death after being gored by an aggressive mountain goat on a popular hiking trail.
Wildlife biologists aboard a chartered helicopter used tranquilizer darts and net guns to capture mountain goats on the high ridges of Olympic National Park. Eight mountain goats died during capture or transport in this year's operation.
Three more goats were were put down because they either showed signs of a disease or were known to be aggressive toward humans. Another six youngsters got separated from their mothers. The agencies placed those orphaned goat kids at the Northwest Trek Wildlife Park near Eatonville, Washington. After accounting for those subtractions, 98 Olympic mountain goats were set free in the northern Cascade Mountains.
The state-federal joint statement said translocated mountain goats were released in five remote areas stretching from the Seattle Public Utilities-owned Cedar River Watershed headwaters, to the Okanogan-Wenatchee National Forest and by several alpine peaks on the Darrington District of the Mount Baker-Snoqualmie National Forest.
Harris said he believes there have been two mortalities post-release based on GPS collar signals that have stopped moving.
"Sometimes it's inevitable," he said, and then added that this year's inital translocation operation will be analyzed in order to make improvements for next year.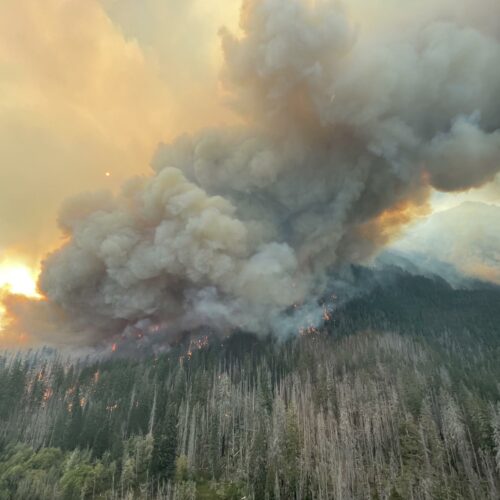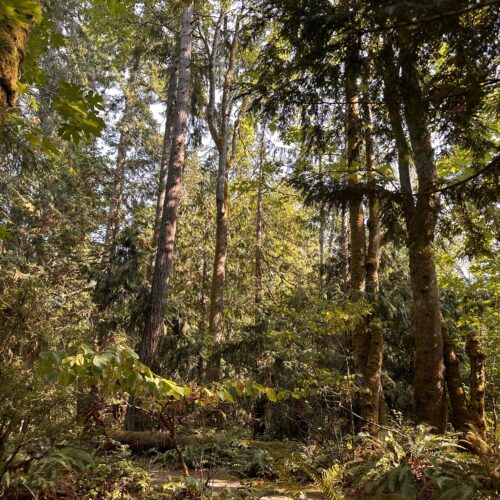 Moss drapes over trees in Olympic National Park like the table dressings of fairies and the blankets of sprites. This place inspires writers — from amateurs to poets to public radio reporters — and welcomes visitors each year into its majesty.
Our national parks tend to do that; be places of awe-inspiring beauty, great adventures through bushwhacking and overnights surrounded by stars, or casual days trips on paved roads for vehicle passengers to marvel at the great outdoors from the comfort of a sedan. Continue Reading Tales of the forests through which we tromp