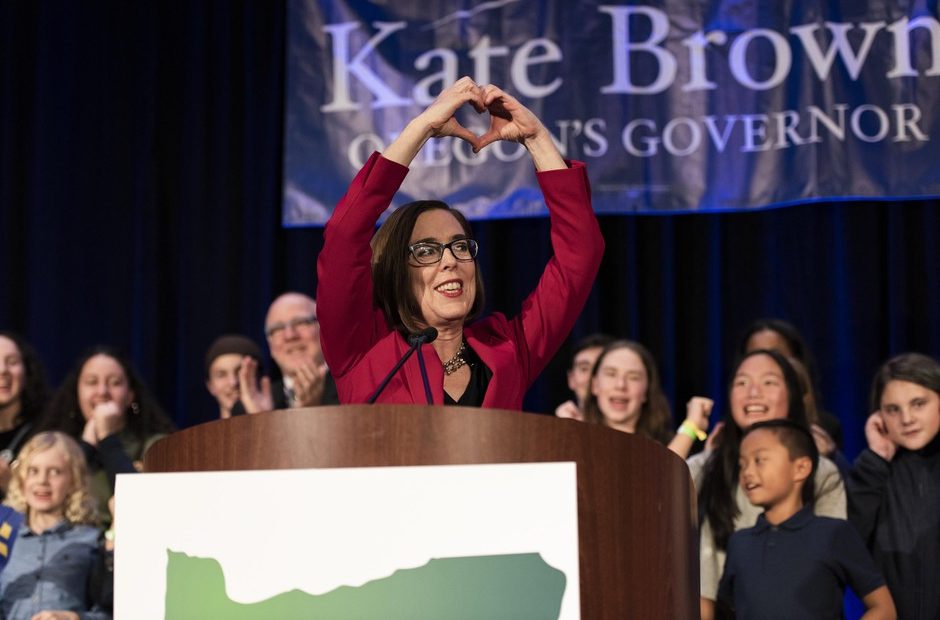 Oregon Re-Elects Kate Brown As Governor
BY LAUREN DAKE & DIRK VANDERHART
emocratic Gov. Kate Brown defeated Republican state Rep. Knute Buehler in the race to see who will hold Oregon's highest office.
Buehler conceded the race shortly after initial returns Tuesday.
"Tonight I lost the election, but I do think this competitive governor's race has made all of us better. Democracy has won. Competition is good for all of us," he said.
Delivering her victory speech Tuesday night at the Hilton hotel in downtown Portland, Brown said the election sent a clear message about the state's priorities.
"We're going to fight to protect our air, our water, our pristine coastline, no matter what the federal government does," Brown said to the cheering crowd.
Shortly after Brown's victory, U.S. Sen. Ron Wyden, D-Ore., took the stage and said the governor will work to "fight dark money" and make changes to campaign finance laws.
Voters showed tonight that the "Oregon way is the better way," Wyden said.
In her bid for re-election, Brown was forced to defend her work on the state's education and foster care systems and her reaction to growing housing and pension crises. At times, she was so busy playing defense she struggled to define her own progressive message and tout those credentials: During her time in office, she has pushed through a minimum wage hike, expanded access of reproductive health care and strengthened the state's gun laws.
Despite those challenges, early returns showed Brown with 50 percent of the vote as she worked toward her first full four-year term. She won a special election in 2016 to fill the remaining two years of former Gov. John Kitzhaber's term. 
Buehler stood at about 44 percent of the vote as of 9 p.m Tuesday.
The race in Oregon drew increasing national attention in recent weeks for its unusual nature: Despite the expectation of a strong Democratic showing nationwide, polling consistently showed Brown had only a slight edge over Buehler. Brown likely received help from an energized turnout among Democrats eager to send a message to Washington, D.C. But, her team said, they also deployed a strong field operation.
Brown worked to align Buehler to President Donald Trump and national Republican politics. She questioned Buehler's commitment to expanding access to reproductive health care and hammered his decision to not release his full tax returns; advocates for Brown also criticized him for taking large donations from one donor, Nike co-founder Phil Knight.
"No one person should be able to buy the governor's office," Brown said in reference to the massive donations. "We need to fight for campaign finance reform and I will lead that fight."
Buehler slammed Brown during the campaign for what he described as her disinterest in meaningfully improving Oregon's educational outcomes in a race that took place largely in TV advertisements and took on a decidedly negative tone by its final weeks.
Buehler pledged to square off with the state's influential public-sector labor unions and slash costs for the state's public pension system. Brown said those fixes would rob state workers of a big portion of their retirements, and promoted more incremental steps.
Still the candidates agreed on much — a key strategy for Buehler, who portrayed himself as a moderate Republican on social issues such as abortion and LGTBQ rights and called himself "the most conservative person who can win in the state of Oregon." The Republican's campaign ads frequently touted his pro-choice positions, his belief in climate change and past votes in favor gun control.
With Brown's win, the chances of Oregon Democrats addressing climate change and pushing through a cap-and-trade program to curb carbon emissions increase. Brown has also signaled she plans to push strengthening the state's gun laws.
Brown has been a fixture in Salem since the 1990s.
She was a lobbyist for the Women's Rights Coalition when she was appointed to a vacant House seat in 1991. Several years later, she was elected to the state Senate and became the first woman to serve as the Senate Minority Leader.
Brown was first elected to the secretary of state's office in 2008. Brown has defeated Buehler once before, when the two faced each other in the 2012 race for secretary of state.
While serving as secretary of state, Brown pushed a bill to automatically register Oregonians to vote when they get their driver's license at the DMV. She signed that bill into law as governor, making Oregon the first in the nation to have such a law. Since it's been enacted, voter registration numbers have climbed and it's widely been considered a success.
Brown is married to Dan Little and has two stepchildren. She identifies as bisexual and was hailed as the first openly bisexual governor in the nation.
Buehler, who is an orthopedic surgeon in Bend, was hoping to ride his moderate voting record and a pledge to bring new leadership to become the first Republican to win the state governor's office in 36 years.
Instead, Buehler's immediate future was in the air Tuesday night. He'd suspended his surgery practice to run for governor, and his term in the Legislature is up in January. 
"When I started this over a year ago, I burned every bridge in my personal career," Buehler told supporters. "I have no idea — truly no idea — what the future holds for me. Pretty sure now I know that it starts with a vacation, but other than that…"
This was the most expensive governor's race in state history. In addition to head-turning donations from Knight, who poured an unprecedented $2.5 million into Buehler's campaign and gave $1 million to the Republican Governor's Association, Brown received large donations from national groups such as the political action committee Emily's List, the Democratic Governors Association and labor unions.