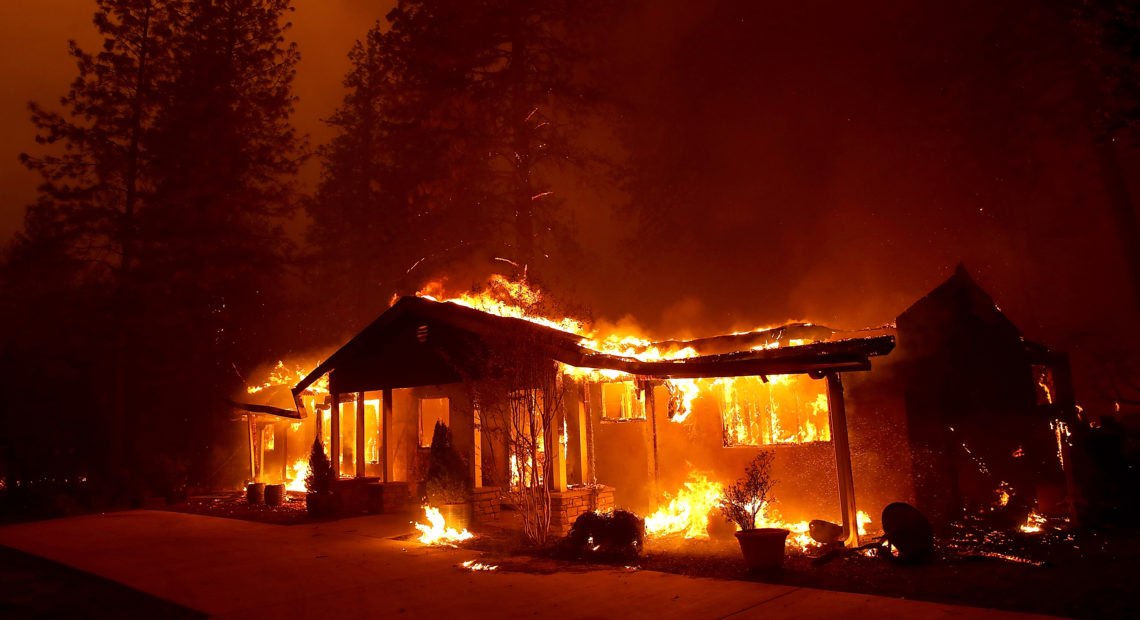 Paradise Lost: Northern California Town Destroyed By Fire, At Least 29 Dead, 6,000+ Structures Burned
BY EZRA DAVID ROMERO, SASHA INGBER, CHRIS HAGAN, RICHARD GONZALEZ, COLIN DWYER, EMMA BOWMAN & BILL CHAPPELL
UPDATE, Nov. 12, 2018:
Wildfires continued to tear through Northern and Southern California on Monday, where firefighters were at the mercy of dry air and whipping winds fanning the deadly blazes. At least 31 people have died statewide (29 in the northern California Camp Fire, 2 in the south  near Malibu); more than 200 remain unaccounted for.
Authorities in Northern California said six more bodies were found in the scorched path of what officials call the Camp Fire, which earlier was blamed for 23 deaths. Two people have been reported dead in a fire zone of Southern California.
As of Sunday night, the Camp Fire was only 25 percent contained at 113,000 acres (177 square miles), the Butte County Fire Department and the California Department of Forestry and Fire Protection said in a Sunday evening joint news conference. More than 4,500 personnel were working to combat it.
According to authorities, 52,000 people have evacuated the Camp Fire area and 1,385 people are in shelters.
Authorities have yet to account for 228 people.
Many people who were first reported missing have since been found in shelters, Butte County Sheriff Kory Honea said. "We're working with shelters to try to get that information so that we can resolve those cases, but there has been some difficulty," he said.
His office has established additional hotlines for those trying to locate their loved ones.
UPDATE, Nov. 11, 2018:
The Camp Fire blaze in northern California erupted Thursday, Nov. 8, devastating the town of Paradise.
In addition to the nine previously confirmed fatalities, Butte County Sheriff Kory Honea said in a press briefing Saturday, 14 more bodies have been found, bringing the total dead to 23 in the north of the state.
As the sheriff's office reported earlier, five had been found inside cars that were overwhelmed by flames, three outside residences and one inside a home. The names of the victims have not been released.
Altogether, at least 25 people have died and more than 250,000 people have been driven out of their homes as California was engulfed by five identified fires, from north to south, on Saturday. Strong winds, low humidity, drought and vegetation so dry it has acted like matchsticks have exacerbated the flames. Two bodies discovered on Saturday in a residential neighborhood in Malibu, Calif., brought the statewide total to 25.
UPDATE, Nov. 10, 2018:
Officials in California say that nine people have died in the fast-moving Camp Fire near the small town of Paradise, Calif., population 27,000, which has been all but wiped off the map and its buildings reduced to ruin.
More than 6,700 buildings have been destroyed, most of them homes, by the fire that has burned more than 90,000 acres, or about 140 square miles. The Camp Fire, which is still only about 5 percent contained, is being called the most destructive blaze in state history.
Earlier Friday, the Butte County Sheriff's Office talked about the first five people who were found dead.
"The preliminary investigation revealed that the victims were located in vehicles that were overcome by the Camp Fire. Due to the burn injuries, identification could not be immediately made," the office said in a statement released Friday.
Officials offered few other details on the latest fatalities, other than to say that the victims were found outside of residences, except in one case.
Another 35 people were reported missing as of Friday afternoon but that number could likely change, Megan McMann, committee relations coordinator for the Butte County Sheriff's Department, told NPR.
Butte County Sheriff Kory Honea said in a Friday evening news conference that he expected there will be more casualties. "I fear it will be my duty to continue to update these figures," he said.
Original Story:
A fast-moving Northern California wildfire has forced tens of thousands of people to evacuate, with residents fleeing through flames and leaving their cars to take cover in nearby stores.
The Camp Fire started Thursday morning near Paradise, a city of around 27,000 about 90 miles north of Sacramento. By Thursday evening, the town was a scene of widespread destruction, hundreds of structures reduced to rubble.
"Pretty much the community of Paradise is destroyed, it's that kind of devastation," said Cal Fire Capt. Scott McLean as quoted by the Associated Press. "The wind that was predicted came and just wiped it out."
Much of the downtown was destroyed. "The whole town's on fire," City Councilman Scott Lotter told the Sacramento Bee. It's pretty grim."
The fire has burned 20,000 acres and is not contained.
"Firefighters continue to be challenged with extreme fire and weather conditions including strong winds and with long range spotting. Due to the fluid and rapidly changing conditions, residents are urged to stay updated through official sources for changes to evacuations and road closures," said a CalFire incident report Thursday night.
The entire town had been evacuated earlier, with traffic backing up throughout the area as residents try to get to safety.
The San Francisco Chronicle reports that acting Gov. Gavin Newsom declared a state of emergency in Butte County.
When Nate Rodriguez of Paradise woke up Thursday morning he thought the red glow in the sky was the sunrise. He was wrong. It was the flush of the Camp Fire around the town that made him panic: "I was waving down people just anyone on the road just help me because I didn't have a car or nothing."
He and two pitbulls ended up making it to safety.
The fast-moving fire forced startled residents trying to evacuate to abandon their vehicles and flee the town by foot, according to the Associated Press, citing Butte County Sheriff Kory Honea.
"The sheriff confirmed reports that evacuees had to abandon their vehicles. He said rescuers were trying to put them in other vehicles.

"'We're working very hard to get people out. The message I want to get out is if you can evacuate, you need to evacuate,' Honea said."
On Thursday afternoon, California fire officials said the fire had expanded to about 18,000 acres, but its true size is difficult to pinpoint because of heavy smoke, which can be seen from miles away. Dry, windy conditions are making it difficult to contain the fire.
"When this fire started this morning wind speeds were 35 to 40 mph gusts," Cal Fire spokesperson Lynne Tolmachoff said. "Once it got going it picked up very rapidly."
Crews and firefighting aircraft are responding from all over Northern California. The cause of the fire has not yet been determined.
The California Highway Patrol shut down Highway 99, a major north-south thoroughfare, advising people to avoid the area.
The Adventist Health Feather River Hospital in Paradise evacuated all its patients and staff, given its close proximity to the fire, and transported them safely to hospitals in neighboring towns, Jill Kinney, an Adventist Health spokeswoman told the Associated Press. She said she did not know the exact number of people evacuated.
The fire is the latest in a string of disastrous wildfires that have burned in California over the past year.
Last year the Tubbs Fire in nearby Napa and Sonoma counties killed 22 people. Paradise itself is around 70 miles south of Redding, where the Carr Fire killed eight people and destroyed more than 1,000 homes in July.
Pacific Gas & Electric, the state's largest utility, announced Tuesday it might preemptively cut power to eight California counties starting Thursday morning to prevent a possible wildfire, including Butte County where the Camp Fire is located.
PG&E equipment was identified as a cause in some of the deadly fires that swept through the region last October. The utility cut power to 42,000 customers in October during similar dry, windy conditions.
Copyright 2018 Capital Public Radio and NPR. To see more, visit Capital Public Radio
 and NPR.org