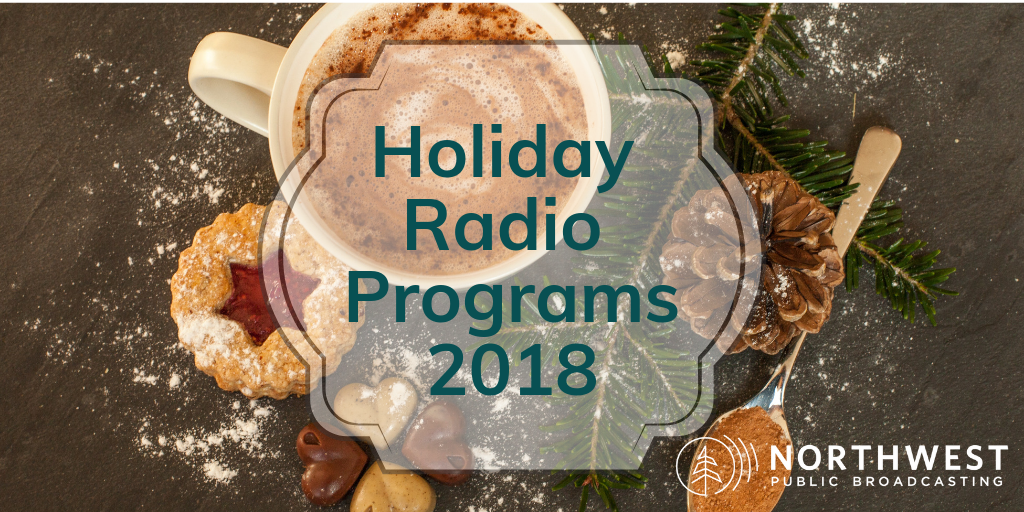 Keep Your Candles Burning Brightly: 2018 Holiday Radio Programs On NWPB
Turn on your radio, pour a cup of tea, cozy up to a warm fire, and enjoy uplifting music, heartwarming stories and inspiring performances to celebrate the season.
Here's a list of special programs coming your way throughout the month of December.
(Find the NWPB radio frequencies map here, stream online from anywhere or with the NWPB app.)
Inland Folk Holiday Specials: Join Dan Maher for three hours of old favorites, some brand new songs, and new arrangements of your favorite songs and carols. It's all good stuff. Saturdays, 12/15  and 12/22, 9 AM – 12 PM, NPR and Classical Music Service
St. Olaf Christmas Festival: The Christmas Festival at St. Olaf College in Northfield, Minn., is one of the oldest Christmas celebrations in the United States, dating to 1912. Features more than 500 student musicians, who belong to five choirs and the St. Olaf Orchestra. Hymns, choral works, carols, and orchestral arrangements celebrating the Nativity. Thursday 12/20 at 8 PM, NPR and Classical Music Service.
The Christmas Revels: In Celebration of the Winter Solstice 2018: This all-new compilation includes highlights from live Christmas/Winter Solstice Revels stage productions, including musical excerpts, poetry and prose to celebrate traditions from many cultures and eras. Friday 12/21, 9 – 11 PM, NPR and Classical Music Service
A Christmas Celtic Sojourn 2018: Recorded live, this Christmas-themed version of Brian O'Donovan's A Celtic Sojourn draws on Celtic, Pagan, and Christian traditions to celebrate music of the season. Saturday 12/22, 1 PM, NPR and Classical Music Service
Jonathan Winters' A Christmas Carol: A annual Yuletide tradition! Master comedian Jonathan Winters' distinctive reading of the holiday classic, using a special performing edition prepared by Dickens for his own presentations. Winters re-creates Ebenezer Scrooge, Bob Cratchit, Tiny Tim, Jacob Marley's spirit and the three Christmas ghosts. Saturday 12/22, 8 PM, NPR News Service
Hollywood Holiday: A retrospective of some of Hollywood's most cherished Christmas-themed movies. Saturday 12/22, 8 PM, NPR and Classical Music Service
Concierto Christmas Special 2018: A special holiday edition of this NWPB bilingual staple. Frank Dominguez presents a broad range of Spanish and Latin American sacred and seasonal selections in English and Spanish. Sunday 12/23, 5 – 7 PM, NPR and Classical Music Service
Tinsel Tales: NPR Christmas Favorites: David Sedaris reads from his modern Christmas classic, Santaland Diaries! Also hear Bailey White, John Henry Faulk and other NPR voices, past and present, tell stories that touch on the meaning of Christmas. Sunday 12/23, 8 PM, NPR News Service
A Chanticleer Christmas: Hear this superb 12-man vocal ensemble known as the "orchestra of voices," as they perform holiday classics and new favorites presented in a live concert. Monday 12/17, 9 PM and Sunday 12/23, 9 PM, NPR and Classical Music Service
A Festival of Nine Lessons and Carols: Another annual tradition – the service of biblical readings and music, recorded live at the chapel of King's College in Cambridge on Christmas Eve. Monday 12/24 10 AM – 12 PM, and 8 – 10 PM, NPR and Classical Music Service
Messiah with the Pittsburgh Symphony Orchestra: A religious story of hope, inspiration and timeless expression. Join the PSO, Mendelssohn Choir of Pittsburgh, and guest vocalists for Handel's much-adored oratorio. Monday, 12/24 10 PM – 12 AM, and Tuesday, 12/25 1 – 3 PM, NPR and Classical Music Service.
Welcome Christmas: Rediscover old, almost-forgotten carols, or find a new favorite. Welcome Christmas is an hour of traditional carols and new treasures with VocalEssence, including two world premiere carols from the annual Christmas Carol Contest. Monday 12/17, 8 PM, and Tuesday 12/25, 3 PM, NPR and Classical Music Service
All is Bright: Contemplative Music for Christmas: Take a break with gorgeous, contemplative choral music that tells the Christmas story. Features Cantus, Chanticleer, the Cambridge Singers, Bryn Terfel, Jessye Norman, and more. Tuesday, 12/25 at 8 PM, NPR and Classical Music Service.
A Season's Griot 2018: This annual Kwanzaa special captures the tales and traditions of African-American and African peoples, hosted by acclaimed storyteller Madafo Lloyd Wilson. Wednesday 12/26, 10 PM, NPR News Service
New Year's Day from Vienna 2019: Ring in the New Year with this festive holiday tradition. The ever-popular annual New Years Day concert with the Vienna Philharmonic features your favorite waltzes, polkas and more. Tuesday 1/1, 2 – 4 PM, NPR and Classical Music Service
The following programs have already aired:
Hanukkah Lights: A perennial favorite! Enjoy all new Hanukkah stories including Ellis Island Hanukkah, The Magic Candles, The View From Masada, and more. Sunday 12/2, 8 PM, NPR News Service.
A Chanukah Celebration with Chicago A Cappella: Join this virtuoso vocal ensemble for an inspiring and informative Chanukah show, with familiar tunes and heartfelt original choral works set to Chanukah texts. Monday 12/3, 8 PM, NPR and Classical Music Service.
Candles Burning Brightly: Explore the meaning and traditions of Chanukah, including holiday foods and Sephardic and Ashkenazi music. Thursday 12/6, 8 PM, NPR and Classical Music Service
Christmas with Morehouse and Spelman Glee Clubs: A mixture of spirituals and carols with the choirs of two of the most prestigious historically black institutions in America, Morehouse and Spelman Colleges. Saturday 12/15, 8 PM, NPR and Classical Music Service
Winter Holidays Around the World with Bill McGlaughlin: The host of Exploring Music guides you through six centuries of Christmas music from around the world, with stops in Europe, Mexico and Polynesia. Saturday 12/15, 9 PM, NPR and Classical Music Service
A Choral Christmas with Stile Antico: Join the award-winning choir at St. Paul's church on Harvard Square for a concert of radiant sacred music for the Christmas season by the most acclaimed composers of the Renaissance, including Thomas Tallis and William Byrd. Sunday 12/16, 9 PM, NPR and Classical Music Service
Chatham Baroque: A Jubilant Season: Dazzling, historically-informed interpretations of 17th and 18th century holiday music with Pittsburgh-based Chatham Baroque. Sunday 12/16, 10 PM, NPR and Classical Music Service
Christmas with the Tabernacle Choir and Orchestra: The world-renowned Tabernacle Choir continues its tradition of great artistry this holiday season with touching arrangements of familiar carols and lesser-known melodies that are fast becoming the new classics. Tuesday 12/18, 8 PM, NPR and Classical Music Service
Carols and Cheer: Favorite carols performed by the world's leading ensembles. It will be hard to keep from singing along! Tuesday 12/18, 9 PM, NPR and Classical Music Service
In Italia: A Renaissance Christmas from Venice, Naples, Milan, and Beyond: Enjoy sixteenth-century Christmas music from across Italy. Wednesday 12/19, 8 PM, NPR and Classical Music Service
A Baroque Christmas in the New World 2018: Explore Christmas music from seventeenth- and eighteenth-century Mexico, Peru and Bolivia. Wednesday 12/19, 9 PM, NPR and Classical Music Service