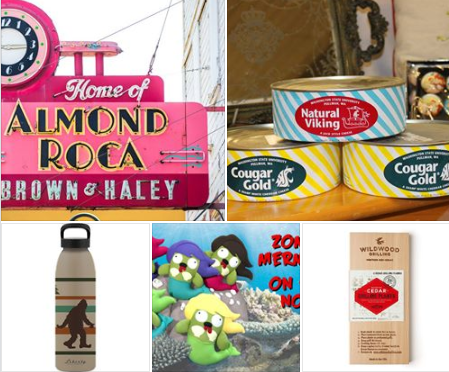 From Almond Roca To Cougar Gold Cheese: An Incomplete Northwest Gift Guide
The Northwest features an abundance of artisans and craftspeople bringing unique art and gifts into the world. The region also has its particular traditions when it comes to gift giving. Perhaps you've found some of these gifts under your tree or in your stocking in years past. Perhaps you need to get some last-minute presents for that hard-to-buy-for loved one.
Hopefully, these ideas help or at least make you laugh at your own traditions.
Almond Roca: In informal social media polling, it seems everyone in the region gets Almond Roca for Christmas. Some receive the pink canisters, emblazoned with gold, but may other get a homemade variety. This writer is a transplant to the area, so I wondered why Almond Roca was such a big deal. Lo and behold, it's made in Tacoma.
Body Washes & More: You care about the environment and want even your soap and shampoo to come from organic sources and produced as locally as possible. Or you know someone who does. And that person is also more into Krampus than Christmas. Check out the Gruss vom Krampus soaps from Sea Witch Botanicals out of Bellingham, Wash.  
Cedar Planks: Last year some lucky member of your family was blessed with new fishing gear. All summer they fished and sometimes even brought home something for dinner. Once, you tried to grill the nice salmon but the meat stuck to the grill and a long day  of work went up in flames. Plan ahead this holiday and pick up some locally-sourced cedar grilling planks, right out of Sandpoint, Idaho.
Cougar Gold: Cheese might not be the best companion to one's Almond Roca, but Cougar Gold from the WSU Creamery in Pullman is about as Northwest as it gets. Plus, it's packaged in an eminently wrappable and stocking-stuffable metal tin. (Can opener required!)
Lentils: Nothing that will excite the kids, but lentils remain a vital part of the Northwest economy in the Palouse region and therefore make an excellent gift. Don't forget to include a recipe for the uninitiated.
Misheard Lyrics Glass: Our friends to the east, in Whitefish, Mont., specifically, have a sense of humor. Meriwether of Montana (this counts as a "Lewis and Clark gift," too) make pint glasses with your favorite incorrect lyrics from popular songs, and other products with barely safe for work sayings on them. If you know someone who dislikes meetings, this is the place for you.
Sasquatch: Anything with Bigfoot on it is guaranteed to be a hit with your PNW friends and family. You can get a Sasquatch water bottle made in Yakima; a hand-blown glass paperweight made in Seattle; or even a book by a local author about tracking the elusive cryptid. If we're lucky, the new Seattle NHL hockey team will be branded with Sasquatch and open up a whole new world of merchandise.
Vandal Meats: What goes best with local cheese? Local meat, of course. This writer is a huge fan of Vandal Meats beef jerky and wouldn't mind finding some in his stocking come Christmas morning.
ZOMS: Hand-sewn in an apartment north of Seattle, ZOMS are perfect for cuddling, as long as you don't mind your brain being nibbled. (Just kidding…we hope.) These plush zombies come in a variety of characters for your horror fan at home. They also make elves and a Seahawks fan version, too.
Copyright 2018 Northwest Public Broadcasting