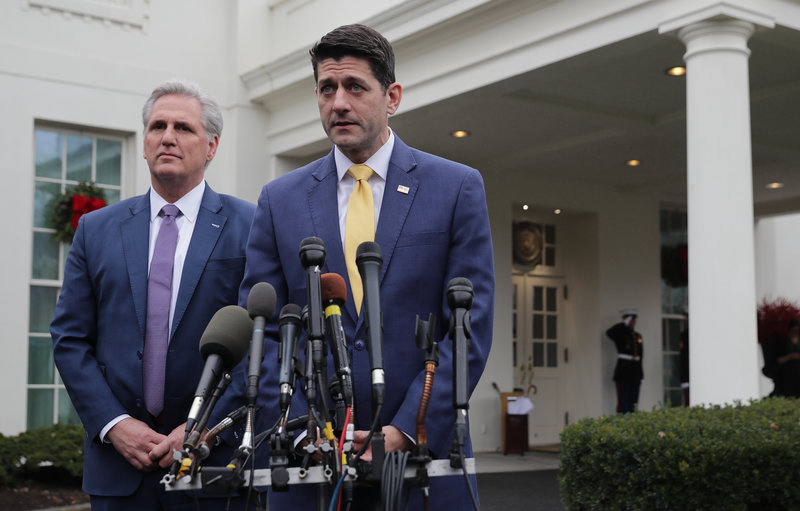 President Trump Says He Won't Sign Govt. Funding Bill, Raising Chances For Partial Shutdown
BY KELSEY SNELL AND BRIAN NAYLOR
House Speaker Paul Ryan, R-Wis., says President Trump "will not sign" a Senate-approved plan to temporarily fund government agencies, increasing the chances the government will partially shut down on Friday night.
Emerging from a White House meeting, Ryan reported, "The president said he will not sign this bill."
House Majority Leader Kevin McCarthy, R-Calif., said Trump believes the Senate-approved measure, which would fund nine government agencies until early February, "is just kicking the can down the road." He said there was still time to add additional border security provisions to the legislation.
Speaking at a bill-signing ceremony at the White House, Trump said any measure to fund the government "must include border security."
He noted, "I've made my position very clear – any measure to fund the government has to include border security. Not for political purposes but for our country, for the safety of our community."
Trump did not specify a dollar figure and suggested that the money could be used to build "steel slats" rather than a traditional wall to give lawmakers "a bit of an out." The distinction is not likely to sway any Democrats or moderate Republicans who oppose approving new money for any kind of physical barrier on the border.
Republican leaders introduced legislation late Thursday afternoon that included $5 billion in border-wall funding and $8 billion in disaster aid. The decision to package it all together was a last-minute reversal from a plan outlined by Louisiana GOP Rep. Steve Scalise, the No. 3 Republican leader.
Scalise originally told Republicans that lawmakers would have a chance to vote on the border wall and disaster funding as a separate amendment. Now, House members will have to choose to reject the package or send the bill to the Senate, where Democrats are certain to block it.
There are serious questions about whether Republicans have enough votes to pass the wall money in the House. The issue is so divisive that GOP leaders have avoided scheduling stand-alone votes on that funding to avoid a potentially embarrassing failure to pass one of Trump's biggest demands. But after Thursday's White House meeting they were left with little choice, given the president's refusal to accept a stopgap measure without the money.
House Republicans face an even greater challenge this week with more than a dozen GOP members absent from the most recent vote.
White House press secretary Sarah Sanders issued this statement after the meeting:
"President Trump just met with Republican Members of the House. Not surprisingly, they all feel strongly about Border Security — stopping the flow of drugs, stopping human trafficking, and stopping terrorism. We protect nations all over the world, but Democrats are unwilling to protect our nation. We urgently need funding for border security and that includes a wall."
Plans for a speedy vote on a short-term-spending bill crumbled ahead of a Friday night deadline as some House Republicans threatened to pull their support for any spending measure that does not include additional border security money.
House GOP leaders struggled to persuade members to support a bill to extend current spending levels through Feb. 8. Many are concerned that Republicans will not have another chance to fulfill Trump's demand for $5 billion to build a wall on the border with Mexico. The Senate approved the measure Wednesday night.
Conservatives such as Rep. Mo Brooks, R-Ala., say voting on the short-term-spending bill without border wall money amounts to a surrender on one of Trump's signature campaign promises. Brooks said he is confident that the House could uphold a veto — if a spending bill does pass and Trump refuses to sign it. But Brooks, like most Republicans, said they have no clear sign from Trump about what he is willing to support.
"That is the $5 billion question," Brooks said. "I wish we had clarity on that; that would help us decide what to do."
Trump tweeted Thursday morning that Democrats know "Steel Slats (Wall) are necessary for Border Security" and are "putting politics over Country" by refusing to fund the wall. He also threatened "not to sign any of their legislation, including infrastructure, unless it has perfect Border Security."
The Democrats, who know Steel Slats (Wall) are necessary f