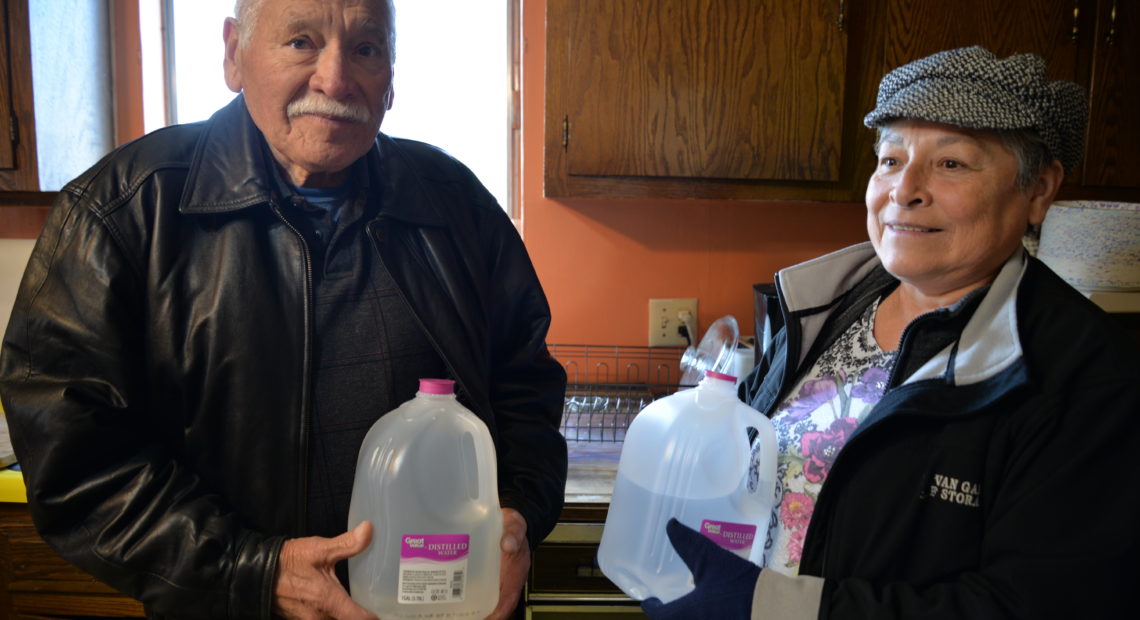 Six Years, Two Missed Deadlines, And Still Yakima Valley's Water Needs Cleanup
BY COURTNEY FLATT & ESMY JIMENEZ / NWPB
Rosalinda Elsa Pina sits at the kitchen table in her childhood home, and wrinkles her nose.
"Hey, this water stinks," Elsa Pina said.
Elsa Pina and her brother Martin Yanez have been in this house since 1968. Their parents were farmworkers who came to Zillah to harvest crops like asparagus and apples. But the Yakima Valley of their youth is not like they remember.
"The water was so cold so refreshing. So what happened?" Elsa Pina asks.
About five years ago, the siblings realized their well water had a funny smell. Elsa Pina decided to start buying bottled water. They rely on it for everything from their morning coffee to caldos, or stews. It's about $20 a month – not a huge amount, but it does add up over time.
They've had their well water tested for contaminants. One thing they found was high levels of nitrates, which are odorless and colorless.
The Nitrate Problem
Nitrates naturally occur, but they're also found in chemical fertilizers and animal manure, which farmers also use as fertilizer.
Drinking water high in nitrates is not safe for adults and especially not for older adults or children. In babies, excessive nitrates can cause something called 'blue baby syndrome'. Essentially the babies' blood can't carry oxygen normally, literally causing their skin to turn blue.
According to the U.S. Environmental Protection Agency, nitrates in safe drinking water shouldn't be higher than 10 parts per million. In 2015, the agency found some monitoring wells within a mile radius of three large dairies had anywhere from 14- to 180-parts per million.
Regular water filters don't get rid of nitrates. Boiling water doesn't remove nitrates. It actually concentrates the contamination because some of the water evaporates but the same amount of nitrates remain behind. Only reverse osmosis filters help remove nitrates from drinking water.
The other option is to buy bottled water, like Rosalinda Elsa Pina does.
Water systems in cities and towns regularly test for nitrates and other contaminants. But private wells don't fall under Washington state's Safe Drinking Water standards. It's up to owners to test their water and to clean it up.
Additionally, some well owners also struggle with high bacteria counts, pesticides, and heavy metals.  
Yakima County knows this is a real problem for well owners. Since 2008, local media like the Yakima Herald-Republic, have reported on the nitrate issue, leaving many wondering how exactly to solve the problem.
A Few Hiccups Searching For A Solution
To find a fix, in 2012 a group of 22 locals formed a Groundwater Management Area and a Groundwater Advisory Committee.
A diverse group joined the committee, including environmental nonprofits, County officials, the Washington Department of Ecology, the U.S. EPA, the Yakama Nation, and local dairymen.
Together they've been working on a plan for six years. They finally put forward recommendations Dec. 13.
But there were a few hiccups along the way.
One: They've missed their deadline to form a plan. Twice.
Two: There's been a lot of finger pointing – environmentalists look to diaries, dairies point to 100 years of agriculture history.
Three: The plan's clean-up recommendations are voluntary. That's a win for dairy owners, who say they don't need more regulations. Environmentalists worry it could mean farmers won't follow through.
Meanwhile, people are still without clean water.
"We really haven't completed what we set out to do," committee member Jean Mendoza said.
Mendoza is a long-time Yakima Valley resident and director of the environmental non-profit Friends of the Toppenish Creek. She said the committee had hoped to actually be cleaning up wells in 2015. But the committee hasn't worked the way it should have.
"It was designed to fail," Mendoza said.
Other committee members say the process hasn't been smooth.
"Has it been painful? Yes. Has it taken longer than we thought? Absolutely," admits Jason Sheehan, a dairy owner in Sunnyside.
"It's been very, very frustrating," said Yakima County Commissioner Rand Elliott.
So frustrating that one environmental group, the Community Association for Restoration of the Environment, dropped out of the committee in 2014, saying the committee wasn't accomplishing anything.
'100 Years Of Agriculture'
There's a reason this group has been working for six long, hard years to find a way to reduce nitrate contamination in the lower Yakima Valley – and the estimated 2,000 people that are thought to have high nitrate levels, according to a 2010 report.
No one knows exactly how many of the region's wells have high nitrates because there's no agency tasked with monitoring the water quality of private wells. The last report by the U.S. Geological Survey in 2017, found that 20 percent of the tested wells had high levels of nitrates.
"I admit this is a problem, and I'm willing to spend six years trying to find a solution," Elliott said.
In 2009, the EPA designated the Yakima Valley as an Environmental Justice Community, which means everyone living there should be protected from "health hazards" and have "equal access to the decision-making process to have a healthy environment in which to live, learn, and work."
So far, the committee has fallen short of that goal for a lot of people living in Yakima County, which is special in many regards. It's a county that has a high number of Latinos and Native people compared to the rest of the state. One in five county residents are at the poverty rate, and one in four don't have a high school degree. Many residents don't know if their water is polluted, let alone have the money to fix it themselves.
Elliott said one of the biggest reasons the committee took so long to finalize a plan was too much blame placed on one of the biggest sources of agriculture in the Yakima Valley: mega-dairies — operations with 700 or more cows.
"There's lots of people to blame. Lots of reasons for elevated nitrates. So let's dwell less on the past, and let's look forward to what we can do to reduce those levels instead of spending all this time," Elliott said.
He pointed to other sources of pollution – irrigated agriculture, leaking septic tanks and chemical fertilizers spread on orchards.
A study by the EPA – that this committee didn't include – named dairies as "likely sources" of nitrate contamination in residential well water.
"We can all make our suppositions," Elliott said. "There's one hundred years of agriculture here."
Lawsuits have led to changes in several mega-dairy operations. Activists say those changes are working.
Members of the groundwater advisory committee hesitated to put the blame on any major source of contamination in the recommendations they approved. People will be able to comment on the recommendations. The committee hopes to have a final plan in place by July 2019.
No one is completely happy with the final recommendations. Both the environmental group Friends of Toppenish Creek and the Yakima County Farm Bureau said they plan to file minority reports with their own critiques.
The measures the committee came up with are voluntary, which environmental groups don't like. Yakima County Commissioner Rand Elliott said environmental groups will have to petition state and local lawmakers to implement any regulations. Activists say farmers won't change without enforcement.
'Farmers Are Problem Solvers'
Dairy owner Jason Sheehan says that's simply not true.
"If you can show them why it's important, farmers are problem solvers. If you show me an issue and show them the problem and explain to them why we need to fix it, most every farmer is going to figure out a way to fix it because it is their livelihood," Sheehan said.
He said the recommendations he helped pass this month are a big step forward – even if there are more steps to go.
For nearly 24 hours a day, cows line the stalls in Sheehan's milking parlor in Sunnyside. His dairy ships out about 20,000 gallons of milk a day. (It's all to keep up with consumer demand. Yakima County has the most dairy cows in the state. And according to the Washington State Dairy Federation, the county is one of the most productive in the nation.)
Sheehan said farmers don't need more regulations – they're already working hard to make improvements. On his farm, Sheehan uses a high-tech app to help irrigate his fields and make sure nitrogen doesn't seep into the groundwater. He uses extra manure for cow bedding and in a liquid form as a sort of "gray water" for the dairy.
Sheehan said it's not only up to dairies to fix the nitrate problem in the lower Yakima Valley.
"I think it needs to be a little bit more widespread and include everyone in the valley. Everyone is a part of the nitrate issue, and we all got to figure out what we can do better today," Sheehan said.
But for well owner Rosalinda Elsa Pina, today isn't soon enough.
As she readies to make more caldos this winter, she opens another gallon water jug stashed next to rows of bottled water.
"The water should be drinkable here, just like it is at the White House," Elsa Pina said. "This is our home."
CORRECTION, Jan. 3, 2019: The original version of this story, in audio and for the web, misidentified Rosalina Elsa Pina's last name as "Guillen." 
Feedback? Story ideas? Email NWPB news. Courtney Flatt is based in the Tri-Cities. Esmy Jimenez is based in Yakima. On Twitter: @courtneyflatt / @esmyjimenez
Copyright 2018  Northwest Public Broadcasting