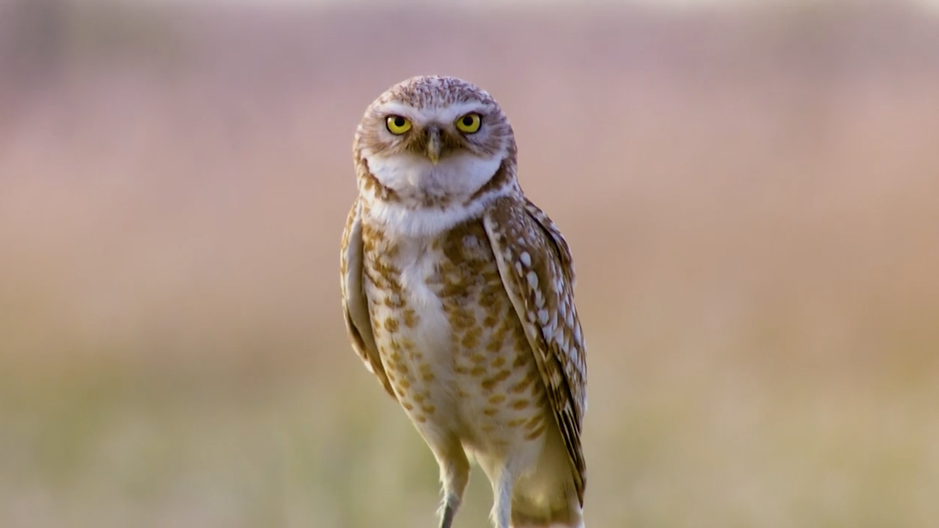 Umatilla's Owl Man Is Bringing Burrowing Owls Back From The Brink
BY IAN MCCLUSKEY / OPB
If it were up to David H. Johnson, he'd be out of the burrow-making business.
Instead, he stands on a wind-swept prairie, shovel in hand. He wipes the sweat from his brow and surveys the sagebrush as it stretches across the rolling hills. His eyes scan for any flutter of small feathers.
He doesn't see anything and keeps digging in the loose sand. This wide-open stretch of sage and sand and shrubs was once riddled with burrows. For millennia, animals like badgers and prairie dogs pockmarked the Columbia River plateau with burrows.
Johnson has been watching those burrows disappear, one by one. And now, as he stomps his spade into the sand, he knows that there is not a single natural burrow left. He knows because he's counted and tracked them for years.
The only burrows around here are the ones he's installed himself, one at a time.
Johnson builds his burrows out of plastic barrels, five-gallon buckets, wire mesh and irrigation tubes. They don't look like much — sort of a backyard DIY project. And when he buries his buckets in the ground, they look like just holes in the ground.  
But these burrows made of buckets are the last hope for a small population of owls.
Burrowing owls are disappearing across North America at a rate of 2 to 3 percent each year. Johnson has come to an unlikely place to do this work: a patch of wind-swept prairie surrounded by barbed wire and row upon row of concrete bunkers that once stockpiled America's deadliest chemical weapons.
'I Look Like An Owl'
There is probably no one who knows as much or cares as much for these small little owls as David H. Johnson, or "DJ" as his colleagues call him.
"People say I look like an owl, even before they know my connection to them," Johnson says.
Johnson is a self-described "owl person." It started one moonlight-night in Minnesota when he was just a boy. He was camping when an owl swooped down and perched on his tent. Silhouetted by the moon, it called for some 20 minutes. Johnson listened, transfixed. In those moments, he felt a deep and personal connection with the owl. It was as if, he felt, the owl was calling just to him with a message he was supposed to hear.
"And so I didn't pick owls," he says. "They picked me."
Johnson has devoted his life to researching and advocating for owls. After 41 years in the field, he's the director of the Global Owl Project. His expertise is called on internationally.
One of the most significant calls came from an unexpected place — the Umatilla Chemical Depot. Since its construction in World War II, the Army base had been a top-security, off-limits stretch of sagebrush, dotted by massive concrete bunkers.
Each concrete bunker is buried under several feet of earth. With their heavy covering of dirt, thick concrete fronts, and massive steel doors, the bunkers look like they were designed to be aircraft hangars, camouflaged and protected from bombing raids by enemy planes. But these bunkers weren't designed to withstand explosions from above; they were built to guard against explosions from within.
Since World War II, they held the Army's high explosives and munitions. During the Cold War, they held 12 percent of America's deadliest chemical weapons, like mustard gas and sarin.
Today, all of the 999 bunkers are empty except for one. Johnson uses this as his workshop.
Hard To Recover From Zero
The Umatilla Chemical Depot called Johnson about a decade ago. Employees there had noticed that the burrowing owls had all but vanished.
"When I came to the depot to work on the burrowing owl project, there were three or four pairs and we knew this was the last of them," Johnson recounts. "And it's really hard to recover from zero. So then the question is: what do you do?"
Johnson discovered that the problem was a lack of burrows. Burrowing owls don't dig burrows. In fact, owls in general do not build nests. Rather, they borrow.
In the prairie, where there are no trees to perch in, these little owls adapted to what was once available and plentiful: thousands of burrows left by badgers and prairie dogs and the like.