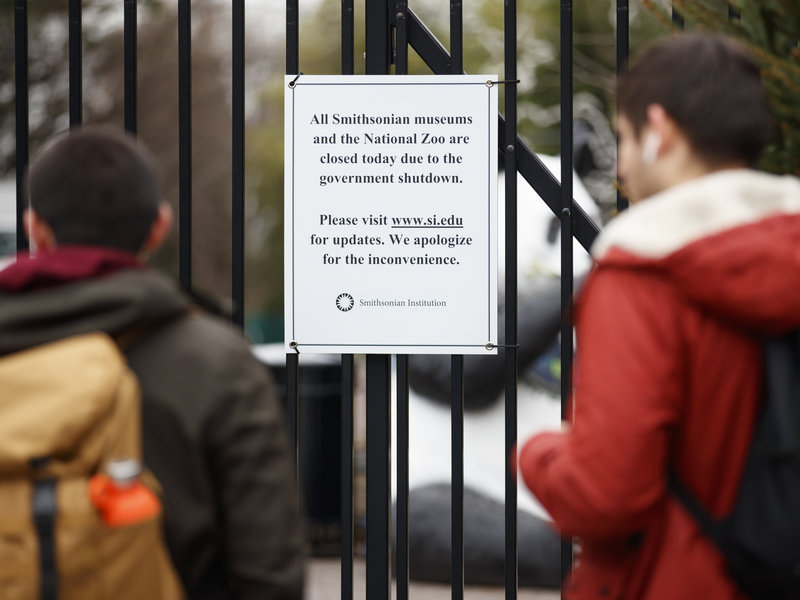 As Shutdown Crawls On, Artists And Nonprofits Fear For Their 'Fragile Industry'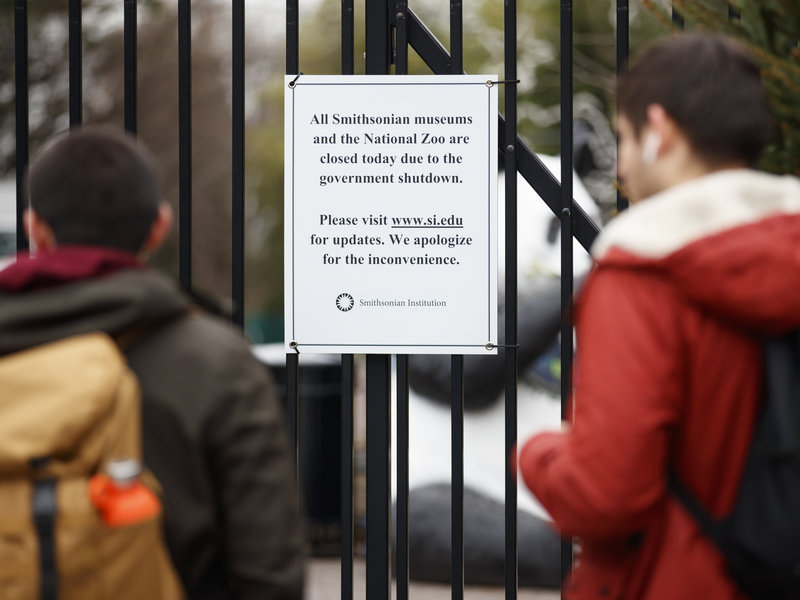 BY COLIN DWYER AND ELIZABETH BLAIR
Jill Rorem, like many Americans, had made some special plans for the holidays. The Chicago native, whose legal work often brings her to Washington, D.C., was finally going to get to see the nation's capital with her arts-obsessed kids.
"I have very nerdy daughters, and they're super cool. Like, my oldest kid was Andy Warhol for Halloween," Rorem says. So they'd planned a grand tour of the city's museums, from the National Gallery of Art to the Smithsonian's National Portrait Gallery, maybe even the zoo if she could convince her husband. "They would have soaked it up. I always love watching things from my kids' eyes."
Then, the federal government partially shut down.
Instead of heading to D.C., where all their dream destinations were shuttered without funding, her family lost about a thousand dollars rescheduling the trip.
Now, Rorem readily concedes that her family's frustrations are far from the worst of the shutdown's fallout — but she's also far from alone. The showdown in Washington has reverberated across a vast expanse of the U.S. arts community and beyond the country's borders. It has been felt not just by the museums and their patrons, but also by Brooklyn students, Los Angeles filmmakers, domestic nonprofits and foreign artists — even among the volcanoes of Hawaii.
"It's a fragile industry. It's not a rich, money-making thing," Robert Lynch, head of Americans for the Arts, says of the landscape of arts workers and organizations.
"So any little crack — whether it is the elimination of money from the National Endowment for the Arts or the slowing of it down, like a shutdown does — it potentially affects people and their planning and their ability to attract other funders, all of that kind of thing. It's a ripple effect."
The Great Range Of Those Ripples
There are about 100,000 nonprofit arts organizations across the country, according to Lynch, and when it comes to funding, "many of them end the year just on the edge."
So the NEA and its sister agency, the National Endowment for the Humanities, often represent a critical boon to many of these groups. Both agencies reach thousands of small and large organizations around the country, including NPR. And getting a grant from the NEA or NEH helps those groups to raise funds from other sources, in turn.
On its website, the NEA says it will honor all of its Fiscal Year 2019 grants and that it's accepting applications for 2020, but during the shutdown there's nobody working at either agency to answer questions.
This has left many of the groups that rely on them feeling stymied and skittish.
"Because federal grants are done on a reimbursement basis, we don't have the money in hand," says Dorothy Ryan, managing director of Theatre for a New Audience, a theater company based in Brooklyn.
For more than a decade they've been taking Shakespeare to some of New York's poorest schools through a program partly funded by the NEA. This spring they're planning to introduce students to Shakespeare's Julius Caesar, and though they've been awarded a $25,000 grant from the NEA, Ryan worries about when they'll actually receive it.
"As you can imagine, any nonprofit cultural organization struggles with cash flow, as they really need to expend funds before funds are received," she says. "And th