Celebrate Women's History Month With Special Programs
Four programs this March examine myriad aspects of women's history, from poetry. Tina Fey takes you into the hidden world of girls around the world, Meryl Streep narrates a program about how women poets radically changed American poetry, and hear about the women pilots of World War II. More about these programs and when to hear them
The Hidden World of Girls with Host Tina Fey
Tina Fey hosts two hour-long specials from Peabody Award-winning producers The Kitchen Sisters. From the dunes of the Sahara to a slumber party in Manhattan, from the dancehalls of Jamaica to a racetrack in Ramallah, Tina Fey takes us around the world into the secret life of girls and the women they become. Stories of coming of age, rituals and rites of passage, secret identities. Of women who crossed a line, blazed a trail, changed the tide.
Friday, March 8 (Part 1), 7 PM, NPR News service;
Friday, March 15 (Part 2), 7 PM, NPR News service
A Change of World: Poetry and the Women's Movement Meryl Streep narrates this hour-long documentary special about how a generation of women poets radically changed the American poetry.
Friday, March 22, 7 PM, NPR News service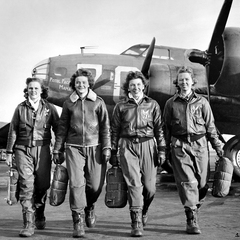 The WASPs: Women Pilots of WWII: In the early 1940s, the US Air Force faced a dilemma. Thousands of new airplanes were coming off assembly lines and needed to be delivered to military bases nationwide, yet most of America's pilots were overseas fighting the war. To solve the problem, the government launched an experimental program to train women pilots: the WASPs, the Women Airforce Service Pilots.
Sunday, March 24, 8:35 AM, NPR News and NPR & Classical music services
 Women Airforce Service Pilots (WASPs)