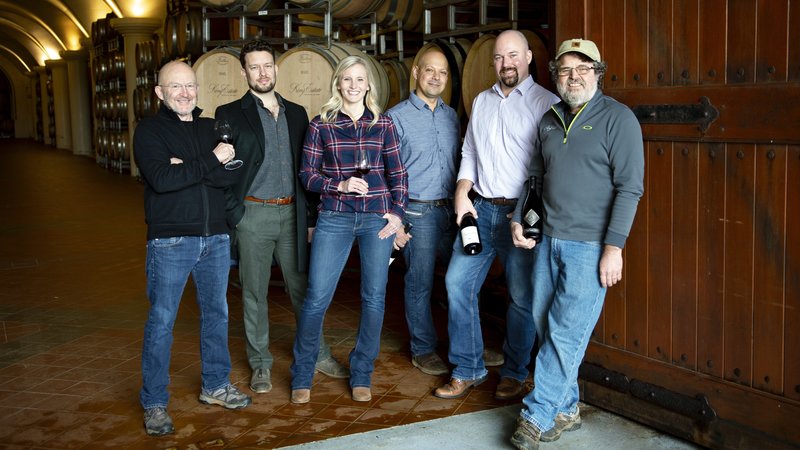 Oregon Wineries Come Together To Save Grapes Rejected For Smoke Taint
BY SHANA CLARKE
Grape growers in southern Oregon thought they had already weathered one of the biggest challenges of the 2018 season — the Klondike Fire, which burned over 175,000 acres in July.
But on Sept. 22, they faced even more devastating news: Copper Cane Wines and Provisions, a Calif.-based winery that contracts with numerous growers in the region, canceled grape orders mere days before harvest was supposed to start, citing smoke taint.
"We were shocked," says grower Leon Pyle. "We knew that we had a lot of smoke, but it wasn't worse than the previous year, and the previous year's wine turned out just fine."
As word spread north to Willamette Valley, Ore., a few determined winemakers refused to think that something couldn't be salvaged. Like a phoenix rising from the wildfire's ashes, the Oregon Solidarity project was born. Under this new coalition label, four wineries came together to buy abandoned grapes and create three wines — a rosé, a chardonnay and a pinot noir — funneling all profits back to the growers.
After receiving the email from Copper Cane, Michael Moore of Quail Run Vineyards began calling around to his other winery accounts to see whether anyone was willing to buy extra grapes. One of those calls was to Christine Clair, winery director at Willamette Valley Vineyards.
"Already being three weeks into harvest ourselves, working around the clock, and having pretty large yields in our own winery, I wasn't superthrilled about getting the call," says Clair. "I asked him if any other people were affected. He told me 'yes,' and that he calculated over 15 growers and about 2,000 tons had been canceled. That's when I realized the severity of what was going on."
The rejected orders were financially detrimental to growers. As Moore explains, "You're not [just] losing profit. You're losing the cost of producing [grapes]." The impact also reverberated throughout the industry. "We're working the whole year, and we've got 24 people full time and 60 to 80 people at harvest," he says.
Currently, research focuses on guaiacol and 4-methylguaiacol — chemical compounds produced by fires — when assessing taint, but there are no set standards to determine what constitutes acceptable levels.
Jim Blumling, vice president of operations for Copper Cane Wines and Provisions, says the company harvested grapes from 20 growers it contracts with in southern Oregon, then did a small batch fermentation. "Once they went through the fermentation process, we taste-tested the wine and then sent it to three different laboratories to determine whether or not the grape wine had compounds that were expressing high degrees of those compounds that would impart smoke or ashtray or soot in the taste of the wine," he says.
Blumling says that the company puts a lot of weight into its taste assessments. "If we felt like it was expressing too much smoke and it was incongruent with what the wine would typically taste like, yeah, that was a bit of a knockout factor."
While Copper Cane deemed grapes unusable from its tests, "I had three other buyers and they were very happy with their testing results," says Pyle. "They had been doing it regularly throughout August and into September, and they were coming up with the exact opposite conclusions [to Copper Cane's tests]. Those other three buyers are very pleased with the wines they are in the process of making."
Clair spent the weekend brainstorming solutions, originally scheming up a matchmaking service for growers and wineries, but says she "just wasn't making enough headway to really feel like it was making an impact.
Shortly after, she, along with Jim and Jan Bernau of Willamette Valley Vineyards, Oregon state Rep. David Gomberg and wine writer Jim Gullo, headed to the Rogue Valley to assess the situation. While in the car, Clair began emailing Ed