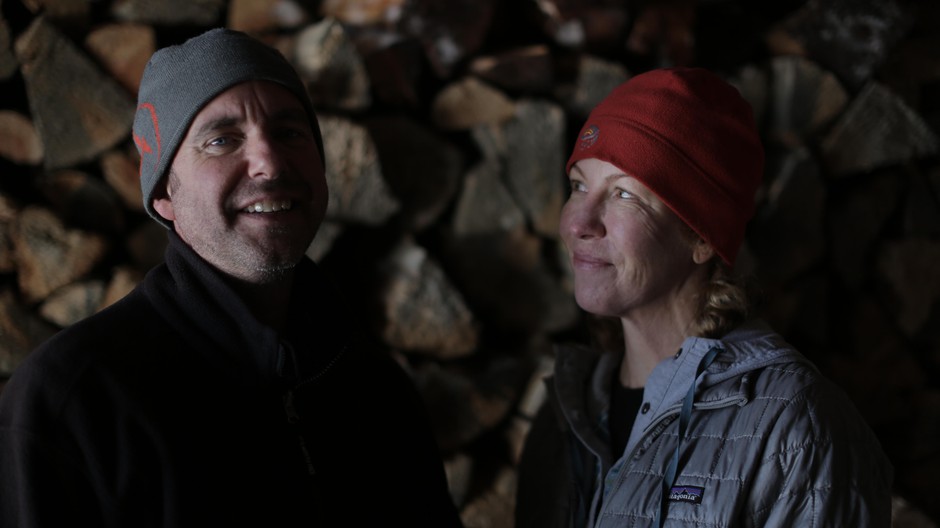 Turns Earned: Saving Mount Hood's Historic Backcountry Ski Cabin
BY IAN MCCULSKEY / OPB
Imagine a ski cabin in the woods.  
What comes to mind?
Perhaps a classic "A-Frame" with a roof steep enough to sluff alpine snow.  
It sits high on the flank of a mountain. And to get to it is a journey — an arduous ski trek wending up and up.  
Maybe it is tucked into the trees. And it's made of thick, rough-sawn lumber. By the front door is a stack of firewood tall as a person. And from the stovepipe twines a wisp of smoke.  
From inside, the murmur of conversation, punctuated by laughter.  
Welcome to the Tilly Jane A-Frame.  
Some people seek out secluded, snow-draped cabins in the wilderness for the solace of being alone, to feed a craving for isolation in our increasingly compact, cluttered, and chaotic modern lives. But the Tilly Jane A-Frame on Mount Hood does not offer that.
Staying at Tilly Jane is a shared experience. It means huddling up with others around the wood stove (that even when fully stoked barely lifts the indoor temperature above freezing). It means throwing down your sleeping bag in the loft alongside dozens of snoring strangers. Or waiting your turn in the morning for the one pit toilet right outside the front door.  
The amenities include: a couple of pots to melt snow for water. End of list.  
For those that seek out this experience, the Tilly Jane A-Frame is a treasure. It is exactly no more and no less than what is needed to spend a night on Mount Hood for a backcountry trip.  
This could be another article about a once little-known spot given too much social media exposure and spoiled — but it's not.  
This is a story of preserving Tilly Jane. Of loving it, but not loving it to death. Of exposing it, but not exploiting it. And saving it by sharing it.
For decades Tilly Jane was little-known beyond the small community of backcountry skiers, but it was never meant to be a secret. This cabin was built from the very beginning to bring people together.
The A-frame was built as part of a larger national effort to promote outdoor recreation on public lands. Back in the 1930s, during the Great Depression, President Franklin Roosevelt's "New Deal" formed the Civilian Conservation Corps to head into national forests and parks to lay the groundwork (literally) of our outdoor recreation infrastructure.
For the Mount Hood National Forest, this massive back-to-work effort resulted in miles of trails, dozens of campgrounds and a handful of classic rustic structures celebrated as examples of a unique "Cascadian" architectural style. The hallmarks of this style are the use of local materials such a stone and thick timbers, hand-hewn in the pioneer spirit.
Completed in 1939, the Tilly Jane A-Frame is part of a family of historic structures that include the warming hut at Ski Bowl (1937), Silcox Hut (1939), and the magnum opus of the era: Timberline Lodge (1937).
"The act of what we're doing transcends generations. 1939, 1940s, they were doing the same exact thing that we're doing. Maybe they were in wood skis at the time, but they were having to skin up and make their way here. So in that respect, we're continuing that tradition," says Andre Fortin.
Today, he and his wife Jennifer Fortin are headed to Tilly Jane.
They pause on the trail to catch their breath. Jennifer has been counting the pitches. Three down. Five to go.
"It's a three-mile hike with two thousand feet of elevation gain, which doesn't sound that horrible," Andre explains, "but two thousand feet elevation with a full pack on is a couple hours, to three hours …"
Jennifer chuckles. She knows this trail well. Each winter, they return once a month to check on the A-frame.
Andre and Jennifer first came to Tilly Jane nearly 20 years ago. Back then, Tilly Jane had a self-appointed caretaker, Rich Kadney.  
"We used to come up in January and spend time with him," Jennifer recalls. "He had a minimalist approach, a one-man show, to the reservations and just a little bit a taking care of the cabin and bringing in the wood. He paid for the wood and didn't quite do so much as far as outreach and talking with people but just kinda was quiet and took care of it all by himself."
Over the years, things began to change for the Tilly Jane A-Frame.
As the Portland area's population swelled and outdoor recreation boomed, and as social media put the picturesque A-frame into mass view, Tilly Jane's future became threatened by overuse.