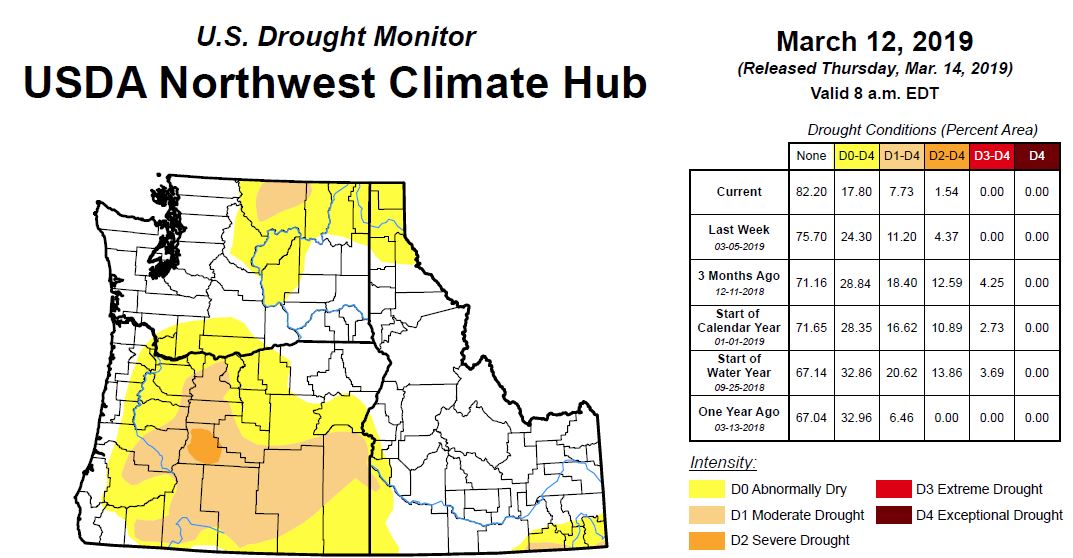 A Punch Of Late Winter Weather Means Diminished Drought Across The Northwest
According to a new federal drought monitor map, the long-running dry spell finally looks to be over in most of the Northwest.
The Washington and Oregon drought monitor maps have largely lost their orange and brown color coding — indicating more severe drought conditions. Heavy snows and precipitation in February and early March have made up the difference. That's good news for ranchers, irrigators, river rafters and salmon.
Still, not all areas are seeing the benefits.
In north-central Washington's Okanogan County, there's still a splotch of tan on the map — meaning moderate drought. And the surrounding counties are still dry, along with the very southern and central part of the state.
Oregon is even drier — "abnormally" dry almost everywhere. With large swaths of moderate drought. And most of Deschutes County is still in severe drought. Still, that's an improvement, and water managers are hoping the deep snowpack will melt out slowly.