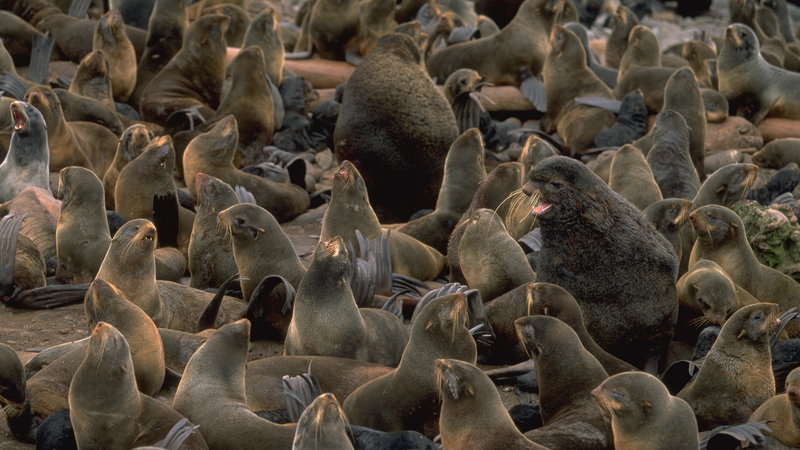 U.S. May Ease Rules Restricting Alaska Natives From Harvesting Seal Meat
BY NATHANIEL HERZ
Nearly year-round, northern fur seals can be found on the beaches of the Bering Sea island of St. Paul, Alaska, or in the waters nearby.
The small island's remote location — more than 250 miles from mainland Alaska — makes the seal meat particularly attractive to residents of St. Paul. Groceries have to be barged in or flown in to the island's sole store, and prices reflect that: Ground beef is $6 a pound, and a 12-ounce package of Oscar Mayer beef bologna costs $10.
St. Paul's Alaska Natives refer to themselves as the Unangan people. Through the mid-1980s they, as employees of the U.S. government, killed the seals by the tens of thousands annually to supply a global fur trade. The Unangan people worked largely in exchange for goods and services in an arrangement that a federal supervisor described a century ago as "actual slavery," according to Barbara Boyle Torrey's book, Slaves of the Harvest.
But since the end of the commercial harvest in 1984, strict federal regulations have granted access to the seals solely during a 47-day subsistence harvest in the summer. St. Paul residents freeze as much meat as they can; for the rest of the year, the animals are off limits, forcing residents to turn to pricey store-bought food and the occasional illegal harvest.
The island's tribal government has reported harvesting no more than 400 seals annually over the past decade; there just isn't time to harvest any more than that.
"The harvest of fur seals is ingrained in us out here. It's a part of who we are," said Amos Philemonoff, the tribe's president. "To be severely restricted in expressing who we are is just a darn shame. We want nothing more than to live off the land, live off the sea. But unfortunately, we're regulated out of that."
Since 2007, the tribe has been petitioning federal managers to relax the seal harvest regulations. And now, the National Marine Fisheries Service is finishing a rewrite — one that would allow seals to be taken more than 11 months a year and would loosen restrictions on the size of seals that can be killed.
Federal managers say the proposed revisions, released last August, will make a healthy, culturally relevant food source more accessible on the island while granting the tribal government more local control.
The fur seal population has been declining for reasons scientists haven't been able to explain. But the Fisheries Service conducted its own unpublished statistical analysis — cited in the rule change — that argues that any additional harvest, up to a 2,000-seal annual limit, will not worsen the existing trend.
"There is no doubt that this is an important item, culturally and nutritionally, for the communities," said Mike Williams, the fisheries official overseeing the rule changes from Anchorage. "This is real food security."
"A sacrifice that a lot of guys just can't make"
When St. Paul and its sister island, St. George, were first occupied by the Russians in the late 18th century, explorers described the beaches