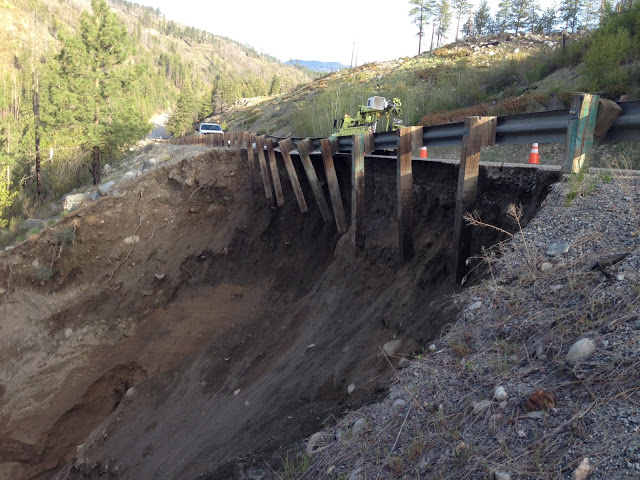 WSDOT To Close Highway 20 Twisp-Okanogan Section For 2nd Washout Repair Since 2017
Drivers and cyclists have this Memorial Day weekend to get in a full trip over Washington's Highway 20 before a temporary closure on the east side.
The northernmost cross-state route stretches from the San Juan Islands, over the North Cascades, through the Okanogan Valley, over Sherman Pass and Kettle Range and east to Idaho. It's a popular route to see beautiful passes and scenic overlooks, particularly for motorcycle and bicycle touring (as Spokesman Review reporter Nick Deshais wrote about first-hand in 2015).
Since April, the section connecting the Methow Valley to the Okanogan region has been reduced to one lane in an area east of Loup Loup pass. Now, the state Department of Transportation will close that full 30-mile stretch connecting Twisp and Okanogan for nine days beginning Tuesday, May 28.
Lauren Loebsack is a communications manager on the project with the state DOT. She says travelers over the highway know the difficulties maintaining a highway over mountain passes.
"People that use SR 20 and go over the North Cascades understand that it's a highway that goes through the wilderness and there's a lot that comes with it," Loebsack said.
This mudslide is less than a mile east of an area that was washed out and caused a similar emergency closure and repair in 2017.
Loebsack said the decision to close the highway now to all traffic is out of an abundance of caution for safety.
"Safety is really our number one priority. … That's the need for the full closure right now," Loebsack said. "That will help us reopen this road in a timely manner for everyone."
Just like two years ago, a detour will take road users along SR 153 and US 97, adding about an hour to the trip.