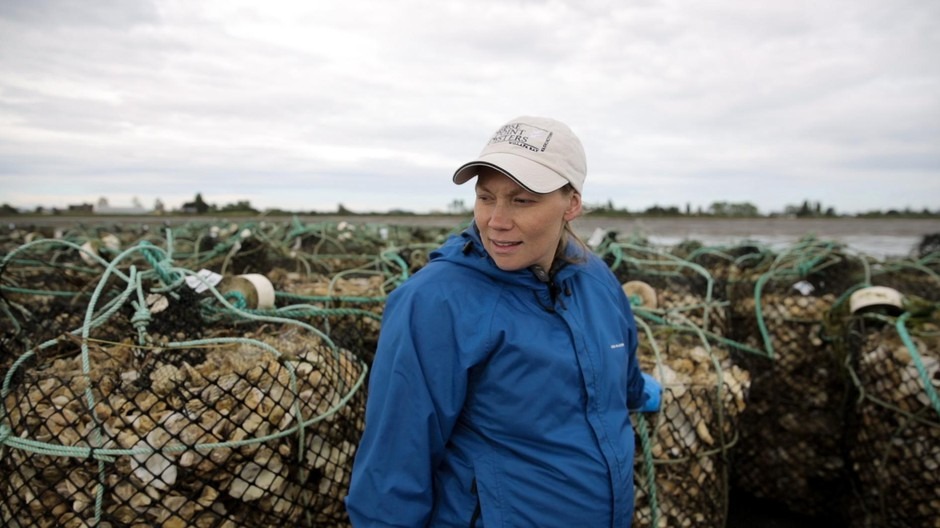 Willapa Bay Oyster Farmers Struggle As Shrimp Population Booms
NOTE: This story is shared with NWPB by our partners at Oregon Public Broadcasting. For feedback/comments, contact OPB directly: [email protected] / 800-241-8123
BY MOLLY SOLOMON / OPB
On an early spring morning at low tide, Kathleen Nisbet-Moncy hops out of the small boat as it nears a tide flat near the mouth of Cedar River in Washington's Willapa Bay.
Even at seven months pregnant, the second-generation oyster farmer easily sloshes through the mud in waders, stopping every now and then to point out a cluster of glistening oyster shells nestled among the eelgrass.
"We hand pick all of these," Nisbet-Moncy said as she holds up a craggy shell. Just ahead are bushels of oysters collected by workers earlier that morning, that now sit alongside the river waiting for pick-up.
Nisbet-Moncy runs Goose Point Oysters in Bay Center, Washington, alongside her father, Dave Nisbet, who founded the family operation in 1975. Over time their farm in Willapa Bay has grown from 10 acres of tideland to a 1,900-acre farm with a state-of-the-art processing plant.
"It's a really good growing area because it's next to the river and it's also really close to the mouth of the ocean so we get really high food flow that comes through here," Nisbet-Moncy explains. "It's a perfect place to fatten and grow oysters."
But just a couple yards away, a different picture comes into view. Gone are the green eelgrass and the clumps of oysters. The firm packed mud gives way to gooey quicksand. The ground is barren of life, except for hundreds of tiny air holes rising to the surface.
In the distance, farm manager Francisco Meliton sinks to his knees in a matter of seconds. He lifts himself out of the mud and walks back clutching something in his fist. He opens it to reveal the culprit behind the crop devastation: three tiny ghost shrimp squirming in his palm.
"We lost 15,000 bushels of oysters here because we couldn't get them off," Nisbet-Moncy said as she looks across 300 acres of now unfarmable land. "The shrimp came in really heavy and we couldn't get them all off in time."
The plot of land at the mouth of Cedar River is especially important to the Nisbets. It's what oyster farmers call a fattening bed, where young oysters are plopped into the bay and spend several months growing until they're plump enough to sell.
"This is our livelihood," Nisbet-Moncy said. "It's really sad to see something you worked so hard to create, to see it taken over by a predator you have no control over."
Working To Control A Native Species 
Of the 70,000 acres of mudflats in Willapa Bay, less than 10,000 acres are used for shellfish cultivation. Researchers estimate about a quarter of that farmable land has already been taken over by burrowing shrimp. But the battle over land between shellfish growers and the shrimp is not entirely new. 
The shrimp are actually native to the bay, unlike the oysters which were brought in to farm from Japan after settlers overharvested the native Pacific Northwest oyster to near extinction.
The shrimp population was naturally contained until the 1950s when oyster growers noticed a surge in shrimp numbers.
"There were parts of the bay that were being destroyed," said Dick Wilson, an oyster farmer and owner of Bay Center Mariculture in Willapa Bay.
Many farmers believe the influx of shrimp was likely human-caused. Wilson points to a decrease in predators after decades of overfishing sturgeon and salmon and the dams along the Columbia River, which ended freshwater floods that killed off shrimp in the bay.
But for many years, oyster farmers had a quick fix that solved their shrimp problem: blasting large swaths of infected beds with a chemical called carbaryl.
"They tried that and it was quick, it was easy and it was effective," said Dick Wilson, an oyster farmer and owner of Bay Center Mariculture in Willapa Bay.
But carbaryl was phased out in 2002 after a lawsuit brought by environmental groups. Since then, shellfish growers have been searching for an alternative to control the shrimp.
Kim Patten, an agricultural specialist who recently retired from Washington State University's Long Beach office, predicts that without pesticide treatments, farmers could be facing up to 90% reduction in oyster production.
Patten and his team tried just about everything to find a solution after carbaryl: zapping the shrimp with electricity, covering them in cement, and even a hot pepper solution made from habaneros.
"It was really hot stuff," recalled Patten, who spent several years studying the shrimp problem. "I mean, you open the top of the jar off and you basically start welling up immediately."
Patten said nothing seemed to work. Until he tried a neurotoxin called imidacloprid, one of the most commonly used pesticides in the world. The chemical worked by stunning the shrimp and temporarily paralyzing them, just long enough for them to sink and eventually suffocate in the mud flats.
"You're looking at controlling something that is three feet below the ground in a tidal estuary," said Patten. "It's just very difficult and it's going to be expensive for the industry."
But the shellfish industry got a win in April 2015, when the Washington Department of Ecology approved its permit to spray up to 2,000 acres of tidelands with imidacloprid in Willapa Bay and Grays Harbor, Washington.
"Everything seemed to be fine," said state Sen. Dean Takko, a Democrat from Longview, Washington, who represents the 19th legislative district.
"And then there was a front-page article in the Seattle Times that they're going to spray in the bay," Takko said.
"And, pardon my expression, but everything just kind of went to hell," he adds. 
Public backlash was immediate. Chefs in Seattle began making calls refusing to serve oysters sprayed with pesticides. Two of the biggest shellfish producers in the bay, Taylor Shellfish and Coast, pulled out of the plan to spray, saying it would hurt their bottom line if customers protested their product. The outcry led oyster growers to ask the state to temporarily withdraw the permit.
Takko said he sees this issue as something people can't understand if they don't live and work on the coast. And it prompted him to pen a recent Seattle Times op-ed, calling oyster farming the "lifeblood of Pacific County."
"It's such an iconic thing for that community down there, especially on the peninsula side," said Takko, who remembers fishing on the docks in Ilwaco, Washington, as a kid.
"That's where I grew up. So, I've got an emotional attachment to it besides just the practical attachment to the jobs."
With a population of just over 20,000, oyster farming is the economic driver of Washington's Pacific County, a place that has seen other industries fall away.  
"We've had a lot of jobs lost in my district over timber, over the way we manage our salmon," Takko said. "And now we're going to lose jobs in the oyster industry. It's another resource job that's going away."
Backlash Over Pesticides
Last year, the Washington Department of Ecology officially denied the use of imidacloprid, citing new science from the U.S. Environmental Protection Agency and research from Health Canada.
Thousands of people flooded hearings on the permit and submitted testimony. Most voiced concerns about possible health and environmental impacts of using a neurotoxin in an estuary. 
"We have been hearing from scientists all over the country, which is embarrassing," said Laura Hendricks, with the Coalition to Protect Puget Sound. She spoke to lawmakers at a bill hearing in February that would have required Ecology to grant permits to use imidacloprid. The bill did not make it out of the session.
"I've had scientists call me and say, 'You're supposed to be a green state. Inslee's supposed to be a green governor. What are you doing thinking about applying pesticides in water?,'" Hendricks said.
New studies on the neurotoxin focus mostly on its use to control agricultural pests on land, and some of it is troubling.
Multiple papers show links to bee colony collapse and the pesticide is largely banned in European countries. Canada is considering a ban as well.
"The science behind the impacts of this particular pesticide has been evolving," said Rich Doenges, who leads the Washington Department of Ecology's water quality unit and wrote the opinion to deny the permit.
He said while the science has shown the chemical does not harm humans, fish or birds, its impact on invertebrates could have greater ramifications on the food web of the bay.
"It has the potential to affect the ecosystem out in the bay because of its ability to disrupt populations of invertebrates that are preyed upon by fish or by birds," said Doenges. 
In denying the permit, the Washington Department of Ecology made it clear the agency did not want to take any risks, especially in an area that's also a breeding ground for another big coastal crop: Dungeness crab.
But without a tool to control the shrimp, oyster farmers fear their way of life could be in jeopardy. 
Cutbacks Come At A Cost
Willapa Bay and the nearby Puget Sound produce more than a quarter of the nation's oysters and generate about $35 million a year in product for the state of Washington. The industry also provides thousands of jobs in a rural district of southwest Washington.
"The shellfish industry is the largest private employer in Pacific County," said oyster grower Marilyn Sheldon. "That's what's at stake." 
Sheldon helps run Northern Oyster Company, a family-run operation that's been on the peninsula since the 1930s. This summer, she'll be planting half the number of oysters she planted four years ago.
"It's huge," she said. "Every day we are looking at how we're going to cut back."
Sheldon's also had to let go of workers. She worries a lot because time is running out for a permanent solution. 
"I mean we're talking about multigenerational farms that are folding up and it is sad to see," Sheldon said. "I don't want to be the one who has to look at the relatives and say, we're throwing in the towel because we just can't keep fighting." 
Sheldon is one of a dozen farmers appealing Ecology's decision. They'll make their case at a state hearing this fall or possibly reach a settlement before.
Back out on Willapa Bay, Kathleen Nisbet-Moncy surveys a plot of land for more shrimp. She remembers running out on the flats as a small girl, following her dad around with a bucket as he picked oysters.
With four kids and a fifth on the way, she wonders if her family's farm will be around to pass on to the next generation. She's held off on investing in another processing plant because she's not sure about the future of her farm. Or whether they'll have oysters left to process.
Today, when she looks out at the shrinking flats, she sees more than lost profits. It's an entire way of life slipping away.
"This is our front yard, our pride and joy," said Nisbet-Moncy. "And we're all slowly being worked out of business. If we don't do something, you'll turn these communities into ghost towns."
Copyright 2019 Oregon Public Broadcasting. To see more, visit opb.org