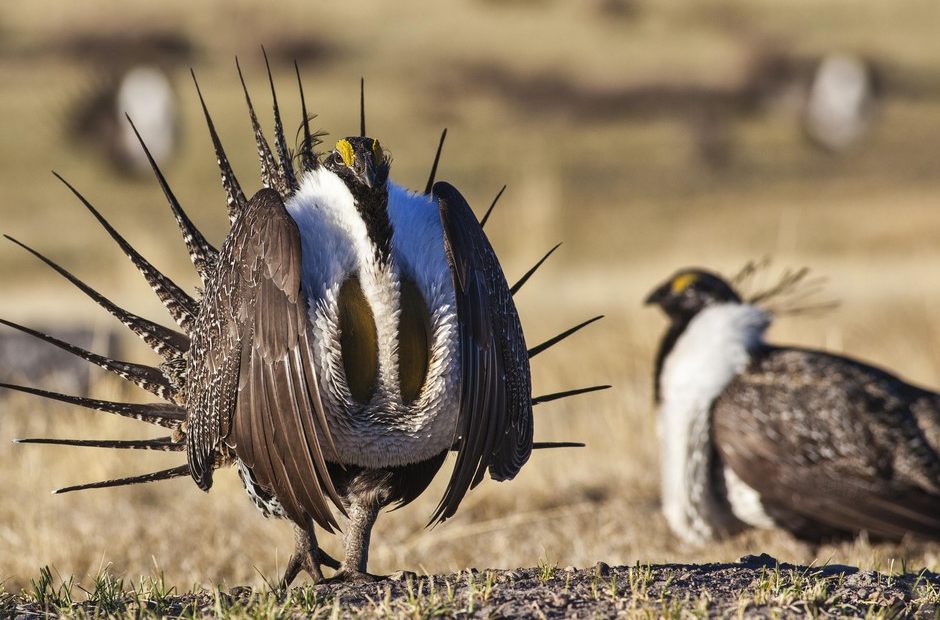 Could Relocating Sage Grouse Save The Birds In Washington?
Moving imperiled sage grouse from one spot to another can be hard on the birds. But research from Washington State University suggests that after a restless adjustment period, the birds eventually get used to their new homes.
During the first year, moved birds don't reproduce or survive as well as resident sage grouse. Then, they start to settle in, said Kyle Ebenhoch, who conducted the study for his master's thesis. The study was published in "The Journal of Wildlife Management."
"What we found after the second year, is they kind of settled down and eased into their surroundings," Ebenhoch said.
If those findings hold true, they could help make the case for more efforts to bring sage grouse into areas where they struggle to maintain healthy populations. That's been a problem in Washington, one of the western states where sage grouse numbers are especially low and the birds survive in isolated groupings.
Sage grouse, once numerous across the Intermountain West, are in trouble, as development, ranching, oil and gas drilling, and other human activities have reduced the size and quality of their habitat. Although they are not on the list of wildlife protected under the Endangered Species Act, a listing in the future could have sweeping economic impacts across the West.
Busy At Night
Ebenhoch's research kept his team busy late at night, when sage grouse are bedded down. That's when they would capture birds in Idaho, Oregon and Nevada and transport them to central Washington's Yakima Training Center.
They would collar the birds so that they could follow their movements remotely. Ebenhoch said some birds initially flew as far south as the outskirts of Sunnyside, some 40 miles or so.
"You'd see some of these translocated individuals make these massive movements and travel to areas that we didn't even know [sage] grouse occupied, even if it wasn't permanently," Ebenhoch said. "It kind of opened our eyes to aspects of the landscape that could be used by sage grouse."
He'd hoped to increase sage grouse numbers and diversify the gene pool of the sage grouse that lived at the Yakima Training Center.
But the numbers of sage grouse there continued to decline, even with a small number of relocated birds. For the six years Ebenhoch studied them, 10-20 birds were brought in each year.
"Our efforts did not effectively stabilize or augment our population numbers, so using what we did, they could possibly tweak a few things. They could bring in more birds each time they translocated individuals," he said.
Habitat Loss
For Washington's sage grouse, a lot of the threats come down to habitat loss and fragmentation. Much of the land has been converted into agricultural fields.
Now, most of the birds live in three isolated areas: Douglas County, Lincoln County and the Yakima Training Center, where Ebenhoch conducted his research.
Until recently, there was also a small population on the Yakama Nation reservation, but that single lek (the name for a grouping of sage grouse) disappeared this year, Washington Department of Fish and Wildlife biologist Mike Schroeder said.
When Lewis and Clark traversed the Columbia Basin in the early 1800s, they noted the vast numbers of sage grouse in Washington.
"The [sage grouse populations] they saw are all gone," Schroeder said. "The conservation of sage grouse in the Columbia Basin is a pretty big deal."
Translocating birds is a big way to help that, he said. But, recently, the department hasn't been able to move sage grouse from other states, where the birds face numerous other threats.
The last time Washington translocated birds was during Ebenhoch's study — to the Yakima Training Center in 2016.
"The last two years have been kind of bleak across the range, so that's why we didn't do it. We were hoping to do a translocation this year," Schroeder said.
Elsewhere in the Northwest, sage grouse face threats from encroaching juniper trees, overgrazing and wildfires.
The health of sage grouse is seen as a window into the health of the sagebrush ecosystem as a whole, and the more than 300 species that live there.
In 2015, the federal government decided not to add the birds to the endangered species list. This was seen as a win for a hard-fought conservation movement that was supported by ranchers, biologists and conservation groups across 11 western states.
Recently, the Trump administration has rolled back some of the protections put in place to protect the greater sage grouse range-wide. Some groups worry increases in drilling and mining could mean the birds would be added to the endangered species list, which would increase the restrictions on their habitat.
Sage grouse numbers in Washington for the most part have declined in recent years. One population that seems to be recovering better than others is in Douglas County.
Schroeder said one reason could be that the small amount of sagebrush habitat there is really healthy — there's a lot of diverse grass cover and forbes that provide nutrition for the birds when they're laying eggs.
But their future is highly uncertain, he said, hoping federal land conservation programs continue and that they'll be able to translocate more birds in the future.
"It's not a situation that's overwhelming with certainty right now," Schroeder said. "There's a lot of very stressed people who pay attention to sage grouse issues right now."