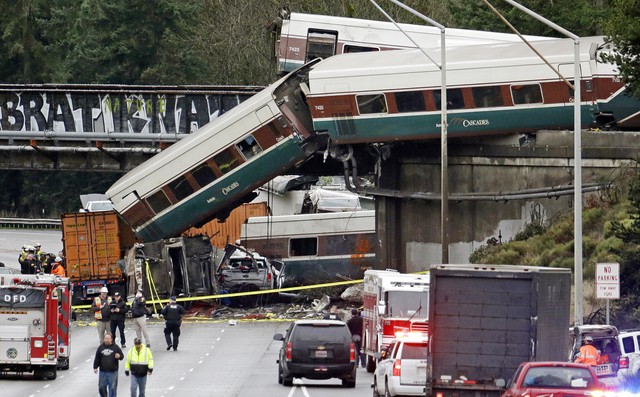 There's Another Multimillion Dollar Jury Settlement Against Amtrak Following 2017 I-5 Derailment
Another passenger badly injured in the Amtrak train derailment south of Tacoma nearly two years ago will collect big-time damages. But suing Amtrak like this suburban Seattle woman did will no longer be an option after future crashes.
An eight-member federal court jury on Wednesday ordered Amtrak to pay Madeleine Garza of Maple Valley, Washington, $4.5 million for pain, suffering and possible future disabilities. Garza received spinal injuries and broke her pelvis during the derailment of the speeding Amtrak Cascades train, which was traveling from Seattle to Portland.
Garza was an 18-year-old community college student at the time. She was riding in the middle of the train in one of the cars that tumbled from a freeway overpass and flipped over on Interstate 5 near DuPont.
"Maddie was thrilled with the verdict," said Garza's lead attorney, Darrell Cochran, after leaving the courthouse in Tacoma. "In particular, she is thrilled to put this dark chapter behind her and continue moving forward to enjoy life."
Her civil lawsuit was the second to go to a jury stemming from the catastrophic crash on Dec. 18, 2017. Wednesday's verdict followed a nearly $17 million jury award in early September. Two badly injured men and the wife of one of them will split that.
In total, more than 35 people have sued Amtrak for damages connected to the derailment in which three people died and more than 60 were injured. At least one case involving an injured technician for train maker Talgo settled under terms that were kept private.
RELATED: Amtrak Concedes Negligence In Deadly 2017 Derailment 
The next Amtrak derailment-related personal injury lawsuit trial starts next week in Tacoma. The plaintiff in that case is a freeway driver whose car was partially crushed by a falling rail car.
Amtrak conceded negligence for the DuPont wreck at the outset of the first trial and in Garza's case. So, the testimony this week and last focused on Garza's injuries and recovery. In this month's cases and the bellwether one, U.S. District Court Judge Benjamin Settle allowed the plaintiffs to ask for compensatory damages, but ruled that their attempts to seek additional punitive damages were not permitted under the laws governing Amtrak.
Early this year, Amtrak changed the terms and conditions for ticket purchases to require mandatory arbitration for passenger claims — up to and including serious injuries and wrongful death. So, if there is another catastrophic derailment in the future, you won't see a parade of lawsuits in federal court like there is now.
During a Congressional oversight hearing on Capitol Hill Wednesday, House Transportation Committee Chair Peter DeFazio (D-Oregon) asked Amtrak CEO Richard Anderson about the appropriateness of the "pretty tough" arbitration clause.
Anderson replied that the legal language his railway adopted is fairly standard in corporate America these days.
"Arbitration actually is faster," Anderson told DeFazio. "It gives all the same remedies."
"We want to be a customer-friendly railroad," Anderson continued. "But at the same time we want to have an efficient, lawful method for promptly and fairly resolving any passenger claims."
Trial lawyer groups dislike the spread of mandatory arbitration in ticket contracts because they believe the clauses reduce transparency, shield negligence from disclosure, preclude class actions and can result in smaller payouts to victims.
A final investigation report released by the National Transportation Safety Board earlier this year found the Amtrak Cascades wreck could have been prevented. The immediate cause of the derailment was that the locomotive engineer failed to slow the train ahead of a sharp curve, but the NTSB cited crew training deficiencies and numerous other risk mitigation steps that the board said Amtrak, track owner Sound Transit an