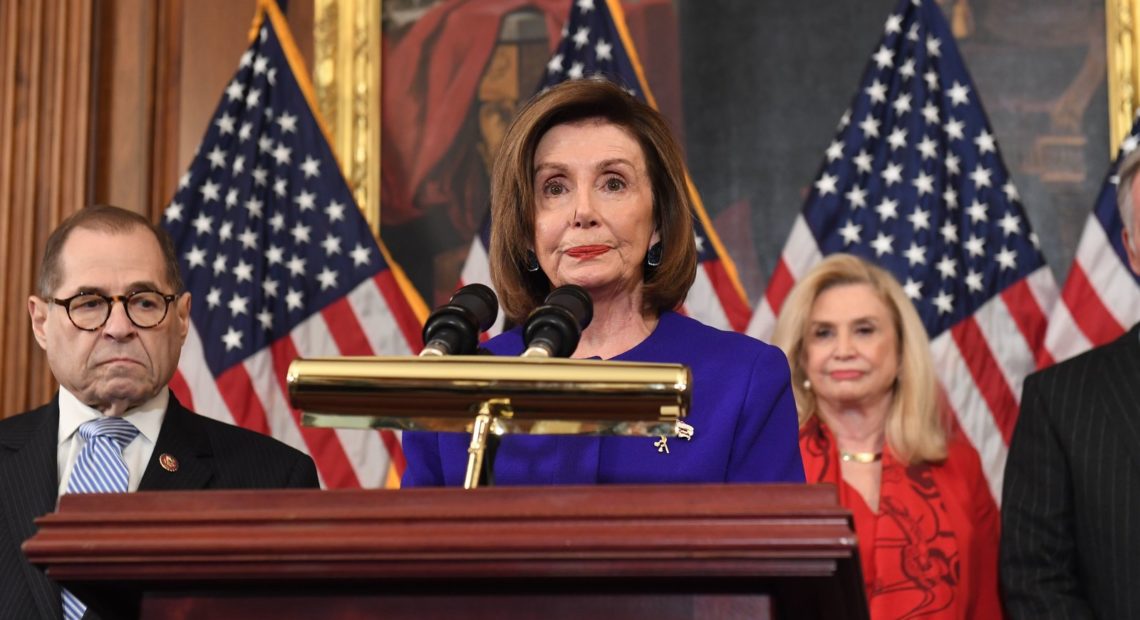 House Democrats Unveil 2 Articles Of Impeachment Against President Trump
BY PHILIP EWING & AMITA KELLY
House Democrats unveiled two articles of impeachment against President Trump on Tuesday morning, charging him with abuse of power in the Ukraine affair and obstruction of Congress.
The announcement followed 77 days after the House launched a formal inquiry into his freezing of assistance to Ukraine and request to investigate a political rival. It marked only the fourth time in U.S. history that articles of impeachment have been introduced against a president.
Judiciary Committee Chairman Jerry Nadler, D-N.Y., said Trump "consistently puts himself above the country" and the president's actions in the Ukraine affair left the House with no choice but to resort to the remedy prescribed in the Constitution for the most egregious wrongdoing by a president.
"We must be clear: No one — not even the president — is above the law," he said.
After it finalizes the articles, the Judiciary Committee is expected to send them to the full House for a vote on whether to impeach the president.
If the chamber votes to impeach Trump, that would trigger a trial in the Senate — which is controlled by Trump's allies. Republicans in the upper chamber are expected to acquit Trump and permit him to keep his office.
Trump's campaign said on Tuesday that impeachment represented a craven attempt by Democrats to sabotage the election because House Speaker Nancy Pelosi and her members are worried none of their presidential candidates can defeat Trump in the election next year.
"It is divisive and only the Democrats are pushing it, but she's doing it anyway," said Trump campaign manager Brad Parscale. "Americans don't agree with this rank partisanship, but Democrats are putting on this political theater because they don't have a viable candidate for 2020 and they know it."
Dems: We can't wait
In announcing the articles, House Intelligence Committee Chairman Adam Schiff, D-Calif., said Trump's actions have imperiled the integrity of the 2020 election and Trump's continued tenure in the White House continues to do so.
In view of Congress' need to ensure the election can run fairly and the legislature's need to preserve its status as a co-equal branch of government, the House must impeach Trump, Schiff said.
He rejected the idea that Congress should wait for Election Day itself to let voters decide whether to reelect or remove Trump.
"'Why don't you let him cheat in one more election?'" Schiff asked rhetorically. "That is what that argument amounts to."
In announcing the articles Tuesday, Democratic leaders emphasized they were not taking the step lightly. Indeed, the move itself is rare: Articles of impeachment were previously introduced against Presidents Andrew Johnson, Richard Nixon and Bill Clinton. Johnson and Clinton were impeached but acquitted by the Senate. Nixon resigned before he was impeached by the House of Representatives.
The Ukraine affair
The drafting of articles of impeachment followed lengthy testimony before the House Intelligence Committee — first behind closed doors, then in public — from current and former government officials.
In its 300-page report released last week, the committee argued that Trump abused his office and pressured Ukraine to open investigations against former Vice President Joe Biden and his son Hunter for Trump's own political benefit.
In a House Judiciary Committee hearing Monday, lawyers for House Democrats presented evidence they say shows the president has abused his power, obstructed Congress and should be removed from office.
"President Trump's persistent and continuing effort to coerce a foreign country to help him cheat to win an election is a clear and present danger to our free and fair elections and to our national security," committee lawyer Daniel Goldman said.
Meanwhile, House Republicans have dismissed the inquiry as purely partisan and criticized its process.
"At the end of the day, all this is about is a clock and a calendar," said Rep. Doug Collins, the lead Republican on the panel, "and they can't get over the fact that Donald J. Trump is president of the United States, and they don't think they have a candidate who can beat him."
The White House has rejected offers from Democrats to participate in the inquiry, blocked some officials from testifying and refused to turn over documents.
The dispute over testimony from key administration figures — including Vice President Mike Pence and Secretary of State Mike Pompeo — is the basis for Democrats' allegation that Trump has obstructed Congress and violated the Constitution's requirement that the legislature provide a check and balance on the executive.
But White House lawyer Pat Cipollone has called the inquiry "completely baseless" and unfair and not a process the administration is bound to respect.
Claudia Grisales contributed to this report.
Copyright 2019 NPR. To see more, visit npr.org