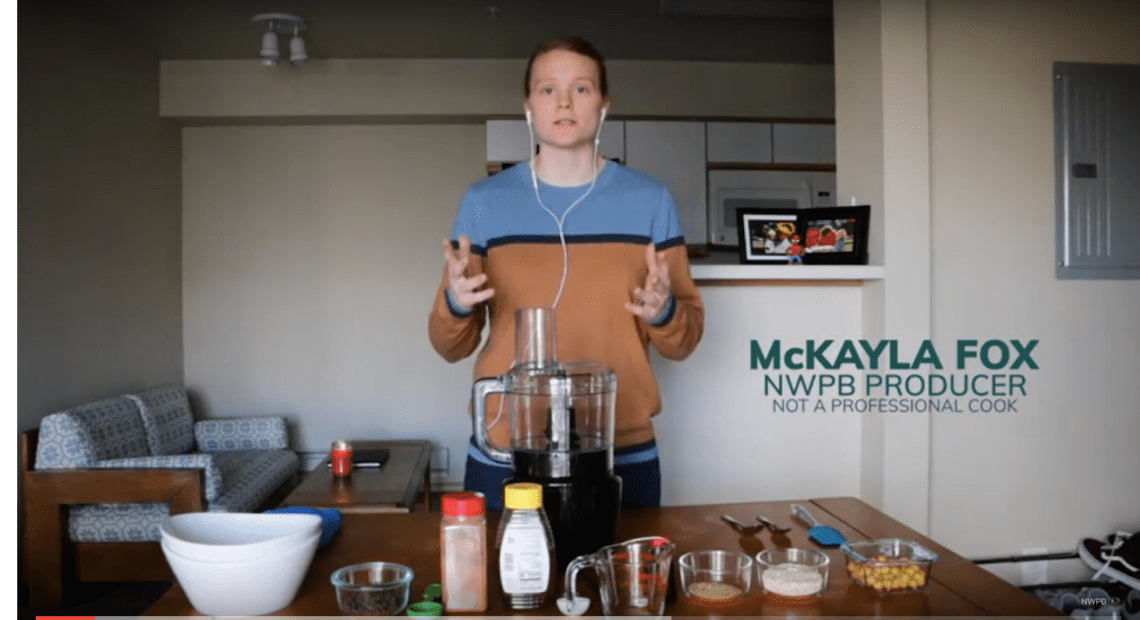 Staying Inside A Lot? Some Food Thoughts
If you're hunkered down, doing your part to flatten the curve…maybe food is on your mind. You may be feeding your family – or cooking to deal with cabin fever. Do you have enough? What will give you and your family the most comfort?  Were you able to stock up? What can you cook with things in your pantry? Here are some suggestions from NWPB staff.
Second, there have been some good public radio programs about eating during this time. Check out this episode of It's Been A Minute with Sam Sanders.  It has some good ideas from the professionals for cooking with what you have.
Third, we asked around the office and came up with some ideas! Staff had fun trying out their food stylist skills too.
On stocking up.  Many staff members tried to get things for their freezer.  Others brought in dried pasta, legumes and rice.  Many picked up canned goods – or already had them on hand.  More than one said they stocked up on wine, beer and other spirits to keep THEIR spirits up.
On comfort food.  The fundraising team stepped up immediately to offer ideas for our listeners and donors. Paula Sloot shared her go-to comfort food recipe, Chicken Black Bean Sweet Potato Stew. She's made it for many years. It's hearty and you might have the ingredients in your freezer and pantry.
Sue Sheppard came out strong with her Black Bean Soup. It tastes delicious and makes a large amount. Many of the ingredients of this dish may already be in your cupboard. If you get tired of the soup (which you won't) consider using leftovers for black bean burritos or black bean burgers.
Sandi Billings shared one of her favorites, Black Lentil Dal. She makes it with long-shelf-life pantry items, so it's an option even when she runs out of fresh vegetables. The main ingredient is grown on the Palouse – a worldwide leader in lentil production!
Jamie Huber keeps a lot of vegetables in her fridge because she has children.  But one of her family's big comfort foods is grilled cheese sandwiches and soup!  Now, who doesn't love that?  You can make a quick soup if you have broth in your cupboard and just about any vegetables, noodles or whatever.  Are you a fan of Cougar Gold Cheese? Here's the recipe for your sandwich.
McKayla Fox, producer, editor and videographer, searched the web and found a Chocolate Chip Hummus recipe that uses most ingredients found in your fridge or pantry.  Who doesn't find chocolate comforting? Watch McKayla make the hummus.
Jordan Eby, radio traffic coordinator, offered her White Chicken Chili recipe.  Again, many of the ingredients might already be in your pantry or freezer.
Not much in the cupboard?  Get creative.  Combine dried pasta with – well just about anything. Put hot sauce on that can of sardines and add to pasta.  Throw in cheese if you have it. Open up that package of ramen noodles, cook it and add an egg. Or, use the seasoning packet on popcorn.
If you are having trouble cooking because you are also home schooling, sanitizing and working from home, again, consider ordering take-out.  Or maybe you are lucky like Tom Hungate, TV program director. His youngest son is home because his office closed temporarily. He cooks for the family every day!
And don't forget to check in on friends and neighbors to see if they have food or need some delivered.  Not everyone was able to get to the store, and they may be nervous about going now.  Public radio has many stories about neighbors helping neighbors, and you can join them.
Let us know how YOU are doing.  Are you having fun, or at least surviving, with cooking during this time? Share with NWPB. Send email to [email protected] or send a direct message on any of our social media platforms: @NWPBroadcasting. Please provide us with your full name, location, ingredients and instruction lists, as well as a photo (if you have one) of your finished product. We can't wait to see what you are cooking!
Chicken Black Bean Sweet Potato Stew
Ingredients:
2 T Olive oil – heat in heavy pot on medium high
2 chicken breasts – cut up and cook until not pink
1 large sweet potato – peel, dice and add to cooked chicken
1 half onion – chop and add to pot, cook for 5 minutes for onion to soften.
Add: 2 tsp garlic powder, ½ tsp cumin, ¼ tsp salt and stir to combine.
Add: 3 ½ cups of chicken stock and 1 T of basil,
1 can black beans (rinsed), and
1 can diced tomatoes and bring to a boil.
Instructions:
Add in whatever vegetables you have on hand and let simmer for 10 minutes.
Stew can be topped with mozzarella cheese, etc.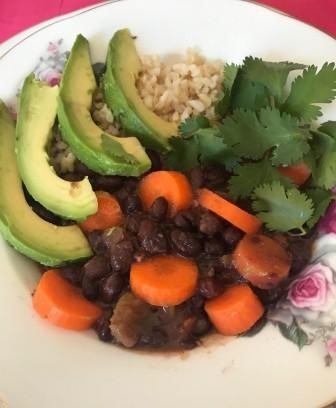 Ingredients:
1 medium onion, chopped
2 stalks celery, sliced
4 carrots, sliced
4 cloves garlic, minced
½ tsp ground cumin
2 bay leaves
1 ½ tsp dried basil
½ tsp chili powder
½ tsp dried oregano
½ tsp hot sauce
2 16 oz cans black beans drained, rinsed
2 14 ½ oz cans chicken broth
Cooked brown or white rice
Toppings of cilantro, scallions, avocado
Instructions:
Slow cooker-Combine all ingredients (except rice) in cooker and cook on low 8 to 10 hours, or high 3 to 4. Serve over rice and add toppings of your choice.
Stove top-Saute onions and celery 5 min or until soft. Add in carrots, garlic and spices to bloom. Add in remaining ingredients (except rice) and simmer for 30 min to 1 hour. Serve over rice and add toppings of your choice.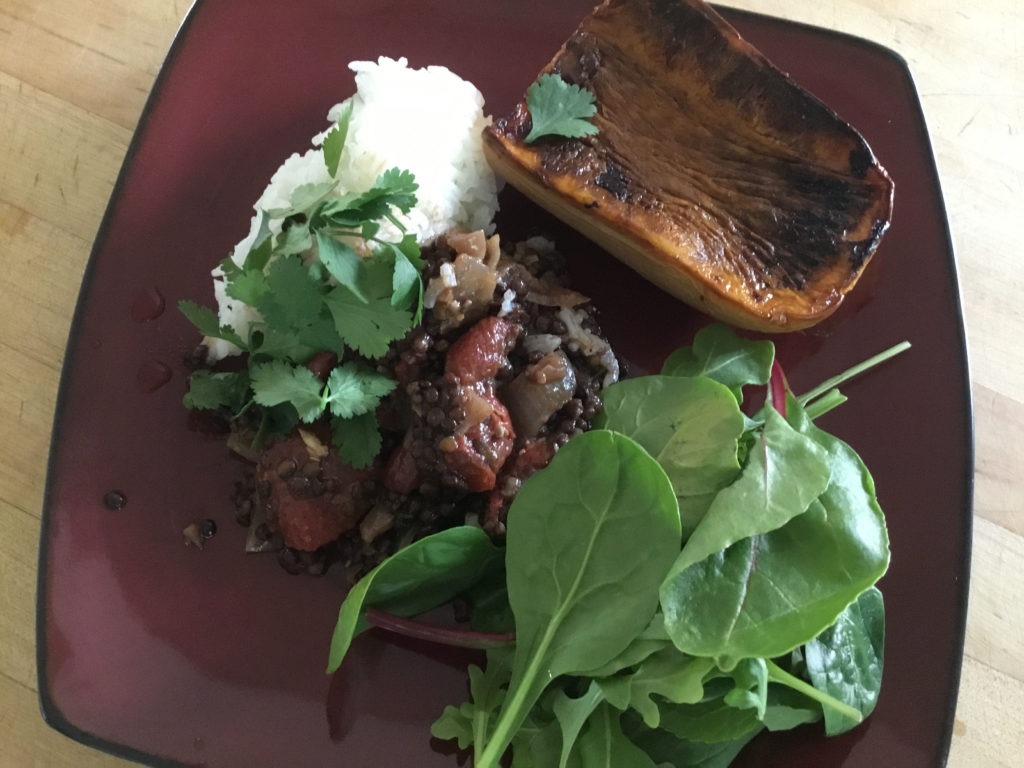 Ingredients:
1 cup black lentils, cooked (can also use green lentils)
1 onion, sliced
3 gloves garlic, crushed
½ cinnamon stick
1 tsp chili powers
5 cloves
1 tsp ground coriander
1 can tomatoes, chopped
1 Tbsp fresh cilantro/coriander leaves, chopped
Oil or ghee
Salt
Instructions:
Heat the oil or ghee and then sauté the onion.  When it begins to turn golden, put in the garlic followed by the cinnamon stick, chili powder, cloves and coriander.  Stir-fry for 1 minute or so.
Next add the lentils and tomatoes.  Mix these with the onion and spices and then cover the pan and simmer slowly for 15-20 minutes to draw the flavors together.  Top with fresh cilantro/coriander and serve with yogurt and rice.
Ingredients
½ cup cooked or canned garbanzo beans (if using canned, make sure to drain and rinse)
½ cup rolled oats
½ cup almond butter
1 Tbsp brown sugar
1 Tbsp honey
½ tsp vanilla extract
2 Tbsp almond milk, other milk or water
½ cup mini chocolate chips (or chopped dark chocolate)
Instructions:
Place garbanzo beans and nut butter in a food processor and blend until beans have broken up.
Add the oats, sugar, honey, vanilla and almond milk and blend until smooth.  Mixture should be soft and creamy like hummus.  If it's not, add another 1-2 Tsp milk or water if needed.
Remove to a bowl and stir in chocolate.
Serve with sliced fruit, berries, crackers, etc.
From Amelia Winslow
6 servings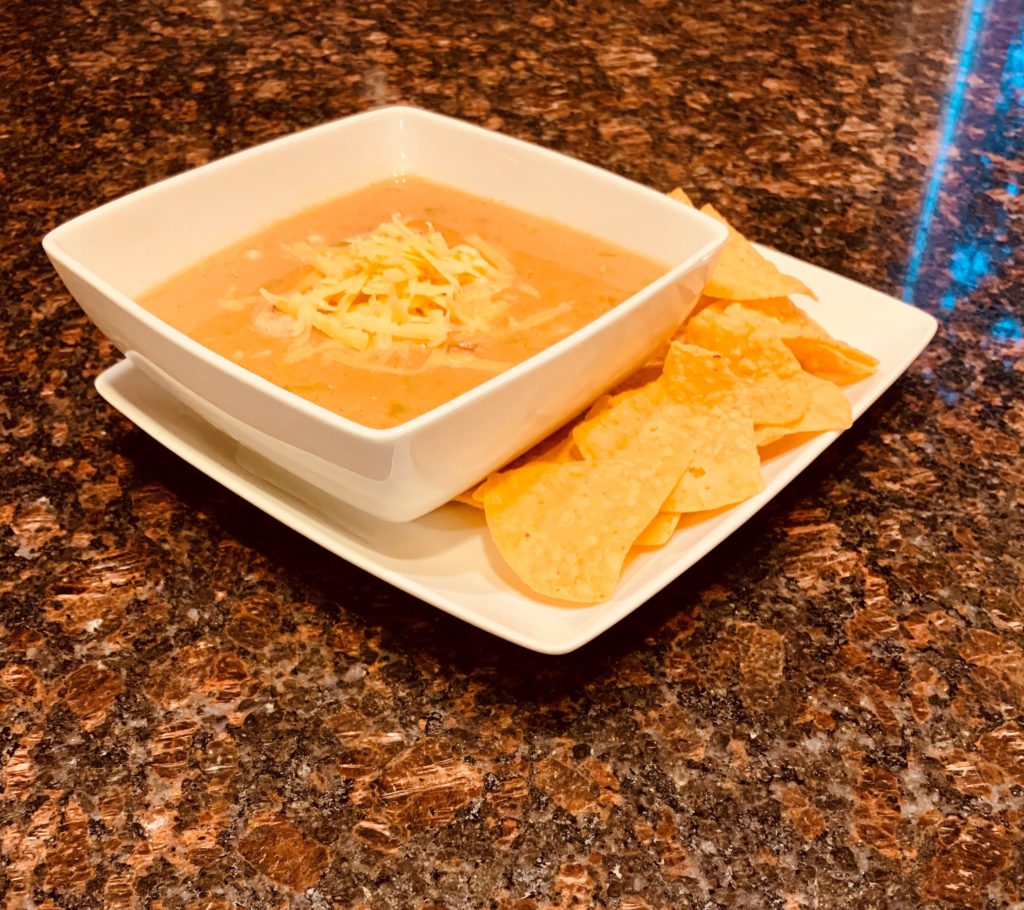 Ingredients:
One can of chicken broth

One can of cream of chicken soup
One can of white beans
One small can (4oz) of diced green chilis
One can of chicken (or shredded chicken if you have that on hand, just make sure it is already cooked)
One tsp of cumin
One tsp of chili powder
One tsp of garlic powder (or 1/2 tsp of minced garlic)
Salt and pepper to taste
Additional ingredients if available and so desired:
Shredded cheese and tortilla chips, cilantro for a garnish
Instructions:
Place all ingredients into a 2 qt saucepan
Heat on medium about 20 minutes or until heated through
Add additional ingredients if available and serve
Note:
This is a very basic recipe with things that may likely be in your pantry already, however you can add other spices depending on what you have at home and like. You can add onions or cream or whatever else sounds tasty to you. Be creative!