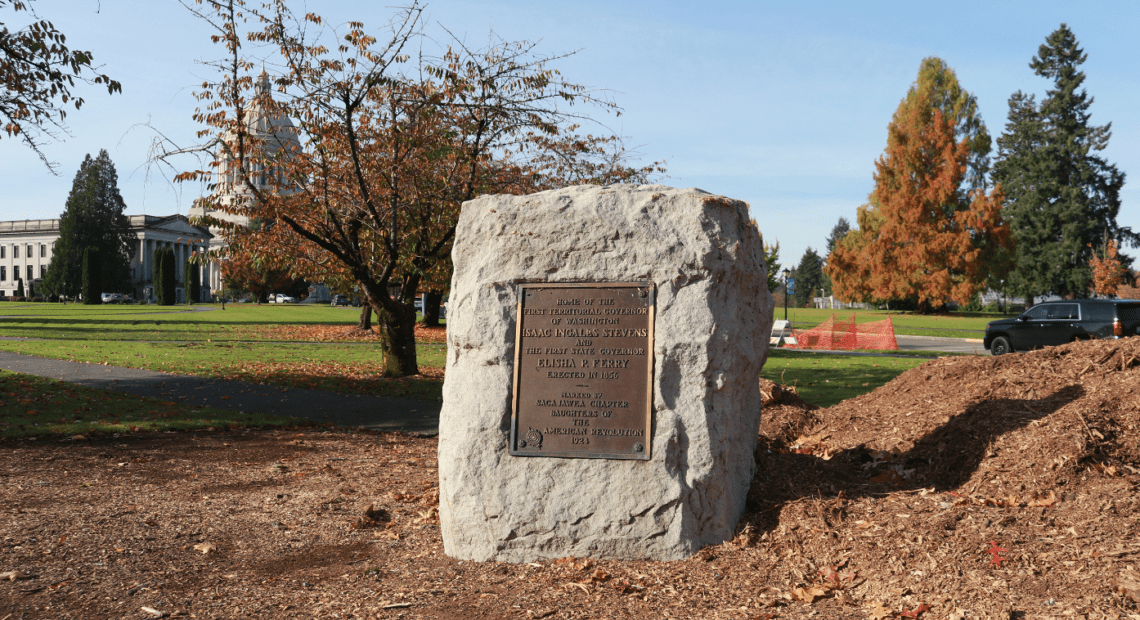 Nearly 100-Year-Old Historic Marker Stolen From Washington Capitol Campus
A nearly 100-year-old historical marker has been mysteriously stolen from Washington's Capitol Campus and, with no leads on who took it, the state patrol is now asking the public for help solving the crime. 
The bronze plaque commemorated the location of the home of Washington's first territorial governor, Isaac Ingalls Stevens. Washington's first post-statehood governor, Elisha P. Ferry, also lived there when he served as a territorial governor. 
The approximately 15-by-20-inch plaque was affixed to a large monument stone located along busy Capitol Boulevard, a short distance from the state patrol headquarters and also not far from the Capitol building. It was placed there in 1924 by the Sacajawea Chapter of the Daughters of the American Revolution (DAR). 
"I am just very sad and it is discouraging," said Shirley Stirling, the DAR's state historian and a member of the Sacajawea Chapter.
Stirling said this was the fourth theft of a DAR monument in Washington in the last couple of years. She suspected thieves may target bronze plaques because they can be sold to unscrupulous recyclers as scrap. 
A member of the Capitol Campus visitor services bureau first noticed the marker was missing on May 12. The theft was reported to the state patrol at the time, but not made public until Thursday when the patrol issued a news release seeking tips from the public. 
"Our troopers were doing some investigative work, were not getting many leads or anything so we decided to enlist the public's help to try to solve this," said the patrol's Sgt. Darren Wright.
Wright confirmed that a likely reason for the theft of the plaque was "probably to melt it down for a few bucks."
The theft was discovered just days after an estimated 1,500 people attended an unpermitted rally not far from the monument to protest Gov. Jay Inslee's "Stay Home" order. But Wright said it's unlikely there was a connection between the two events.
"It would take some time and take some effort to [steal the plaque], so it's just an assumption that it was probably done at night sometime, not in the middle of broad daylight," Wright said. 
Despite cameras and a state patrol presence, the Capitol Campus is not immune to acts of vandalism, including spray painting and graffiti. Even brazen crimes are not unprecedented.
In June 2014, two women were caught on camera after they managed to enter the governor's office from a second floor balcony. Once inside, they stole several items including a ceremonial trooper hat and a bottle of wine. In a fluke, the women were later arrested and the items recovered after a state trooper pulled over a speeding car and spotted the stolen loot.
In 2015, security at the governor's mansion was beefed up following two trespassing incidents. And last year, access to the House and Senate public galleries was limited when the Legislature isn̵