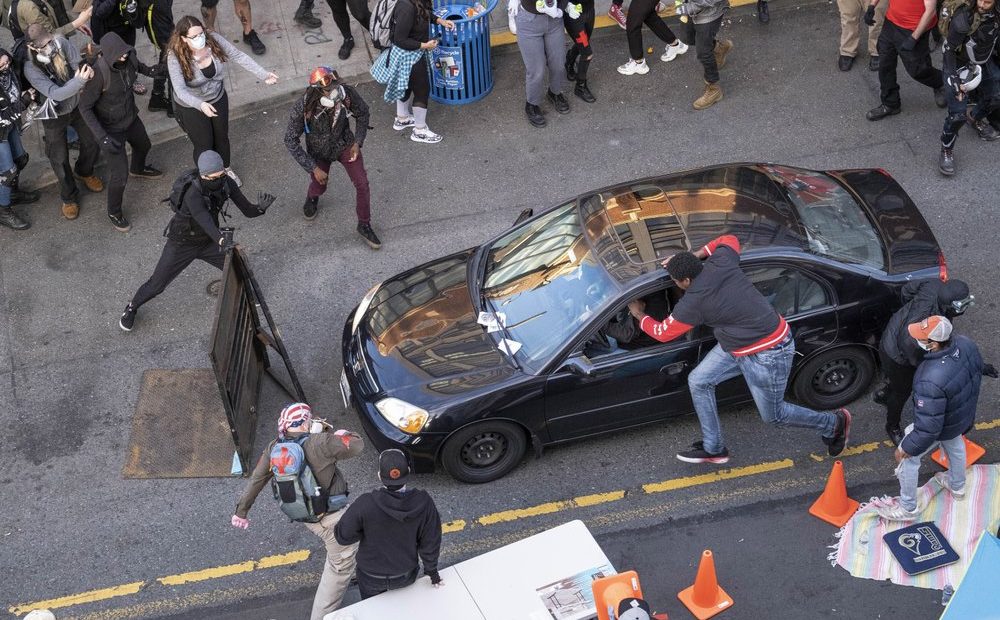 Seattle BLM Protest Turns Violent As Man Drives Into Crowd, Shoots; Spokane Sees Big Event Again
A man drove a car at protesters in Seattle Sunday night, hit a barricade then exited the vehicle brandishing a pistol.
At least one person was injured. The Seattle Fire Department said the victim was a 27-year-old male who was shot and taken to a hospital in stable condition.
Video taken by a reporter for The Seattle Times showed part of the scene in the city's Capitol Hill neighborhood, where demonstrators have gathered for days near a police precinct. 
Northwest News Network and NPR member station KUOW reported Sunday night:
Video footage shows the protester launching himself into the speeding vehicle to slow the car.

The man who was shot gave his name as Daniel, and was transported to Harborview Medical Center where he is in satisfactory condition.

"My whole thing was to protect those people," Daniel told Alex Garland, a photographer. Garland posted a video of a brief interview with Daniel to Twitter.

The driver, who appeared to be in his 30s, and wearing a black hoodie with an American flag on the back. He got out of the car brandishing a weapon. Witnesses believed it was a Taser gun, which stuns people with electric nodes, but Seattle police said on Twitter that it was a gun.
Here's is more complete footage of what happened in Seattle, with the car speeding in, an apparent shooting, and the man getting out with a gun.pic.twitter.com/PnDbHwYy28

— Mike Baker (@ByMikeBaker) June 8, 2020
Information from the Associated Press was used in this report.
Spokane See's Big Rally And March For 2nd Straight Sunday
BY NATALIE NEWCOMB
For the seventh day in a row people gathered in downtown Spokane on Sunday in the name of George Floyd and others killed by police.
Much like the week before, the large rally estimated at several thousand people began in the city's downtown Riverfront Park before turning into a march. Though unlike the May 31 demonstration, the main march passed the Spokane County Courthouse without stopping. The march made a loop around the north side of the Spokane Arena before returning to Riverfront Park.
Firefighters joined the protest, holding signs, with the hashtag #Spokanefirefighters.
Lieutenant Scott Coldiron joined the protest with a sign reading "Firefighters Stand With You."
"We are your local fire department. Most of us work in this district downtown," Coldiron said. "We're servants of the citizens. We care about the citizens. That's why we're here to show support."
About 15 of his colleagues joined him, but wanted to remain anonymous for fear of retaliation.
Coldiron says his union is trying to help reduce obstacles to become a firefighter, with changes such as eliminating the financial requirements needed to become an EMT. He said he wants the force to look like and represent the community he serves.
"I think it's important for those little kids to see black firefighters, Asian firefighters, Native American, Latino," he said. "We should be representing all of that, and it's like almost completely white males."
The protest remained peaceful as it spilled out beyond the park after the main event had wrapped up around 5 p.m. A smaller group of protesters gathered at the park entrance on both sides of Spokane Falls Boulevard. A group later continued to march through downtown and eventually returned to the county courthouse, where they engaged with police in a peaceful manner.
Renee White, who has become a de facto leader of the Spokane protests over the past week, talked with a Washington State Patrol trooper, who she challenged on whether he supported what they were doing.
Here's that moment between White and the trooper as it happened! https://t.co/vtxQrwp84T

— Stevee Chapman (@SteveeKXLY) June 8, 2020
The demonstrations in Seattle and Spokane over the weekend were just two of dozens taking place in cities and small towns across the region. Other areas such as Moses Lake, Leavenworth, Pasco and Bellingham also had protests and marches.
Doug Nadvornick of Spokane Public Radio and Scott Leadingham of Northwest Public Broadcasting contributed.