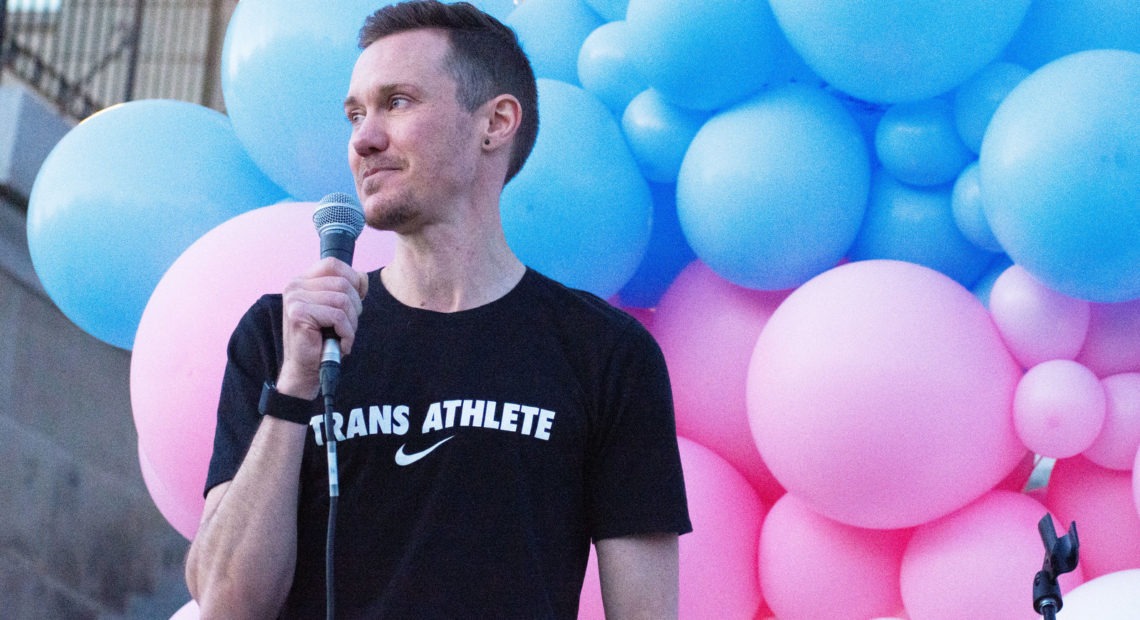 Federal Judge Puts Temporary Hold On Idaho Law Barring Transgender Athletes In Women's Sports
Idaho's first-in-the-nation transgender athletics ban passed in March, after a series of emotional committee hearings and Statehouse protests.
A federal judge has put Idaho's controversial transgender athletics ban on hold.
The injunction will allow Chief U.S. District Judge David C. Nye to review the myriad constitutional questions surrounding the law, which bans transgender women and girls from participating in women's and girls' sports.
And in an 87-page ruling issued Monday, Nye appeared to tip his hand a bit, giving a nod to opponents who are challenging the Fairness in Women's Sports Act on constitutional grounds.
"Because the court finds plaintiffs are likely to succeed in establishing the act is unconstitutional as currently written, it must issue a preliminary injunction at this time pending trial on the merits," Nye wrote in an 87-page ruling issued Monday.
For now, the injunction means the transgender athletics ban will not be in effect as the 2020-21 school year begins — and as public schools and colleges and universities try to resume sports competitions in the midst of the coronavirus pandemic. That means the injunction is something of a moot point at the college level, at least for the fall; both the Mountain West and Big Sky athletics conferences have postponed sports until spring.
After lengthy and emotional committee hearings, and several protests at the Statehouse, the transgender athletics ban passed the 2020 Legislature almost along party lines. In one of his last actions for the 2020 session, Gov. Brad Little signed House Bill 500 into law on March 30 — over the objections of five former attorneys general, Republican and Democrat, who said the proposal was fraught with constitutional flaws.
During the session, Attorney General Lawrence Wasden's office issued an analysis that raised several questions about the law's constitutionality. According to that analysis, the law could violate the equal protection clause in the 14th Amendment, by treating transgender students differently than their peers. The law could also violate the interstate Commerce Clause, by requiring the NCAA to follow Idaho's transgender law in lieu of its own policies permitting transgender women and girls to compete on women's and girls' teams.
Nye alluded to NCAA and International Olympic Committee policy in his ruling.
"Despite the national focus on the issue, Idaho is the first and only state to categorically bar the participation of transgender women in women's student athletics," he wrote. "This categorical bar to girls and women who are transgender stands in stark contrast debate to the policies of elite athletic bodies that regulate sports both nationally and globally."
Little stands behind the law, spokeswoman Marissa Morrison Hyer said in a statement Tuesday.
"The governor signed the Fairness in Women's Sports Act to support women's opportunities to participate in athletics. The governor's office just received the decision and is reviewing it."
Wasden's office declined comment Monday.
Nye's injunction is the latest development in a legal and political battle that has only intensified since Little signed HB 500 into law.
Barely two weeks after Little's decision, the American Civil Liberties Union and the Seattle women's rights group Legal Voice filed a lawsuit on behalf of Lindsay Hecox, a transgender track athlete at Boise State University, and an unnamed plaintiff.
Conservatives have pushed back against the lawsuit. In June, the Trump administration filed a brief supporting Idaho's law. Former U.S. Rep. and state Republican Party chairman Raul Labrador is representing two Idaho State University cross-country runners who support the state's law.
Meanwhile, hundreds of athletes opposing Idaho's law have turned their focus to the NCAA. They want the organization to pull sporting events out of Idaho — including NCAA men's basketball tournament games that Boise State is slated to host in March.
The NCAA is expected to decide in October.
Originally posted on IdahoEdNews.org on August 17, 2020
NOTE: Idaho Education News is an underwriter of NWPB programming, though NWPB is editorially independent. See all NWPB business supporters here. This article is re-published with permission.