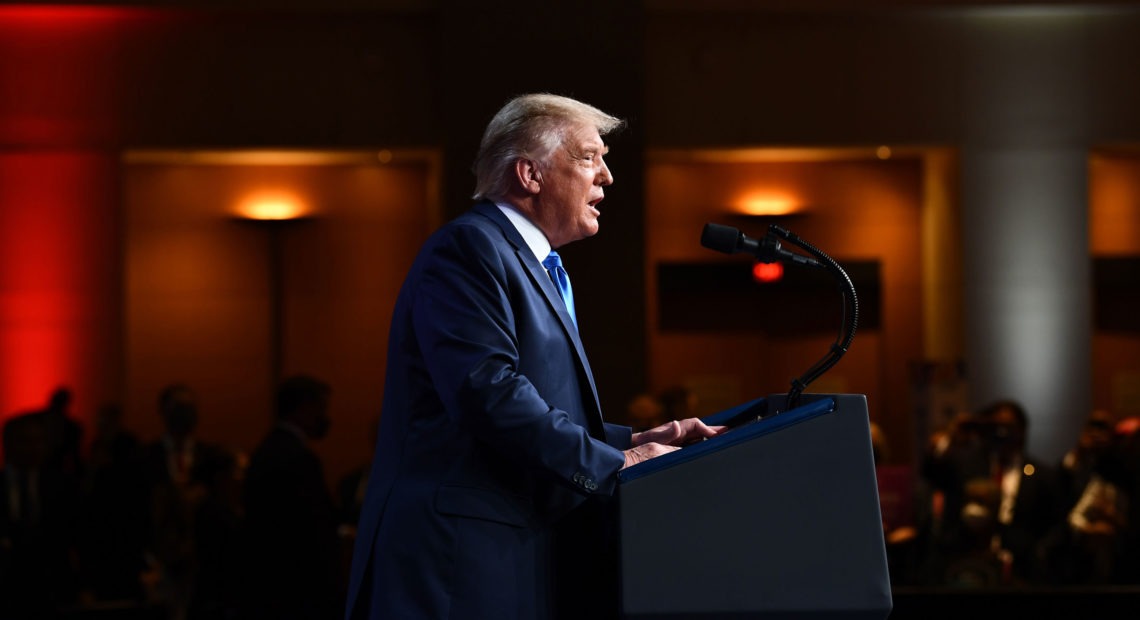 GOP Delegates Officially Nominate Donald Trump As He Makes Surprise In-Person Visit To Convention
BY SAM GRINGLAS
Donald Trump has officially been nominated as the Republican Party's candidate for president.
Three hundred and thirty-six delegates from around the country gathered in Charlotte, N.C., to cast their votes in-person for the nominee.
Toward the end of the roll call, Trump made a surprise visit to address the delegates from the convention hall in Charlotte. He appeared right after the Florida delegation cast its votes — a symbolic nod to President Trump's primary residence and an important battleground in 2020.
Trump made a point of appearing in North Carolina, unlike the Democratic ticket who steered clear last week of Milwaukee, the Democratic National Convention's host city. "I felt an obligation to come to North Carolina, a place that's been very good to me," Trump said.
In a speech that had echoes of a sprawling Trump campaign rally speech, the president defended his handling of the coronavirus pandemic and condemned Biden's comments in an interview with ABC News over the weekend that he would shut the country down again if scientists recommended it. Trump also complained about the media's coverage of the roll call, mocked Vermont Sen. Bernie Sanders, blamed governors for the slow response to the pandemic, and continued to make false claims about vote by mail.
Opening the convention this morning, Ronna McDaniel promised the convention would articulate a forward-facing vision for a Trump second term, but on Monday the president spent much of his speech talking about the prospect of a rigged election.
Trump spoke while the House Oversight Committee grilled the Postmaster General during a hearing on Capitol Hill over changes at the postal service that could delay the delivery of ballots this fall.
"What they're doing is using COVID to steal an election," Trump said without evidence, referring to Democrats promoting vote by mail. "They're using COVID to defraud the American people of a free and fair election."
Trump heads into the fall general election as triple crises continue to play out in the country — a pandemic that has killed thousands of people, a massive economic recession and historic protests against police brutality and racial injustice. Democratic nominee Joe Biden has been leading Trump in national and many state polls; Trump's approval rating sits at 42 percent, according to an aggregate of recent polls.
Shortly after Vice President Mike Pence teased an in-person appearance by his boss, President Trump arrived in Charlotte to fire up the couple hundred delegates gathered there to conduct the convention's official business.
"This is the most important election in the history of our country," Trump said. "This is the biggest, this is it. Our country can go in a horrible, horrible direction, or an even greater direction. And before the plague came in from China, that's where we were going. We were going in a direction like we had never seen."
Trump will formally accept his nomination during a primetime speech later this week from the White House lawn. Later today, he will tour a North Carolina vegetable-growing and packaging operation the administration set up to help people struggling amid the coronavirus pandemic.
His visit with Pence to North Carolina today is somewhat of a consolation prize for the city of Charlotte, which had spent two years planning for the Republican National Convention before organizers shifted to a largely virtual format due to the coronavirus pandemic. The Trump campaign attempted to retain some form of a traditional convention with a cheering audience, unlike the Democrats who delivered all their speeches to mostly empty rooms while delegates watched entirely from home.
Copyright 2020 NPR. To see more, visit npr.org