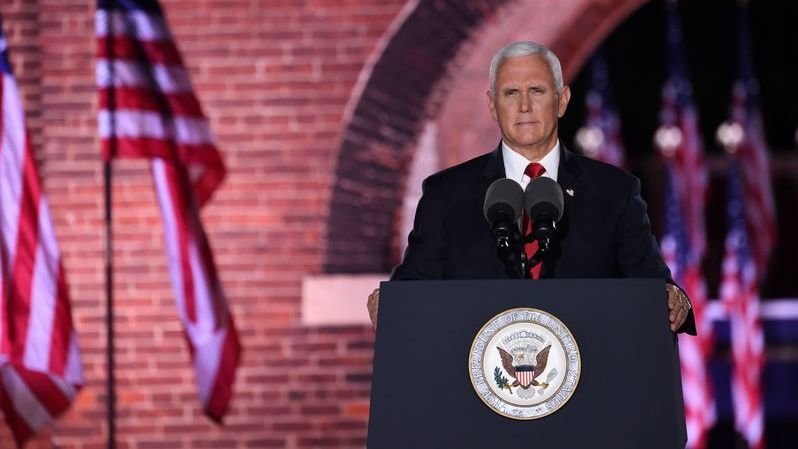 WATCH: Mike Pence Makes Case For Trump At RNC, Falsely Implies Biden Wants To 'Defund The Police'
WATCH: VICE PRESIDENT MIKE PENCE ADDRESSES THE RNC
BY FRANCO ORDOÑEZ  & ALANA WISE
Vice President Mike Pence followed the first lady's lead in expressing sympathy for the toll taken by the coronavirus during his keynote speech tonight.
"Tonight, our hearts are with all the families who have lost loved ones," Pence said. "We mourn with those who mourn, and we grieve with those who grieve. And this night I know millions of Americans will pause and pray for God's comfort to each of you."
It was a bit of a turn for an administration, including President Trump, that has been reluctant to dwell on the pain that the pandemic has caused and instead focused on returning the economy to normal.
Just before Melania Trump addressed the virus during her speech Tuesday night in the Rose Garden, President Trump's top economic adviser, Larry Kudlow, during his convention speech, spoke of the virus in the past tense, stating President Trump "successfully fought" the coronavirus pandemic.
It's unclear what political impacts the vice president's empathetic words will carry. Nearly 180,000 Americans have died from COVID-19, and polls show that Americans largely believe Trump has handled the pandemic poorly.
Speaking Falsely About  Biden On Police Funding
Evoking a dark image of a dangerous, lawless America under a Biden administration, Pence accused Democrat Joe Biden of seeking to cut funding from U.S. police forces, a position that Biden has vehemently denied.
"Joe Biden says America is systemically racist and that law enforcement in America has a, quote, 'implicit bias' against minorities. And when asked whether he'd support cutting funding to law enforcement … he replied, 'Yes, absolutely,' " Pence said, echoing a more forceful falsehood employed by President Trump that accuses Biden of wanting to defund the police outright.
"The hard truth is … you won't be safe in Joe Biden's America. Under President Trump, we will always stand with those who stand on the thin blue line, and we're not going to defund the police — not now, not ever," Pence said.
Biden has repeatedly denied interest in defunding the police, a position supported by the Black Lives Matter movement, and has instead proposed a $300 million cash infusion to support community policing and employing more social workers alongside police officers.
Pence's reference to Biden saying "yes, absolutely" came from a question about whether the former vice president agreed that some police funding could be redirected as part of police reform.
Calls to cut police funding have garnered more and higher-profile support in recent months, following the killings of several Black people by police this year.
Even as the Republican National Convention commenced, demonstrators marched to protest the shooting of 29-year-old Jacob Blake, a Black man who was shot several times in the back and left paralyzed this week by police in Kenosha, Wis.
Those demonstrations overlapped with ongoing unrest following the police killings of Breonna Taylor, George Floyd and Rayshard Brooks this year.
Biden has acknowledged what he describes as a pervasive system of racism prevalent throughout society, including among some police officers, but he has defended good police and said he does not believe that all officers are racist.
A July NBC/Wall Street Journal opinion poll found that 56% of Americans described American society as racist, compared with just 40% who disagreed.
Copyright 2020 NPR. To see more, visit npr.org