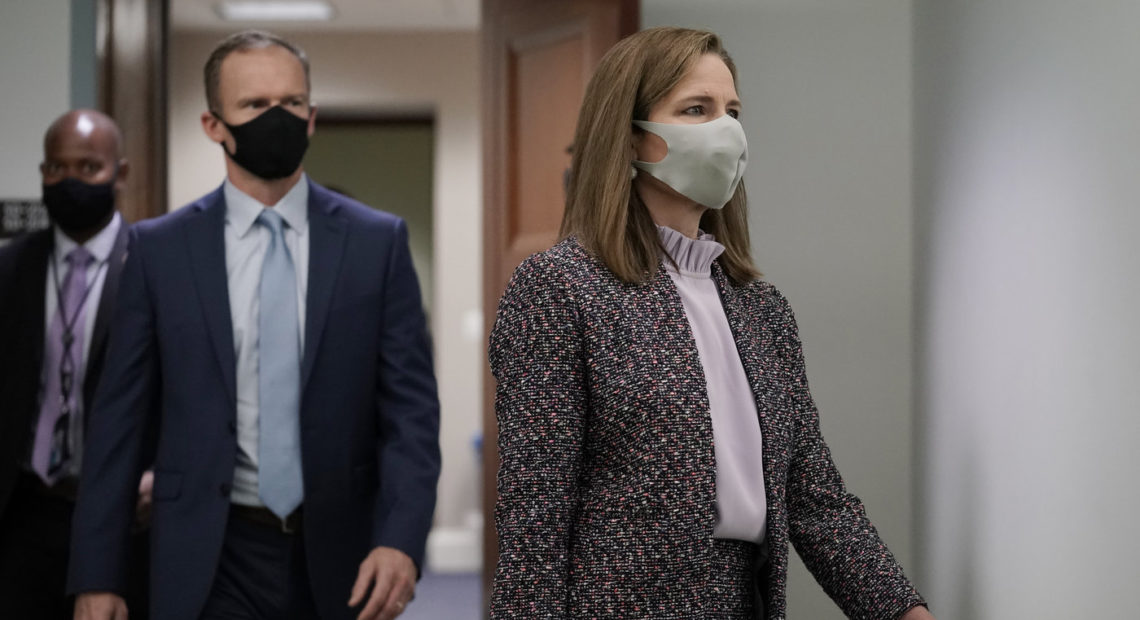 Day 3 Of Amy Coney Barrett's Supreme Court Confirmation Hearings Examine Judicial Philosophy
WATCH DAY 3 HEARINGS:

BY BRIAN NAYLOR
After a day of opening statements from members of the panel and from Barrett, Tuesday and Wednesday are devoted to questioning of the nominee. Outside witnesses testify for and against Barrett on Thursday.
SEE MORE HEARING UPDATES HERE FROM NPR
The nomination has become a political lightning rod as Democrats charge that Republicans are rushing it to get Barrett confirmed before the Nov. 3 election. Democrats say the seat should be filled by the next president.
It's also unclear how the coronavirus pandemic will affect the hearings. Two GOP members of the panel, Sens. Mike Lee of Utah and Thom Tillis of North Carolina, have tested positive for the virus.
Democrats, led by Sen. Patrick Leahy of Vermont, had demanded that the hearing be postponed "to ensure that we don't risk the health and safety of fellow senators, Senate staff, other Senate employees, as well as Judge Barrett and her family."
But committee chairman Sen. Lindsey Graham, R-S.C., vowed to press forward and tweeted, "Any Senator who wants to participate virtually will be allowed to do so." Lee attended in person on Monday.
All members who wish to vote on Barrett's nomination will have to be present, however, when it comes time. The committee is expected to vote on Oct. 22, followed by a full Senate vote.
Booker Presses On Racial Disparities
Sen. Cory Booker, D-N.J., continued to press Supreme Court nominee Judge Amy Coney Barrett on Wednesday on the role of racial bias in the criminal justice system during the third day of her confirmation hearing.
In her exchange with Booker the day before, Barrett recognized that implicit bias does exist within the justice system, but she failed to discuss the issue in detail.
Booker cited a particular study on racial disparities in sentencing, which he claimed he had previously discussed with Barrett. Barrett said she wasn't aware of the data Booker was referring to, but she had read studies on implicit bias in her research.
On Wednesday, Booker brought up the issue again. He argued that judges have played a vital role in improving racial equality throughout U.S. history and asked Barrett what she has read to educate herself on the issue of racism.
Again, Barrett was vague in her response.
"Well Sen. Booker, I will say what I have learned about it has mostly been in conversations with people, and at Notre Dame as at many other universities, it's a topic of conversation in many classrooms, but it's not something that I can say, yes I've done research on this and read X, Y and Z," she said.
But Barrett has written about the issue, Booker said. In a 2008 blog post, Barrett raised the administrative hurdles presented when the U.S. Sentencing Commission retroactively reduced sentences for some 20,000 Americans charged for drug crimes, Booker said.
"But never in the blog article did you mention that this was unjust," he said. "There was no deference to how serious this is for the 20,000 Americans, 98% of them who are Black and Brown. You just questioned, 'Why are we doing this?'"
Barrett said she wrote the post because the reform was "table talk" between her and her husband, who at the time served as a federal prosecutor.
Booker said he was concerned by that response, pointing to the current racial reckoning that has swept the country. He expressed the fear of many Americans who don't feel they have equal rights under the law, and the steps many have taken to learn more about those disparities.
"And so I hope you understand my heart when I look at a justice who it seems that the fix is in, is gonna serve on the Supreme Court, and hasn't taken steps to understand the pervasiveness, the facts, the truth about cases of race that are going to come before you," he said.
Crapo Scoffs At Activism 
Sen. Mike Crapo, R-Idaho, said he could only find a single case in which Supreme Court nominee Amy Coney Barrett didn't follow the precedent of her 7th Circuit Court of Appeals — and that was one in which the Supreme Court itself had established a new doctrine, he said.
Crapo ticked through a series of statistics on Wednesday during a portion of the hearing in which he tried to puncture what he called Democrats' implications that Barrett, notwithstanding her emphasis about "textualism," might actually prove to be a more activist member of the Supreme Court.
Barrett stuck with precedent in most of her cases and in one example, she even was part of a ruling in an abortion case that contravened her own personal outlook, Crapo said.
Barrett was in the middle of the pack of active judges on the 7th Circuit, he said.
"This is not the record of someone who is an activist in overturning precedent. This is the record of someone who follows precedent," he said.
Republicans don't need to convince one another or Democrats to support Barrett; the majority can confirm her as it stands. But Barrett's sponsors have tried to defend her with comments aimed at a general audience, including in Crapo's remarks that he said he hoped would reassure people about what they would be getting on the new Supreme Court.
The Idaho senator was responding to comments from Democratic critics including Sens. Cory Booker of New Jersey and Chris Coons of Delaware, who had civil exchanges with Barrett on Wednesday that nonetheless included complaints or concerns about her record.
Booker called himself disappointed about Barrett's inability to cite books, studies, briefs or other materials she's read about structural bias in the U.S. legal system, which, Booker argued, disadvantages Black people.
Crapo called that insulting about a prospective justice, in Barrett, who has two Black children of her own.
And in the case of Coons, he grouped Barrett with the existing conservative majority on the Supreme Court and suggested that, with her onboard, the high court would feel newly emboldened to revisit past cases in a way helpful to Republicans or according to the wishes of cultural conservatives.
Crapo's recitation, he said, was intended to dispel that idea.
"I found it amazing that you would be accused of being a judicial activist because you are a textualist and originalist, as I understand your testimony, and your record and your writing."
Copyright 2020 NPR. To see more, visit npr.org