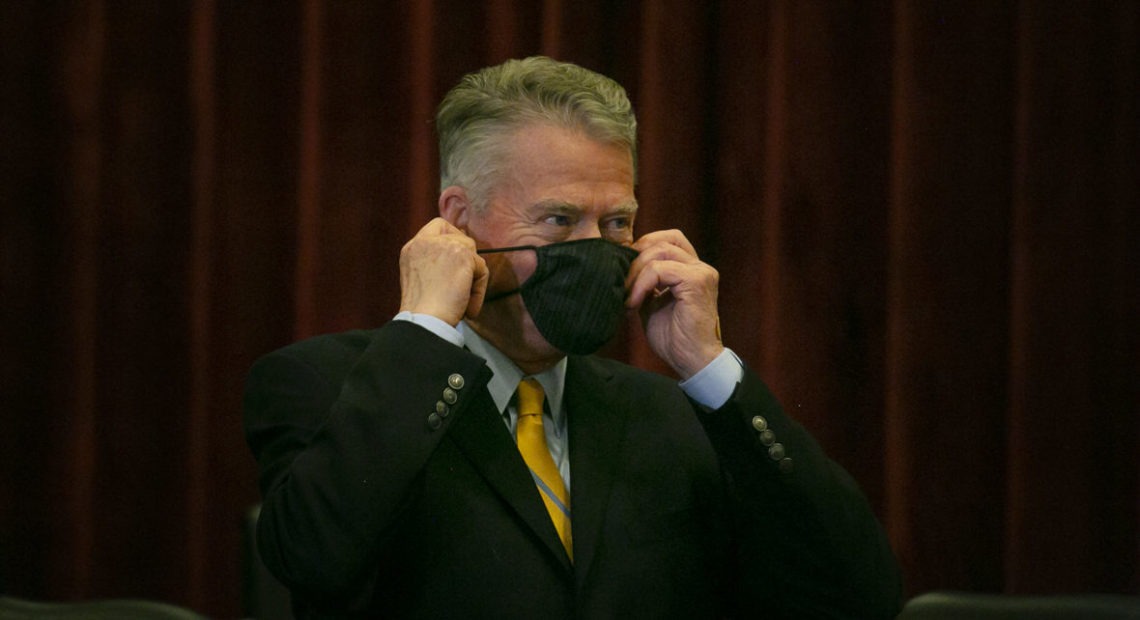 Idaho Governor Resists Calls For Mask Mandate As COVID Case Rates And Deaths Rise
On Tuesday, Idahoans took turns begging Gov. Brad Little for a statewide mask mandate, or thanking him for not requiring masks.
The first four callers in an AARP Idaho-sponsored virtual town hall asked Little to mandate masks or ramp up the efforts to help slow the spread of the coronavirus. However, Little continued to favor letting local officials decide whether to mandate masks.
Little also stressed he wants to continue to empower local school boards to make decisions about their reopening and operations plans.
"I don't have the feel, I don't have the information as governor to overrule those duly elected by you, the citizens of Idaho, school boards and health districts," Little said.
Callers cited Utah Gov. Gary Herbert's decision Sunday to impose a statewide mask mandate, which includes enforcement power and fines for noncompliance.
They also pointed to Idaho's recent spike in cases and calls of alarm issued by medical professionals and hospital administrators.
Last week, the state counted 53 COVID-19 deaths and nearly 1,000 new confirmed or probable cases daily.
"So far it seems our plans for COVID have been ineffective," Stephen from Boise said. "I haven't really heard any good, organized plans on how we're going to treat this epidemic, or how we are going to reduce the number of cases, or how we're going to get ahead of it."
Little said Idaho has done a lot, from increased testing capacity, to authorizing tele-medicine, to increasing surge capacity at hospitals to having the best economic trajectory of all the states.
"There is a plan," Little said. "It may not look like it, but there is."
Little also said he was reluctant to issue a mask mandate "because the rest of the state thinks that anything that comes from Boise is a mandate from big government."
While a majority of callers asked for additional action, two callers thanked Little for resisting calls for a mask mandate.
"I also appreciate the fact that you have not mandated masks," Jackie from Kuna said. "Although we want zero percent, we have very often approached numbers that, in my mind, don't qualify as a pandemic."
About half of Idaho is under a mask mandate enacted by local public health districts or cities, Health and Welfare Director Dave Jeppesen said.
But on Monday, the Twin Falls City Council tabled action on a mask mandate following a divisive public meeting, the Twin Falls Times News reported. Tabling the mask mandate came as Magic Valley hospital administrators announced they have had to close admissions and divert patients elsewhere. The Post Falls City Council Monday also rejected a mask mandate.
During Tuesday's call, Little announced he will hold a news conference, which will be conducted virtually at 1 p.m. Friday to discuss the next steps of the state's coronavirus response. The announcement was expected. It's been two weeks since Little moved the state into a modified version of Stage 3 of Idaho's four-stage reopening plan.
The next AARP Idaho conference call with Little is set for Nov. 24.
Check back with Idaho Education News on Friday afternoon for coverage of Little's news conference. 
Originally posted on IdahoEdNews.org on November 10, 2020