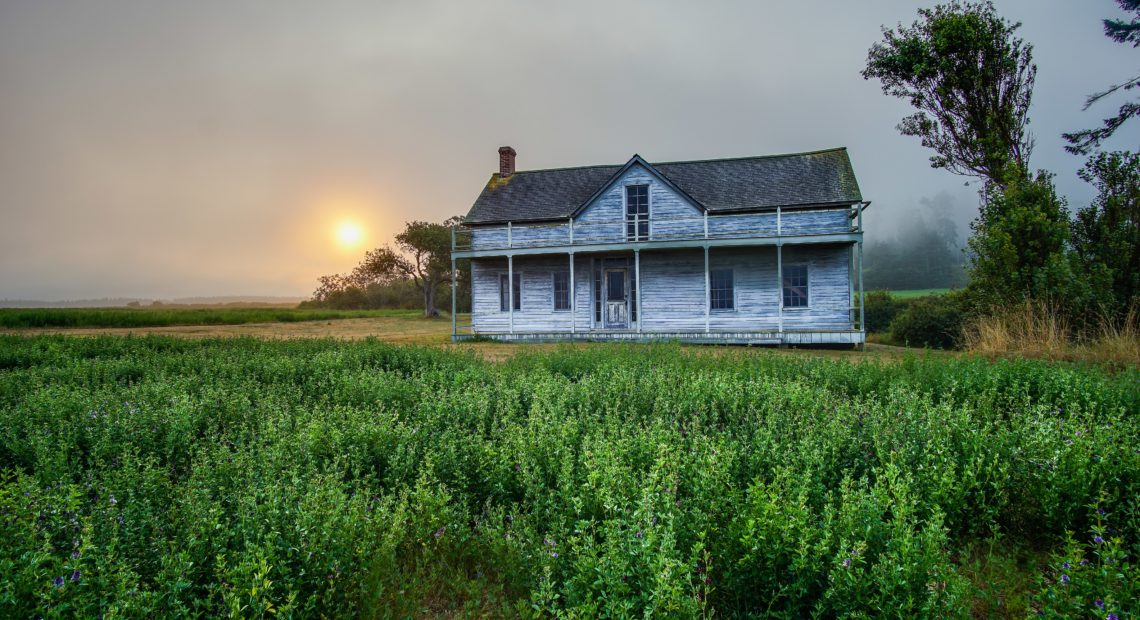 Opinion: A Magical Hike On Whidbey Island At Ebey's Landing Whitewashes Native History
BY CLAUDIA LAWRENCE / CROSSCUT
Originally published Nov. 24, 2020 on Crosscut.com
EDITOR'S NOTE: On Dec. 31, a reader contacted Crosscut and alleged that Claudia Lawrence, this article's author, misrepresented herself as Native American.
Crosscut takes seriously accusations of inaccuracy or misrepresentation in its journalism. We are committed to presenting accurate portrayals of the subjects we cover and the authors we publish. To that end, we are providing additional context about the author's identity gleaned from subsequent investigation and consultation with Native tribes, academics and journalists, as well as interviews and further correspondence with the author and members of her family.
While Lawrence identifies as Native American, she never claimed to be an enrolled member of any specific American Indian tribe or nation within the piece or in subsequent correspondence.
When asked to specify her tribal ties, Lawrence claimed association via marriage to the Hopi and Assiniboine tribes, as well as Cherokee and Choctaw ancestry through her father. Lawrence said her father was not an enrolled member of either tribe. According to the tribes involved, these connections alone are insufficient to claim citizenship within any of these sovereign tribal nations (Hopi Tribe, Fort Peck Tribes of Assiniboine and Sioux Tribes, Cherokee Nation and the Choctaw Nation of Oklahoma). Lawrence was unable to provide further documented evidence of her association with any tribe.
As such, we have changed the title of this article and the author's biography, both of which formerly identified Lawrence as Native American. The original body of the article, in which Lawrence self-identifies as Native American, remains intact.
Crosscut remains committed to elevating Native voices in the Pacific Northwest. We are working to ensure that future authors with American Indian or Alaskan Native heritage disclose their tribal affiliations with full transparency, accuracy and nuance.
To contact Crosscut and Cascade Public Media, the original publisher of this piece, see here.
====================================================================================
Everything about this is a lie.
That thought ricocheted through my mind during a recent hike at Ebey's Landing on Whidbey Island.
Ebey's Landing is magical — the bluff trail overlooks the majestic Salish Sea. On a clear day, the panorama is cinematic, surreal; one senses the Earth's curve along its horizon. As a frequent Pacific Northwest hiker, I find it's one of the most beautiful hikes I've done. But as a Native American hiker, I found aspects of it profoundly dispiriting.
I'd like to share a sense of my hiking experience through my "Native goggles" so non-Natives can understand these places and experiences more broadly. Of course, I don't speak for all Native hikers, only myself. And being Native isn't something removable like goggles — it's an abiding perspective honed by lived experience. As Bob Marley said, "Who feels it, knows it."
Despite "Leave No Trace" ethics, there are so many white fingerprints on public lands that it's like a setting for a CSI episode. Ebey's Landing, a national historic reserve, is no exception.
The Ebey historical home features reader boards with site history and a detailed Ebey family tree. There is scant mention of local Native history — which is an outrage. At the time of first contact with non-Natives, there were Coast Salish villages in continuous habitation since the sixth century B.C., at least 2,000 years before colonial settlement.
I asked the white staff person if there was more information on the original Native occupants. She seemed genuinely dumbstruck, as if I'd asked for a log of UFO sightings in the area. She replied, no, there was no such information.
I murmured that just wasn't right. A dead silence followed.
Outside the home is the blockhouse with signage that reads, "Jacob and Sarah Ebey worried about conflict with local tribes … it was fear of 'Northern Indians' that led them to construct log blockhouses … as protection in case of attack." The sign's language is tilted to sympathize with the white settlers and evokes a 19th century panic room. This perspective reflects the common portrayal of Natives as a subhuman, bloodthirsty wolf pack that peaceful, civilized settlers had to defend against — an old lie and racist trope. One of the oldest, in fact, is in the Declaration of Independence, which refers to Natives as "merciless Indian savages.
Signage on the beach informs us that Isaac Ebey, the first permanent white resident on Whidbey Island, was killed and beheaded by Natives: "Haida Indians … killed Ebey to avenge the death of one of theirs, killed by American forces at Port Gamble…." In truth, Ebey's death was likely motivated by the American military murder of 27 Natives, not one. Quite a significant ratio error — is the signage intentionally misleading or not? The sign is also misleading as to who killed Ebey: Evidence suggests it was not Haida but likely members of the Kake tribe of Tlingits, led by a woman warrior.
As to how the Ebeys obtained the land, all we're told is that in 1850 they were given their original 650 acres free under the ironically named Donation Lands Claim Act, infamous for its racist application toward Natives and nonwhite settlers in the Pacific Northwest. Isaac Ebey called the area "paradise."
I later went online to learn more about the people who lived in this paradise since time immemorial, prior to the Ebeys:
"[T]he first western explorers … found a land tempered by centuries of human settlement and habitation. As early as 1300, the Skagit Indians had established permanent villages…. The Indians cultivated the prairies with selective burning, transplanting, and mulching…. More than 1,500 American Indians were recorded in the area in 1790. By 1904, the Indian population around Coupeville was reduced to a few small families."
In other words, Natives settled, developed and cultivated the area before white settlement. This is barely acknowledged at the reserve. Native land use is described by signage as a "maintained cultural landscape," whatever that means. Nothing at the reserve or the website shares how the Natives were dispossessed of their land. Nothing is shared about why the Native population dwindled precipitously. Nothing acknowledges the colonial violence through which current public lands were stolen from Native people.
Everything about this is a lie.
There are lies of commission and there are lies of omission. Presenting the Ebeys as yet another heroic myth of white pioneer settlement is a lie. Presenting Natives as one-dimensional objects and not the centered subjects of history is a lie. Not naming any of the individual Natives or families is a lie. Minimizing settlement-era violence toward Natives is a lie. An exclusively white-centered narrative, rather than one informed by Native perspectives, is a lie.
None of this is accidental or natural. It's the byproduct of colonization's purposeful lies, distortions and omissions, and is ongoing. Northwest locals often know the history of dispossessed people in faraway lands better than the ones whose stories occurred only a two-hour drive from Seattle, on the paradisal coast of Whidbey Island.
Equity concerns around outdoor recreating are growing.
Outdoor recreation is overwhelmingly the domain of people with privilege, and efforts are underway to rectify that. Who defines proper and improper use of and access to public lands? Who can afford to visit or use public lands and who cannot? These conversations are long overdue.
But it's important in this progress to remember the histories of people of color are not interchangeable.
As the original stewards of this land, Natives hold a distinct and unique relationship to it. For example, the Leave No Trace principle — an idea widely held by non-Native people that the wilderness is a place one visits temporarily — stands in stark contrast to traditional Native land use practices. These are our homelands, not a park. And, globally, indigenous land use systems have been found to be superior in many ways to white conservation ideas, including wildfire management through controlled burns.
The wildlife, geography, natural features, weather systems and native plants of our ancestral lands undergirded every aspect of traditional Native communities pre-contact. As Robin Wall Kimmerer writes in Braiding Sweetgrass, "[O]ne thing our people could not surrender was the meaning of land. [T]o our people, it was everything: identity, the connection to our ancestors, the home of our nonhuman kinfolk, our pharmacy, our library, the source of all that sustained us. Our lands were where our responsibility to the world was enacted, sacred ground."
Severing our people from the land and wildlife is part of the genocidal destruction of Native peoples and needs remedying.
What is being done to improve these inequities and what more is required? The Washington Trails Association, The Mountaineers and the Sierra Club are making strides toward greater inclusion and equity. The "Since Time Immemorial" curriculum in Washington public schools is a wonderful program designed by Natives to teach accurate local tribal history.
But we all should do more. Current local understandings and woke gestures — a land acknowledgment at a Zoom meeting; a "You're on Native Land" bumper sticker — are not enough. We should facilitate reconnection specifically by Natives — all Natives, not just young adults and youth — to the land and wildlife by making outdoor recreation and use access low-barrier, welcoming, respectful and inclusive.
Outdoor recreation and conservation organizations should hire more Natives and create dedicated board seats for Native voices. Native voices should be included at outdoor conferences and summits. Outdoor and other media sites must publish more Native voices writing about their outdoor experiences. As has happened with other hikers of color, outdoor recreation companies and organizations should sponsor and support Natives to participate in trips and through hikes like the Appalachian, Continental Divide and Pacific Coast trails. Native people should be featured in outdoor gear ads and promotional materials, and the gear should reflect racial diversity.
Native outreach and inclusion programs must have Native voices at the table from the beginning — otherwise they're ineffective. It's just "hanging a feather on it," as we say, to adapt access programs created for other people of color. Diversity, equity, inclusion and other sensitivity training must include Native voices. Trail signage and other information must be updated with accurate Native history and perspectives.
It's my intention to found a grassroots Native-centered hiking group like Outdoor Asian, Latinos Outdoors and Outdoor Afro. It's a big goal to accomplish solo, so robust support from existing outdoor groups and organizations would be a welcome help.
Our stories, our resources, our land and unfettered access to it are still being stolen from us every day here and from our Canadian First Nations relatives. We remain largely in exile from our outdoor homelands, and this injustice will continue until our truths are acknowledged and acted upon. Working together with deliberation, respect and a commitment to truth are essential. Let's build a better outdoor recreation culture and better use systems that respect and acknowledge the presence and heritage of Native outdoor enthusiasts.
Claudia Lawrence is an outdoor enthusiast living in the Pacific Northwest and can be reached at [email protected].
---