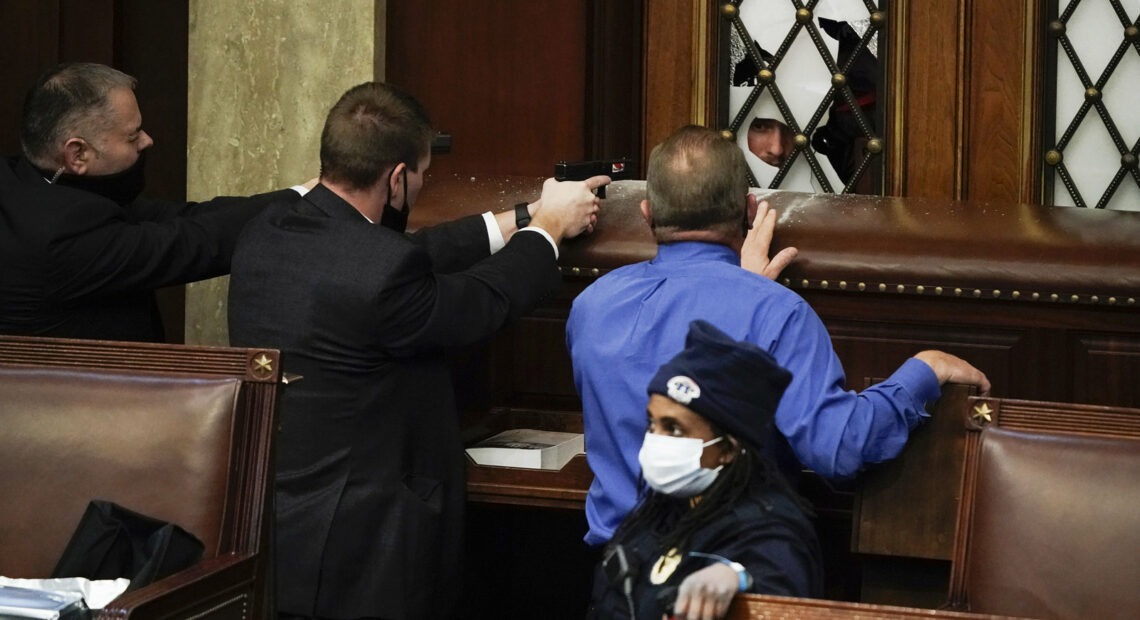 Trump Supporters Storm U.S. Capitol, Overtaking Offices; At Least One Person Shot And Killed
BY ELENA MOORE & MARISA PEÑALOZA 
The U.S. Capitol was engulfed in chaos on Wednesday, as supporters of President Trump, responding to his call to head there, breached the complex, resulting in violence in the seat of America's federal government.
The surreal and dangerous scene interrupted proceedings in the House and Senate, as members of Congress were tallying President-elect Joe Biden's Electoral College victory.
For two months, Trump has falsely claimed the election was stolen from him, and dozens of fellow Republicans have planned to object to slates of electors from various states they considered contested.
Lawmakers were debating an objection to Arizona's results — a state Trump lost narrowly — when the sessions were recessed as the U.S. Capitol Police attempted to put the complex on lockdown.
Violent protesters were seen smashing windows and occupying the House and Senate floors and various offices. Police were seen with guns drawn in the House chamber, pointing their firearms at windows that were smashed.
People inside the building were told to shelter in place, and members of Congress were told that tear gas was being used in the Capitol rotunda and that they should get ready to put on masks on.
A person suffering from a gunshot wound was transported by Washington, D.C., emergency medical services from the Capitol. Later reporting showed the gunshot victim was a woman, who was later pronounced dead.
On Twitter, Trump asked people to remain peaceful. He then posted a video on Twitter, asking people to go home — but not before reiterating his baseless claims about the election being stolen and saying: "You're very special."
His response to the violence came just a few hours after a midday address to supporters outside the White House, in which he repeatedly denied the results of the election, claiming without evidence that it was rigged against his campaign.
"This election was stolen from you, from me, from the country," he said in the earlier remarks. He also urged his supporters to head to the Capitol, adding: "You'll never take back our country with weakness."
Vice President Pence more forcefully condemned the violence, saying that the chaos engulfing the Capitol was an "attack on our Capitol" and tweeting that people involved must "immediately leave the building" and would be "prosecuted to the fullest extent of the law."
In televised remarks, Biden called on Trump to "go on national television now to fulfill his oath and defend the Constitution and demand an end to this siege" at the Capitol.
"Let me be very clear," Biden added, "the scenes of chaos at the Capitol do not reflect a true America, do not reflect who we are," he said, calling the violent protesters a "small number of extremists dedicated to lawlessness."
"It borders on sedition and it must end now," Biden said. "It's not protest; it's insurrection."
In a tweet, White House press secretary Kayleigh McEnany wrote that the National Guard had been called in at Trump's direction.
"We reiterate President Trump's call against violence and to remain peaceful," she wrote.
The governor of Virginia, Ralph Northam, said he would send members of the Virginia National Guard and 200 members of the Virginia State Police to Washington. In a tweet, Northam said this was at the request of the mayor of Washington, D.C.
Mayor Muriel Bowser instituted a 6 p.m. curfew.
Capitol Police also issued safety guidance to staff in multiple federal buildings.
Alerts citing police activity were sent to individuals in the Cannon House Office Building and the Library of Congress' James Madison Memorial Building.
Individuals in Cannon were originally told to evacuate but were later instructed to stay in the building, according to recent email updates from Capitol Police. The evacuation notice has since been cleared.
Staff inside the Library of Congress were also told to exit the building and remain calm, according to reporting from Politico.
The events come as thousands of pro-Trump and far-right protesters have congregated in downtown D.C. to contest the results of the presidential election.
Lawmakers acknowledging the escalating violence have called for a peaceful resolution to the fracas.
Republicans, who spent the summer castigating the mostly peaceful protests against racial police violence, had previously encouraged demonstrations calling to overturn the election results. On Wednesday, many called for law and order as tensions between protesters and law enforcement swelled.
Congress had begun the process of officially recognizing the results of the presidential election. The process has been delayed for several hours after multiple Republican members challenged the results in Arizona, a move they are expected to do with several states.
They're in the chamber. One is up on the dais yelling "Trump won that election!" This is insane pic.twitter.com/p6CXhBDSFT

— Igor Bobic (@igorbobic) January 6, 2021

NPR's Kelsey Snell contributed to this report.
Previous Story:
Thousands of supporters of President Trump amassed in Washington, D.C., to reject the results of the Nov. 3 election, cheering as Trump himself addressed the crowd and urged them to protest what he falsely claims was a rigged election before marching to the Capitol and pushing past security barriers there. The House and Senate abruptly took a recess as the United States Capitol police locked down the building, not allowing people to come in or out.
The protests are timed to coincide with Congress' certification of the Electoral College votes and aim to pressure Republican lawmakers into supporting Trump's effort to overturn Biden's electoral victory.
Trump supporters, many wearing red MAGA hats but no face masks, gathered at The Ellipse where the president addressed them midday Wednesday. The crowd faced the White House and a stage was flanked by two big "Save America March" signs swayed to the beat of the Village People song "Macho Man" and Michael Jackson's "Billy Jean."
After the speech, they pushed past barriers onto the Capitol grounds, while yelling, "Whose Capitol? Our Capitol," NPR's Hannah Allam reports. Police and other security put up more barriers and security layers as protesters breached the initial security layer. Protestors climbed the scaffolding, looking for any way in to get to the Capitol, Allam said, and armed police rushed in tackling them.
As thousands of Trump supporters to climb up the side of the Capitol to get inside, bursts of what appeared to be gas cannisters are being fired though it's unclear who is firing them. The scene on the ground is chaotic, Bowman says.
Earlier the mood was celebratory though the rhetoric was angry with speaker after speaker telling the crowd, "We can't back down. This is just the beginning." The president's son Donald Trump Jr. greeted the crowd with: "Hello, Patriots!"
Outside the U.S. Capitol, several dozen Trump supporters waved flags and prayed for "angel armies" to intervene, calling on lawmakers inside to "reject" the election.
A huge contingent of Proud Boys marched in, some chanting "storm the Capitol" and "1776!" and massed for the Capitol building.
For many in the crowd, it was inconceivable that Congress would certify the November vote, as it's expected to. Echoing the president's words, they pledged to fight, some calling for a rebellion and others vowing to refocus energy on the 2024 race. And they made it clear that Republicans who didn't back Trump would pay a price.
"We're not moving on," said Lawrence Ligas, a 55-year-old from Chicago who said he used to be a Democrat before Trump "earned" his vote.
"We are not Republicans. We are the MAGA party. We are patriots," he said.
Nearby, 28-year-old Lisa Hayes was attracting a crowd with her outfit: a white tulle ballgown covered with mail-in ballots marked "STOLEN."
"I am the 2020 election," Hayes said.
As she was explaining that the importance of election integrity brought her to Washington, a bystander interrupted and gestured toward her thin outfit in 43-degree weather.
"You're not freezing?" he asked Hayes.
"My blood is boiling, so I'm fine!" she replied.
D.C. Mayor Muriel Bowser said Wednesday that her city was ready to keep protests peaceful and protesters safe, even though Trump tweeted that Wednesday's protests will be "wild."
"I think it's unfortunate that the president himself has incited violence," said the mayor.
Police stablished a bigger "traffic box" a perimeter where vehicle traffic is restricted, she said, and, "we have our entire police force activated" along with National Guard and with help from other nearby jurisdictions, the mayor said.
"All of that is very expensive," said Bowser, "we incur overtime costs when we do that."
The nation's capital is a cradle of protests and Bowser says it's the city's responsibility to provide support for the movements of the president and the many demonstrations taking place in the Trump administration. The federal government hasn't paid its public safety bill in two years, but Bowser says she's confident that D.C. will be reimbursed.
"The federal government owes us about $100 million," she said. "We will continue to work with the Congress to make sure we're made whole for our emergency fund."
Bowser also praised D.C. police for the arrest earlier this week of Henry "Enrique" Tarrio, leader of the far-right group Proud Boys. Tarrio has been barred from the District and is facing misdemeanor destruction of property charges and two felony counts of possession of high capacity firearm magazines.
According to court documents obtained by NPR, the magazines are AR-15/M4 compatible with a capacity of 30 rounds each, and every magazine is labeled with the Proud Boys insignia.
"I sell on my site," Tarrio told the officers who found the magazines in his bookbag. "I had a customer that bought those two mags, and they got returned 'cause it was a wrong address. And I contacted him, and he's like, 'I'm going to be in D.C.,' so I'm like, 'OK, I'll take 'em to you.' "
Proud Boys members typically dress in black and yellow, but are planning to wear all black, to mimic Antifa, a loose affiliation of far-left activists. The two groups have violently clashed in the past.
The U.S. Park Police confirmed that permits for Wednesday's rally at The Ellipse had all been approved, including an amendment from 5,000 people to 30,000 people.
Every city police officer is on duty, and the city has also mobilized 300 members of its National Guard. The D.C. Metropolitan Police Department issued a traffic advisory that includes parking restrictions and street closures around downtown, a larger perimeter than in previous pro-Trump protests.
"My level of anxiety is high," D.C. Attorney General Karl Racine said in an interview with CBS News. "My preparation is even more intense than that."
Racine's office is working with the FBI and others, but his main concern is that the Proud Boys will "pick fights, create damage and then act in a very threatening way."
Oren Segal, vice president at the Center on Extremism at the Anti-Defamation League, has been working and advising the D.C. government in preparation for Wednesday's protests.
"The stakes are higher today," he said.
Segal says that Trump rallies appeal not only to extremists seeking to leverage a crisis, but also to people who show up merely in support of Trump, like the Muellers from Texas.
The concern is that nonviolent Trump supporters at these protests will "get wrapped up in the tactics and violence of the extreme fringes" because they are at a protest at the same time, he said.
Segal anticipates some disruption during the protests, but he's optimistic.
"Some individuals will seek to gain attention to themselves and their cause by engaging in violence," he said. "[But] even at this sort of last hour, I remain hopeful that most of the people who show up will be peaceful."
NPR National Security Correspondent Hannah Allam and reporters Tom Bowman and Kelsey Snell contributed to this report contributed to this report.
Copyright 2021 NPR. To see more, visit npr.org