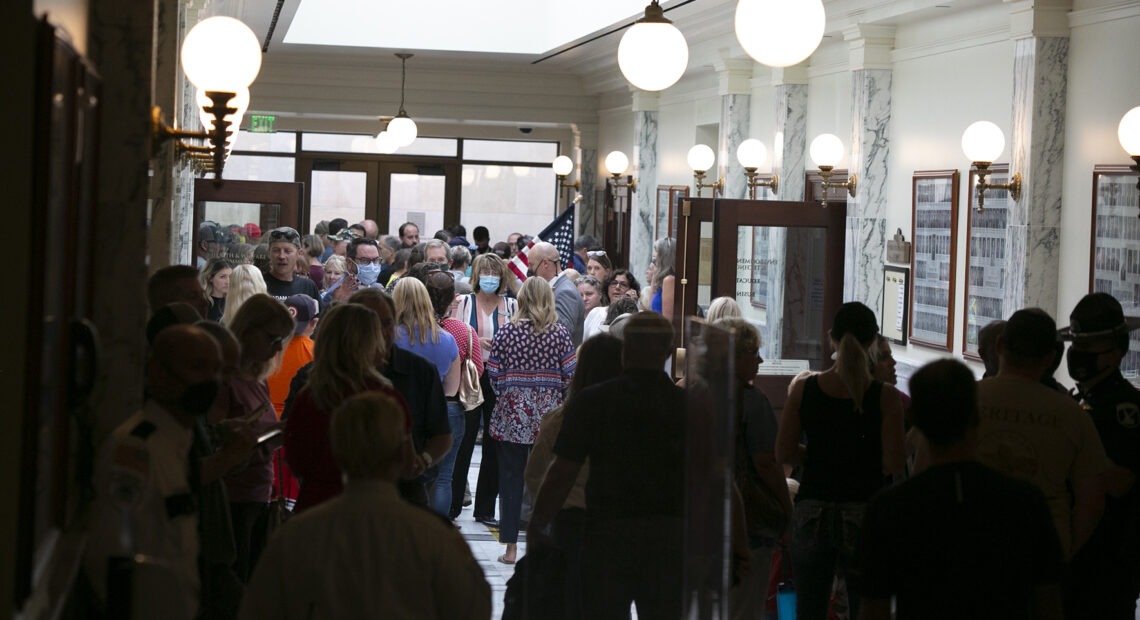 Analysis: An Unsettling And Potentially Unsafe Idaho Legislative Session Begins Soon
Originally posted on IdahoEdNews.org on January 7, 2021
The Idaho Legislature will begin an unsettling and potentially unsafe 2021 session in four days. The state's 105 part-time lawmakers will meet in the midst of a surging pandemic that has killed more than 1,500 Idahoans, and in the aftermath of rioting at the U.S. Capitol that left four people dead.
Policies and proposals almost feel irrelevant. Perhaps this year's overriding goal should be to reach adjournment with everyone's health intact.
In any other year, that would sound hyberbolic. In 2021, it just sounds pragmatic.
Every session brings a cross-section of politically connected Idahoans to the "People's House:" lawmakers, staffers, lobbyists, concerned citizens and journalists. Yes, the tension is often high — when foyers and meeting rooms are packed, when tempers grow short, when controversy is the currency of the day. Yet the atmosphere is usually cordial and collegial.
That's what normal sessions feel like.
Since March, when the end of the 2020 legislative session collided squarely with the onset of coronavirus in Idaho, we all knew the 2021 session would not be normal. But the show will go on, even though Gov. Brad Little and legislative Democrats urged GOP leadership to consider a delay.
But as he lays out his policy agenda Monday, Little will also make a statement on pandemic protocol. He will deliver his State of the State address remotely, rather than speak to legislators and other elected officials from the House floor, a recipe for a superspreader event. He will speak from the Statehouse's largest committee room, the 200-seat Lincoln Auditorium, which will be off limits to the public and the media.
The State of the State address is one bookend to a session. The votes in the House and Senate chambers, backloaded into the final days and hours of a session, provide the other bookend. In between, legislation takes shape behind the scenes, and Idahoans get their say on the proposals in committee hearings.
That process will be fundamentally different in 2021. And that, in turn, could fundamentally change the finished product.
Education groups plan to spend less time at the Statehouse this winter, with limited presence in committee rooms. In past years, the Idaho Education Association commonly brought teachers to the Statehouse to testify in hearings or talk one-on-one with legislators over lunch. Like other education stakeholders, union President Layne McInelly hopes remote testimony will fill some of the void.
"The IEA does not feel comfortable bringing in members to talk to their legislators," McInelly said Thursday. "We can't guarantee their safety."
For education groups, the session provides a once-a-year audience with Idaho's political leaders. But that too will feel different.
On the first morning of the session, Idaho Business for Education hosts an annual legislative academy. With the Lincoln Auditorium booked ahead for Little's State of the State address, Monday's event will go virtual, originating from a leased broadcast studio in West Boise.
Idaho's Association for the Education of Young Children hosts an annual event designed, in part, to demystify pre-K. Legislators get to observe a preschool class held in the rotunda — and see that the kids are not stuck behind desks, learning instead through play. That event has been scrapped, and the AEYC is looking at a virtual event to show how it used a federal grant for a statewide early education needs assessment, Executive Director Beth Oppenheimer said.
Each February, trustees from across the state fill the Lincoln Auditorium during the Idaho School Boards Association's "Day On The Hill" lobbying event. ISBA is planning a virtual version this year.
But it isn't just the planned public events that will go by the boards. With education lobbyists planning to spend less time at the Statehouse, they'll have to advocate by phone or text or email. Impromptu and often constructive conversations with a well-placed lawmaker are just not going to happen, making lobbying more complicated. "There's a lot to be said about how productive one can be in a five-minute side meeting as opposed to a 30-minute Zoom meeting," said Quinn Perry, the ISBA's policy and government affairs director.
Lobbyists are also concerned about safety.
IBE Executive Director Rod Gramer notes that the state's coronavirus case numbers have skyrocketed since August, when lawmakers held a contentious and largely unmasked special session. He thinks the 2021 session could be held safely, but only if everyone wears face masks and adheres to social distancing guidelines. "Not if it's business as usual."
It won't be entirely business as usual. Committee rooms will be rearranged, with seating reduced to encourage social distancing. Idahoans will be able to watch all committee meetings over video stream, and this year, closed captioning will be available. But some things are unchanged; for example; House members will need to be on the floor to debate bills and cast votes, prompting Democrats Sue Chew of Boise and Muffy Davis of Ketchum to sue House Speaker Scott Bedke.
Compared to ISBA members — trustees making "gut-wrenching" decisions about face-to-face learning vs. online instruction — legislators just aren't going nearly as far, Perry said.
A pandemic session poses problems for journalists.
Full disclosure: Idaho Education News will cover much of the 2021 session remotely, as we did at the end of the 2020 session. We will go to the Statehouse only when necessary, and use Idaho Public Television's "Idaho In Session" streaming site to cover committee meetings and floor sessions. It means we will rely on cell phones and texts, sacrificing in-the-moment access to lawmakers and other key players. It's not a good substitute. But we believe public health and staff safety must take precedence.
COVID-19 isn't the only cloud over this session. In a recent letter posted to its website, the Idaho State Police urged Statehouse visitors to mask up and maintain social distancing — and follow rules of decorum, under threat of arrest.
That warning came before Wednesday's insurrection on Capitol Hill — events bearing a frightening similarity to the Idaho Legislature's special session in August, when crowds of protesters stormed the Statehouse, smashed a doorway window and took over the House rotunda. No one died during that special session, and Wednesday's pro-President Trump rally at the Idaho Statehouse was peaceful, but some legislative regulars remain on edge.
"What we saw in August was just really terrifying for a lot of people," Perry said Wednesday morning, shortly before the riots unfolded in the nation's capital. "I think tensions are as high as they have ever been."
The stakes at the Statehouse are high as well. The way lawmakers carve up a $600 million surplus could profoundly affect school funding and tax policy. Legislators will have to decide what to do about teacher pay, after Little froze pay raises in response to the pandemic. This is one year when education stakeholders say they dearly want member teachers and trustees talking to lawmakers, describing the challenges of an unprecedented school year.
Trouble is, 2021 will also be an unprecedented session.
Gramer has worked 20 Idaho legislative sessions — a dozen as a political reporter and columnist, dating back to the 1970s, and eight in his current advocacy role. He knows his job will be challenging this year, as phone calls and remote meetings replace the face-to-face approach to working the Statehouse.
"It's sort of like this enclosed, isolated small city that's created every year in Boise," said Gramer, with more than a bit of nostalgia. "And that city is run on relationships."
He's right. The Statehouse is like its own city.
And this year, it's a city imperiled.