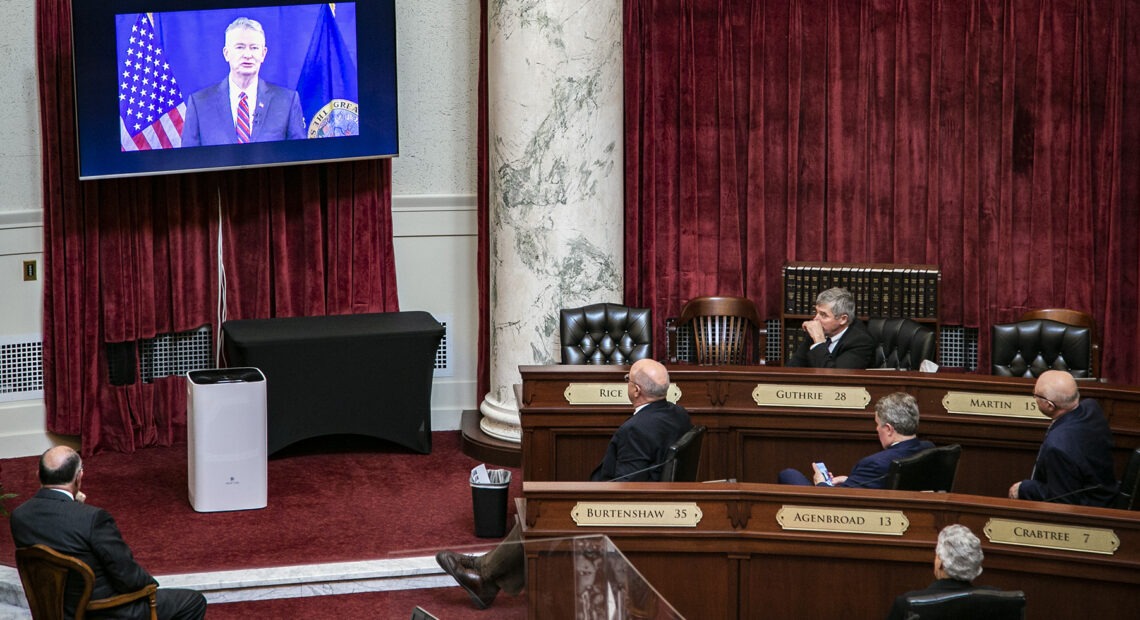 In Opening Legislative Session, Idaho Governor Calls For Reversing Budget Cuts, More Teacher Pay
Originally posted on IdahoEdNews.org on January 11, 2021
Gov. Brad Little called for reversing budget holdbacks, increasing teacher pay, cutting taxes and fighting the coronavirus virus pandemic during a historic, remote State of the State address Monday.
In conjunction with the 30-minute speech, Little unveiled a budget proposal that would increase K-12 general fund spending beyond $2 billion for the first time in Idaho history.
He called for increasing education spending by 3.7 percent above the current year's original budget. By comparison, Superintendent of Public Instruction Sherri Ybarra is proposing a 2.5 percent increase for K-12 schools next year.
"My budget leaves a prudent surplus, bolsters rainy day funds and reflects my continued priority on education, including our valuable teachers" Little said.
"My budget makes a historic commitment to teachers by fully implementing our $250 million investment in the career ladder."
Little delivered the address from a Statehouse auditorium, instead of the traditional location of the House floor.
In traditional years, more than 200 people comprising all three branches of Idaho government would cram into House chambers for the address. This year, Little moved the speech and limited capacity to 10 people — a historic departure that he first discussed with Idaho Education News in December.
Both the House and the Senate convened and then adjourned for the day before Little's speech began. Normally, Idaho's governor would deliver the speech to a joint session of the House and Senate.
Some 2022 budget year highlights include:
$44.9 million to increase teacher pay through the career ladder, including increases for veteran educators.
$31 million transfer to the Public Education Stabilization Fund (a state rainy day savings account for K-12) to replaced funds depleted in the 2020 budget year.
$10.6 million for rising health insurance costs for school districts.
$9.7 million for advanced opportunities programs that allow high school students to earn college credits while still attending high school.
$242,000 in one-time money to continue to develop the school safety tip line and threat assessment programs.
Colleges and universities would get about a 2.6 percent funding increase under Little's proposal. Meanwhile community colleges would be in line for a 5.4 percent increase.
For higher education, Little recommended:
$3.3 million for an enrollment workload adjustment, as generated by a formula that compares student credit hour levels over three years.
Little also called for:
$1.2 million in federal spending authority to place mental health clinicians in rural schools.
$648,000 in federal spending authority and one full-time position a career-technical education apprenticeship grant program.
Using accumulating surplus money, Little unveiled his for his Building Idaho's Future program. Little called for:
$20 million for summer programs or other initiatives designed to combat learning loss, particularly with literacy.
$5.5 million for higher education collaboration and cost saving priorities identified in the Huron Report.
$4.8 million in investments for career-technical education.
"But with all the disruptions in education delivery over the past 10 months, many of Idaho's students are experiencing a learning loss," Little said. "For some students who were already on track, the learning loss could range a few months. But our needier students may have lost more than a year's worth of learning."
Little reserved the first words of his speech for condemning the violence, riots and protests at the U.S. Capitol last week.
"The riots tarnished the shining values America stands for," Little said. "This is not who we are. Hostility and violence are not an expression of your rights; they are a violation of everyone else's."
A small group of protestors assembled Monday inside and outside of Idaho's Statehouse. They have remained peaceful as of early Monday afternoon. People held signs saying "End the lockdown" and posted faux wanted posters depicting images of Little and some state legislators who protestors believe restricted their freedoms.
Idaho State Police announced they had arrested two people who showed up at the Statehouse Monday with outstanding warrants, as of 12:30 p.m.
Idaho State Police said neither arrest was connected to activity Monday at the Statehouse.
Little also committed to spending $250 million in federal money to fight the coronavirus and he mourned the deaths of the 1,500-plus Idahoans who died of COVID-19.
"Like a tornado, 2020 was damaging and deadly," Little said. "But with the arrival of a safe vaccine just a few weeks ago, the dark clouds of the pandemic are starting to part."
Little also proposed $450 million in combined tax cuts, a mix of one-time and ongoing measures. Little's budget staff said he would work with the Legislature to iron out the details of the specific types of tax cuts as the session progresses.
Check back with Idaho Education News later Monday for more details and reaction to Little's speech.
Editor's note: Idaho Education News remotely covered Little's speech and state officials' reactions.