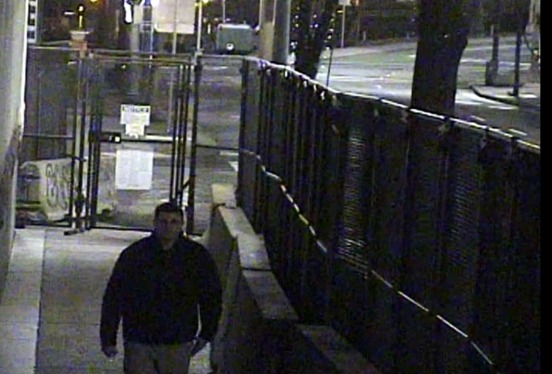 Man Charged With Shooting Portland Federal Courthouse Attended Salem 'Stop The Steal' Protest
BY CONRAD WILSON / OPB
An armed man upset about the results of the 2020 presidential election fired five shots into the side of Portland's federal courthouse on Friday, according to court documents filed in federal court Sunday.
Cody Levi Melby, 39, reportedly climbed over the temporary security fence erected this summer to keep racial justice protesters outside the federal courthouse before he opened fire on the building, the documents state. No one was injured in the attack.
The U.S. Attorney's Office charged Melby with destruction of property, a federal misdemeanor. The Multnomah County District Attorneys Office also charged Melby with two felonies, including unlawful use of a firearm, as well as several misdemeanors
During a video court appearance on Monday, he pleaded not guilty. He'll remain in custody as he works on a release plan with his court-appointed attorney to present to a judge in the next few days. Federal prosecutors said they want Melby to remain in custody because they believe he's a danger to the community.
Records show Melby was also arrested in Salem by Oregon State Police on Wednesday during a pro-Trump "Stop the Steal" rally outside the Oregon State House. At that rally, attendees listened to a live broadcast of the president, who again falsely told his supporters there was widespread fraud in the 2020 general election.
Melby's arrest in Salem followed the main protest Wednesday. Around 6 p.m., state troopers found Melby trying several doors to get into the building. He was arrested for trespassing while in possession of a firearm. He was later released from the Marion County Jail after he posted bail and agreed to not possess a firearm.
"Judge, this case is still under active investigation," Assistant U.S. Attorney Paul Maloney said during Melby's hearing. "This incident here represents a serious escalation from the incident two days prior."
Maloney also said the government had information that Melby was not taking medication for "various mental health concerns."
In several videos posted to his YouTube channel, Melby has engaged in conspiracy theories consistent with QAnon, a wide-ranging far-right belief system that falsely claims President Donald Trump is trying to overthrow a pedophilic and corrupt deep state cabal. Melby also claims he has military experience.
"QAnon, yes it is real," Melby falsely states in a July 25 video posted on YouTube. "I have been working with them. So yes, it is real."
In the video, Melby talks about large, nightly racial justice protests in downtown Portland.
"Deep state, the communists, the Marxists, whoever the fuck you are, we're going to begin hunting you tonight," Melby said in the video. "Hunting you, because we hunt at night. We'll be dressed like you, because we're doctors, nurses, we're business owners, we're dads, we're moms. You are not safe from us."
Melby ends the video by stating attacks against federal facilities are serious crimes.
"Whoever is committing acts of violence against a federal installation, we will snatch you up, we will throw you over that fence," he said, presumably referring to the fence he later allegedly jumped over to get near Portland's federal courthouse. "Every single time you attack a government installation, or a federal facility, that is an act of treason, that is an act of sedition, that is an act of insurrection."
In a Jan. 5 video posted to YouTube, Melby appeared to be standing outside the Oregon Capitol building in Salem, where he made several false statements about the November presidential election.
"Melby states that 'an illegal coup attempt' that has 'weakened our nation and public confidence in our constitution' and subverted the democratic process," court documents stated. "He describes the events around the 2020 presidential election as an attack on the very foundation of our republic and a 'theft of votes.'"
According to the court documents, Melby stated that "multiple state governments and federal agencies have committed treason against the United States."
Three days after the video was posted, Melby fired his 9mm five times at the Portland courthouse, once he was over the fence. Three bullets hit plywood surrounding the courthouse's stone columns, but according to federal prosecutors, the building's façade wasn't damaged. There was also some damage near the entrance to the building, according to the U.S. Attorney's Office.
Courthouse security officers exited the building and found Melby. He told the security officers he had a gun and the officers placed him in handcuffs.
During Monday's court hearing, Melby said that he would like to speak. But his public defender intervened.
"So, Mr. Melby, you and I talked about this, this is an open line with 28 people on it. I prefer you and I speak in private so I know what you're going to say before you say it," said Bryan Francesconi, an assistant federal public defender.
"When is the next time that I'll get to speak with the judge?" Melby said. "Because I really would like to have you mention what I talked to you about earlier today."
"I understand," Francesconi replied to his client. "And you and I are going to do some legal research first to come up with a game plan." Francesconi said he hoped to be back before the judge in a few days.
"I have a game plan already," Melby replied.
"I know," Francesconi said. "But you and I need to figure out if it's legally viable first."
"I've figured that out," Melby said before the hearing ended.
The incident outside the federal courthouse is being investigated by the FBI and the Federal Protective Service. A two-day trial was scheduled for March 16.
Copyright 2021 Oregon Public Broadcasting. To see more, visit opb.org