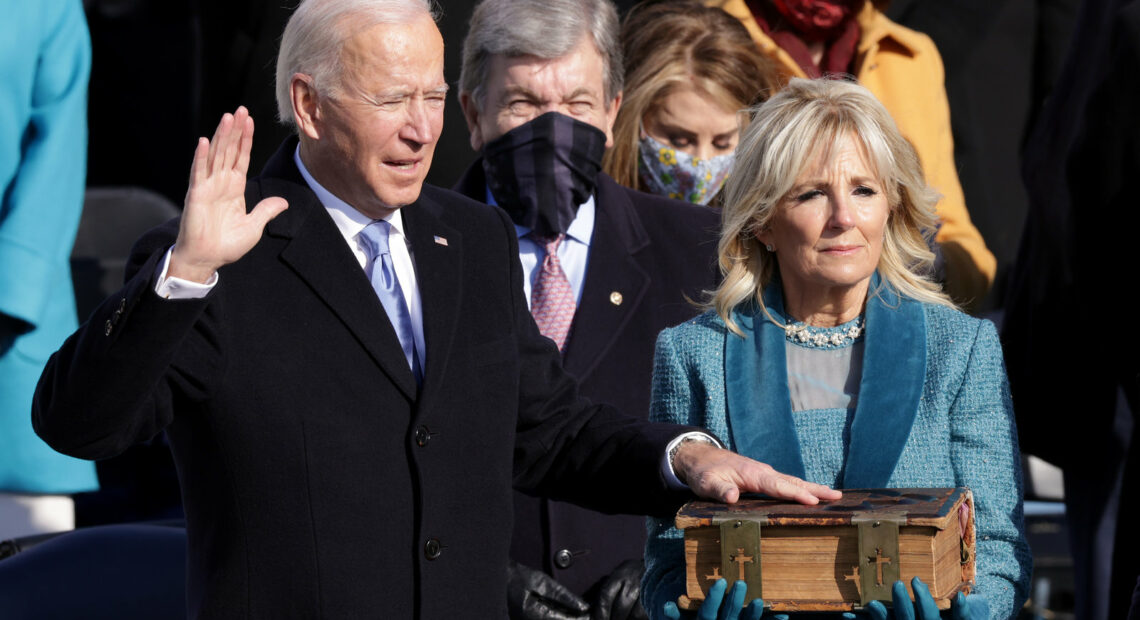 'This Is America's Day': Inauguration Of Joe Biden And Kamala Harris
WATCH:

BY ALANA WISE
Joe Biden became the 46th president of the United States on Wednesday, having defeated Donald Trump in an acrimonious, divisive election last November.
Biden was sworn in after Vice President Kamala Harris in an unusual inauguration ceremony, conducted amid the ongoing coronavirus crisis and heightened physical security risks.
But Biden's remarks in his inaugural address were ones of hope.
"This is America's day. This is democracy's day, a day of history and hope, of renewal and resolve through a crucible for the ages," he said. "America has been tested anew, and America has risen to the challenge."
Biden did not directly address Trump, who earlier in the day left the White House for his Mar-a-Lago resort in Florida. Former Vice President Mike Pence attended the inaugural ceremony.
Biden comes into office inheriting a public health crisis that has already claimed more than 400,000 American lives and a nation grappling with a political and racial reckoning decades in the making.
His first day in office will reflect the urgency with which he hopes to address these issues. He plans to sign 17 executive orders on issues ranging from the COVID-19 crisis and the economy, to racial justice and climate change.
"With unity we can do great things, important things," Biden said.
"Without unity, there is no peace. Only bitterness and fury. No progress, only exhausting outrage. No nation, only a state of chaos. This is our historic moment of crisis and challenge, and unity is the path forward."
The president's remarks follow the theme of his candidacy, which called on Americans to abandon hyper-partisanship in favor of unifying against the nation's woes.
"We'll press forward with speed and urgency for we have much to do in this winter of peril and significant possibilities. Much to repair, much to restore, much to heal, much to build and much to gain," he said.
"Now, on this hallowed ground where just a few days ago violence sought to shake the Capitol's very foundation, we come together as one nation, under God, indivisible to carry out the peaceful transfer of power, as we have for more than two centuries," Biden said, referring to the deadly Jan. 6 insurrection at the Capitol.
"I pledge this to you: I will be a president for all Americans, all Americans. And I promise you I will fight as hard for those who did not support me as for those who did."
Events for the day include:
Noon ET: Swearing-in ceremonies followed by Biden's inaugural address. (Follow live analysis of Biden's speech here.)
2 p.m. ET: Wreath-laying at Arlington National Cemetery. Biden and Harris will be joined by former Presidents Barack Obama, George W. Bush and Bill Clinton.
3 p.m. ET: Presidential escort to the White House followed by a virtual "parade" with scenes across the country.
7 p.m. ET: Press briefing with Biden press secretary Jen Psaki.
8:30 p.m. ET: Evening program hosted by Tom Hanks with musical performances by John Legend, Jon Bon Jovi, Justin Timberlake and more.
Copyright 2021 NPR. To see more, visit npr.org