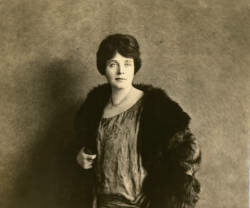 Women's History Music Moment: Mary Davenport-Engberg
LISTEN
Sometimes a historic career path begins on a trail.
Mary Cornwall was born in a covered wagon in 1881, as her parents made their way from California to the Washington Territory. The family settled in Spokane, and young Mary impressed her music teachers right from the start. When her mother died, the Davenport family adopted her and moved to Bellingham.
At age seventeen, Mary Davenport married Henry Engberg. They travelled to Europe, and Mary pursued her studies in Germany and Denmark, making her concert debut as a violinist in Copenhagen in 1903. Five years later and back in the Northwest, she appeared as a soloist with the Seattle Symphony at a pops concert at the Moore Theatre.
Mary Davenport-Engberg made history in 1914 when she founded the mixed-gender Bellingham Symphony, becoming the first woman to lead a professional orchestra in this country. In 1920, when the Seattle Symphony suspended operations, she started and conducted the Seattle Civic Orchestra, an ensemble composed of professionals and students alike, and described by a local critic as an orchestra of a "surprisingly high level of excellence." Davenport-Engberg taught at what we now know as Western Washington University; wrote original works for her instrument; and, cementing her important place in our region's musical history, co-founded the Seattle Civic Opera Association in 1932.
You can learn more about this remarkable Northwest pioneer at nwmusicarchives.com.