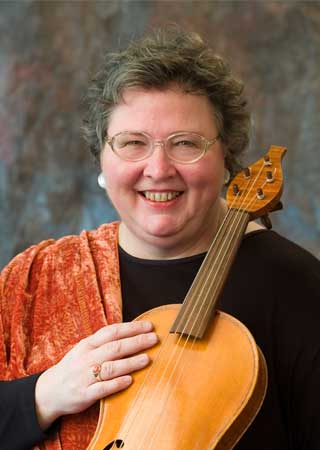 Women's History Music Moment: Margriet Tindemans
Maestra Margriet Tindemans made history as a performer of early music. The Pacific Northwest was her home for the final three decades of her influential career, but she started as a child violinist in a 1950s European youth orchestra.
Born in the Netherlands, Tindemans developed mastery on all manner of medieval, renaissance and baroque string instruments, adding her authoritative performances to early-music ensembles worldwide. When a concert tour brought her to Seattle in 1986, she fell in love, decided to stay, and began her historic impact on the musical life of the Pacific Northwest. After she gathered a few women together to perform medieval chant, she grew that gathering into the 60-voice Medieval Women's Choir.
She once invited children to handle her collection of antique fiddles, and then juggled bananas and oranges to make them laugh. You often hear Margriet Tindemans' award-winning recordings on NWPB classical. Her work survives her. Learn more about it at medievalwomenschoir.org.
Related Stories: