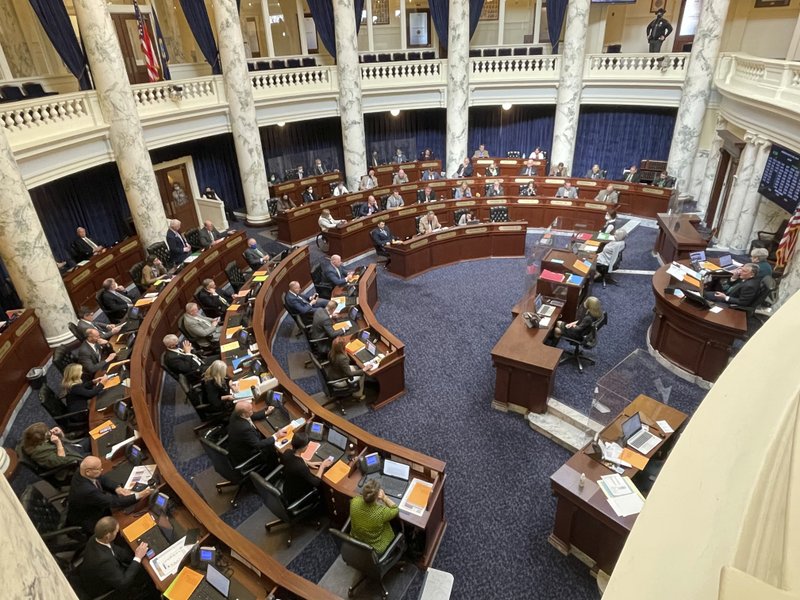 Idaho Lawmakers Get Back To Work After An 18-Day COVID-Caused Recess
Originally posted on IdahoEdNews.org on April 6, 2021
In their first floor session since March 19, House members rise for the Pledge of Allegiance.
With some procedural maneuvering, and a dash of fiery rhetoric, the Legislature returned to business Tuesday.
Lawmakers convened for the first time in 18 days — after calling a sudden and historic recess in an attempt to slow a Statehouse coronavirus outbreak.
The first sessions were brief: The House reconvened at about 12:05 p.m., and stayed on the floor for about 25 minutes. The Senate went into session at about 12:25 p.m., and was in session for just 10 minutes.
However, action could pick up later this afternoon.
The House Ways and Means Committee is scheduled to meet at 1:30 p.m. Among other items, the committee will consider a transportation funding bill — one of the big issues lawmakers hope to address this session.
Both the House and the Senate will return to session this afternoon. Senate Majority Leader Kelly Anthon, R-Burley, said the Senate will "work as late as humanly possible" Tuesday, perhaps staying in session into the evening.
Both houses have dozens of bills on their calendars, awaiting floor votes. And that's just some of the work lawmakers left undone when they went into recess.
The Legislature put its work on hold on March 19, after six House members reported testing positive for coronavirus within a week. Among the hardest-hit committees was the House Education Committee: Chairman Lance Clow, Vice Chairman Ryan Kerby and first-term lawmaker Julie Yamamoto all contracted the virus.
Education figures prominently in the Legislature's unfinished business.
Lawmakers still have to pass K-12 budgets and the House needs to pass a higher education budget — and they cannot adjourn for the year without setting all state agency budgets.
Lawmakers could also take up a laundry list of education policy issues — such as federally funded early education programs, all-day kindergarten, education grants for families, sex education and guns in school. Unlike the budgets, legislators don't have to pass any of these policy bills, so their prospects are uncertain.
In the waning weeks of the session, lawmakers also hope to pass tax relief, a transportation funding package and bills asserting the Legislature's powers (and limiting the governor's powers) during an emergency.
Tuesday's floor sessions were mostly routine. The House heard committee reports, a veto message from Gov. Brad Little, and a letter in which the governor described his reluctant decision to sign a bill authorizing $6.1 million for virtual charter schools that took on hundreds of new students during the pandemic.
The K-12 budget bills were introduced on the House floor — another procedural step setting the stage for possible votes in the next few days.
But the House session wasn't all about procedure.
First-term Rep. Ben Adams, R-Nampa, took to the floor to exhort his colleagues to "wake up" in the face of government overreach. Adams decried a wide variety of policy proposals — from vaccine passports to dam breaching to deficit spending — and then quoted Thomas Jefferson: "The tree of liberty must be refreshed from time to time with the blood of patriots and tyrants."
Said Adams: "Now is the time to push back, to lay claim to the sovereignty of the state. … Either lead, follow or get the hell out of the way."
After Adams' remarks, House Speaker Scott Bedke said nothing, leading the session back through its procedural moves.
Lawmakers are likely to remain in session at least through next week, and probably longer.
On Tuesday, House State Affairs Committee Chairman Brent Crane, R-Nampa, told committee members to expect to remain at work on April 19 and 20. The committee will work on agency rules that week, while lawmakers wait for Little to sign or veto the last bills of the session.
House lifts expulsion mandate for students possessing weapons on school grounds
After delaying third readings of a handful of education bills, the chamber made its first major education move since returning from its recess Tuesday afternoon. The House unanimously voted to repeal an existing requirement that school officials expel students who bring "dangerous weapons" to school.
If signed by Gov. Brad Little, SB 1116aa will maintain a one-year expulsion for K-12 students who bring a firearm to school, mirroring the Federal Gun-Free Schools Act.
The bill is meant to give school officials flexibility in cases where students who inadvertently bring knives to school are expelled. Throughout past debates, proponents have repeated anecdotes about students as young as second grade being kicked out of their schools for accidentally bringing pocket knives or kitchen knives to school.
Rep. Gary Marshall, R-Idaho Falls, forwarding the bill, called those expulsions "tragic and unintended consequences" of a "zero tolerance policy."
"The effect of this is to give the school boards full authority to weigh the circumstances … of the cases where a student may have brought a weapon to school. In the case of a knife or something, the school board could recognize it was inadvertent," Marshall said.
The State Department of Education and the Idaho School Boards Association both support the bill, Idaho EdNews previously reported.
The bill unanimously cleared the Senate last month. It now heads to Little's desk.
The House adjourned just before 4 p.m. without taking up other major education legislation and will meet again Wednesday at 10:30 a.m.
Idaho Education News reporter Blake Jones contributed. Check back later today for updates.
Idaho Education News covered Tuesday's sessions remotely.