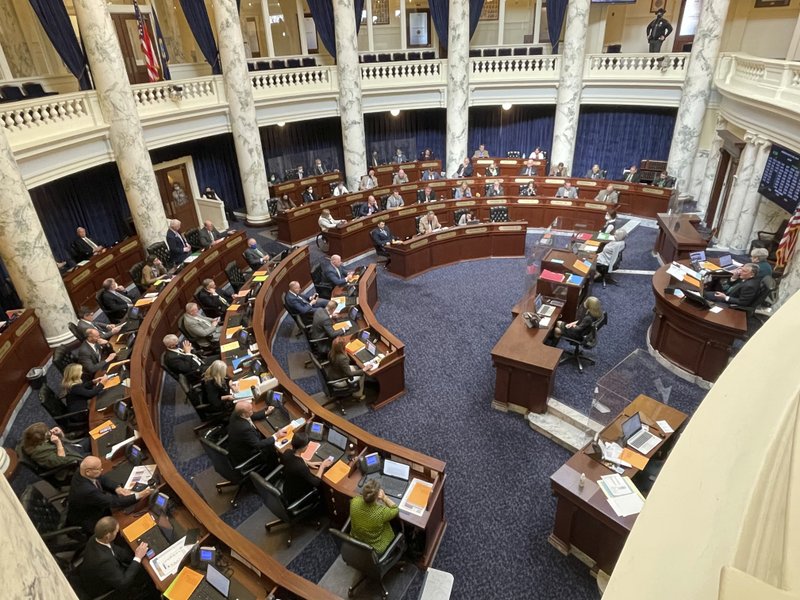 Analysis: A Bad Week And A Rough Session For The Idaho Legislature (And The Facts)
Originally posted on IdahoEdNews.org on April 29, 2021
The 2021 Legislature took its ugliest turn on its 108th day, when the House Ethics Committee weighed a sexual assault complaint against first-year Rep. Aaron von Ehlinger.
Committee members tried to keep Wednesday's hearing focused on fact-finding, often blocking cross-examination tactics from von Ehlinger's attorney. But the hearing was unseemly and even more tawdry than it needed to be — and the lowest point came when von Ehlinger's accuser, a 19-year-old legislative aide, testified behind a curtain, and was later accosted and filmed in a Statehouse hallway.
The ethics committee's unsavory, unenviable job of fact-finding came to a close Thursday, when the committee recommended censure and suspension, and the first-year lawmaker turned in his resignation. But this is the job of an elected official, albeit in the extreme: the business of commanding and demanding facts. Difficult facts, straightforward facts. And the 2021 session has been a bad year for the facts, with real effect on policy.
A good case in point came Tuesday. After some evidence-optional debate, the House rejected federal funding for coronavirus testing in schools.
Yes, some of the criticism focused on the $40 million pricetag, an actual fact. But in brief debate, Rep. Tammy Nichols managed to squeeze in some pandemic untruths. She suggested that the school testing program could open the door to coronavirus vaccinations, without parental consent, and questioned the need for the testing in the first place.
"It has been proven time and time again, scientifically, that children are not really carriers of this," said Nichols, R-Middleton.
None of this should be surprising. Nichols frequently takes to Twitter — not exactly a sanctuary for fact-driven debate — to post memes downplaying the pandemic and mocking the vaccinations. But let's loop back to Tuesday's debate, with some facts.
First off, no COVID-19 vaccine has been approved for children under age 16. Second, all childhood vaccinations are essentially optional in Idaho, and have been for decades. A new law, which Nichols supported in the House, will require schools to apprise parents of their rights to opt out of vaccinations. The notion of a mandated COVID-19 vaccine doesn't square with the law.
And the Centers for Disease Control's guidelines make a solid argument for in-school testing. "Similar to adults … children can spread (coronavirus) to others when they don't have symptoms or have mild, non-specific symptoms and thus might not know that they are infected and infectious."
Nichols did not respond to a request for comment.
In the session's biggest education debate — on social justice and critical race theory — facts were scarce and details sketchy. Nonetheless, House conservatives have brought the education budgeting process to a near halt. Acting nearly along party lines, legislators pushed through a "nondiscrimination" law designed to halt  the spread of critical race theory in the classroom. Gov. Brad Little signed the bill into law Wednesday, while penning a letter admonishing lawmakers to focus on "facts and data, not anecdotes and innuendo."
Lawmakers seemed to buy into a narrative of pervasive school indoctrination, without demanding hard evidence. Or, maybe not. Making the case Monday for House Bill 377, the nondiscrimination law, Sen. Carl Crabtree, R-Grangeville, offered a look behind the curtain. He told his Senate Education Committee colleagues that the bill was more of a "proactive" step designed to appease skeptical legislators and get their buy-in on education budgets.
Proactive? That's a far cry from what lawmakers have been hearing, repeatedly, as the Idaho Freedom Foundation continues to whip up a firestorm, maintaining that there is abundant evidence of indoctrination in Idaho schools. 
And all of that rhetoric is having a real effect on budgets — where, in theory at least, hard numbers and cold facts should rule.
On Tuesday morning, the Joint Finance-Appropriations Committee drew up a new higher education budget, an attempt to dock the schools and get the Legislature one step closer to finally adjourning the 2021 session. But the budget makes no real attempt to account for the costs of campus social justice programs. It arbitrarily cuts $1.5 million from Boise State University, $500,000 from the University of Idaho and $500,000 from Idaho State University.
That Boise State number deserves scrutiny. When JFAC wrote its first higher education budget, in March, the committee cut $409,000 from Boise State, saying it reflected the university's self-reported social justice spending. The deeper cuts are punitive, Crabtree conceded Wednesday, and the new bottom line is a political number designed to win over House members who resoundingly voted down the first higher education budget.
"I've done the best I can do, again," Crabtree said. "And it may not be enough, again."
Of course, budget-writing is a political exercise, so there's nothing new going on here. But it comes this year, when hard facts are harder to come by.
Enter, again, the Freedom Foundation.
"Radicalism has very much infiltrated the college system, and the cost to Idaho taxpayers and students is easily more than $20 million," foundation president Wayne Hoffman said earlier this month.
That's a wee bit more than the $2.5 million JFAC wants to cut. And this week, the foundation didn't respond when Idaho Education News asked for a breakdown of the $20 million cost estimate. But if that number resonates with enough hardline legislators — such as Rep. Ron Nate, R-Rexburg, who sought about a $20 million higher ed cut in JFAC — the second higher ed budget could meet the same fate as the first.
Little kicked off the bad week for facts Sunday, with a tweet saying the Biden administration's climate change agenda could force Americans to cut back on meat consumption. The basis was an erroneous Fox News story, later corrected by the network.
Little didn't correct his tweet, however. "The graphic tweeted by Texas Gov. Greg Abbott and retweeted by Gov. Little is meant to remind Idahoans that he does not support public policy efforts to cut Americans' meat consumption as a means of curbing climate change," spokeswoman Marissa Morrison Hyer told reporters this week.
Like Burger King, Twitter is the home of the whopper.
A trivial story? Maybe. Certainly it is nowhere near as consequential as allegations of indoctrination in schools, or a disturbing sexual assault complaint involving a sitting legislator.
But it's on brand for 2021. When this session finally ends, and we sort out the winners and losers, it's sadly clear where facts will land on the ledger.
Each week, Kevin Richert writes an analysis on education policy and education politics. Look for it every Thursday.