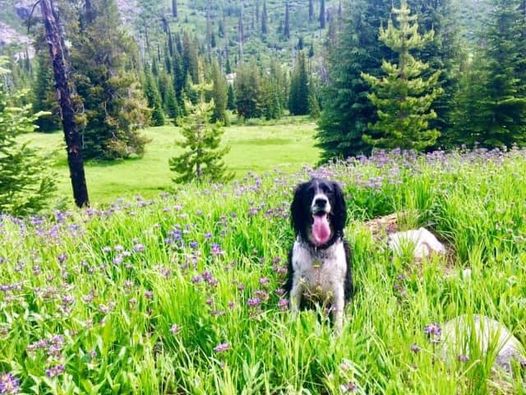 Sit! Stay! Hike! Where To Go And How To Prep You And Your Pooch
Whether you recently adopted a pet during the pandemic or are a long-time pet owner, there are things you can do to prepare for warm-weather adventures with your pooch..
Marcus Wright of The Northwest Dog Trainer in Des Moines, WA has trained dogs for ten years. He's noticed a lot more people have needed the services of professional dog trainers since the pandemic. He has some tips for new dog owners to make sure their pup is prepared for the trails.
"I would suggest working on your puppy's basic commands like sit, come, and stay in your local neighborhood with less distractions before taking your puppy on a hike. In Washington when the sun comes out trails are usually bombarded with dogs and people looking to enjoy the weather. You want to keep your dog safe and maintain good hiking etiquette when out on trails. Knowing your dog will respond reliably to basic commands is essential," Wright said.
For all dog owners, Wright said it is important to keep the dog's age, fitness and breed in mind when on the trail.
"For older dogs, pay attention to your dog's panting, which might indicate needing to take a break. Dogs don't sweat the same way we do so panting is how they regulate body temperature. Don't forget plenty of water for your pooch and poop bags. Hiking tends to stimulate dogs to poop a little more than usual," Wright said.
And when your dog has those basic commands and manners, here are suggested dog-friendly hikes of all difficulty levels in Washington, Oregon and Idaho.
Washington
Dishman Hills Conservation Area is located about five miles from downtown Spokane and consists of over one thousand acres of scenic habitat and trails. This would be an easy trail for hikers and their pets. The entire hike is about 1200 feet elevation gain and loss.
Snow Lake is a moderate hike in the Snoqualmie region. It is a 7.2-mile trek that features a stunning alpine lake and mountain views. Dogs must be kept on leash during the hike.
Oyster Dome is a difficult hike near Bellingham. Hikers and their pets will climb through the forest, walk around granite boulders, and see some logging artifacts. On a clear day, hikers can see the San Juan Islands and on the clearest days, Vancouver Island, Canada.
Idaho
Tubbs Hill is an easy, 2-mile trail near Coeur d'Alene. The trail is accessible from downtown and features a beach on the southwestern area of the loop. The hike offers great views of the lake and is kid and dog friendly.
Table Rock Trail is a moderate 3.7-mile loop near Boise. The hike features wildflowers and city views. The hike has an elevation gain of almost 900 feet. It usually takes hikers about an hour to hike up to the top.
Lone Lake is a moderate hike near Mullan that features a beautiful alpine lake. The hike is four miles roundtrip and has an elevation gain of a little over 1,600 feet. Dogs must be kept on a leash during the hike.
Pioneer Cabin Trail is a difficult, 8.5-mile loop in the Pioneer Mountains. This trail is very attractive in the warmer months because most of the loop is in the shade. The main attractions of the hike are gorgeous mountain views, alpine creeks, and a cabin that was built in the 1930's by the Sun Valley Company. The cabin is a great spot to stop and snack and is a great photo opportunity.
Oregon
The Cape Lookout South Hike is an easy out and back hike near Tillamook. The hike is 3.6 miles round trip and is family-friendly as well as dog-friendly. The main attraction on the hike is South Beach. The beach is fairly secluded and has many tidepools to explore.
Ramona Falls Trail is a moderate, 7.1-mile loop near Rhododendron. The trail features a waterfall, wildflowers and creeks. Dogs are required to stay on leash on the trail.
Warrior Point is a moderate to difficult hike in Sauvie Island. The 7-mile hike features Oregon's smallest lighthouse, which is also one of only two non-coastal lighthouses in the state that are still in operation. Dogs must remain on-leash during the hike. There is also a high chance of seeing birds like Canadian geese, tundra swans and bald eagles.
Below is a gallery of listener's pups out and about!