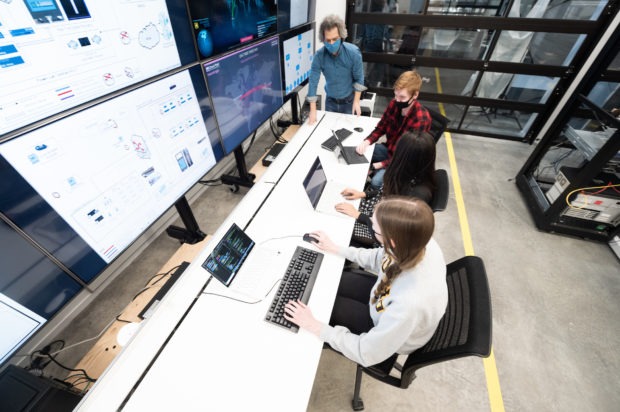 University Of Idaho Training Teachers To Provide Dual-Credit Cybersecurity Course
Originally posted May 12, 2021 on IdahoEdNews.org 
With STEM jobs, especially computer occupations like cybersecurity, expected to grow steadily over the coming years, colleges are figuring out ways in which they can get more students ready for that line of work.
And soon many Idaho students won't have to wait until college to take cybersecurity courses.
The University of Idaho has partnered with the STEM Action Center to offer training sessions over the summer to high school teachers, which will allow them to teach CS 112: Computational Thinking and Problem Solving, and CYB 110: Cybersecurity and Privacy for dual credit.
"We can turn every computer science student in the nation into a cybersecurity person and it still wouldn't fill all of the jobs," said professor and director of the Center for Secure and Dependable Systems Jim Alves-Foss, who estimated that there are about 250,000 cybersecurity openings right now with about 100,000 computer science graduates annually.
"There's jobs for everybody," he said.
This is the first year where the cybersecurity course will be offered to high school students, something that started as more and more students have been taking the computer science class.
STEM Action Center interim director Kaitlin Maguire agreed that the increase in computer science jobs has led to more interest in that career.
"Year to year we've seen an increased interest for programs that support students learning about cybersecurity," Maguire said. The STEM Action Center is helping fund the teacher training so students can take the dual credit courses.
Students won't be hacking into computer systems in CYB 110, but will be getting an introduction into what cybersecurity means.
"We assume you know nothing more than the average person would," Alves-Foss said. "We assume you've used a cell phone or an iPad or a computer and go from there."
Terence Soule, U of I computer science department chair, said the class has "hacking-like" activities and challenges. The class has been available for five years and 467 students have taken it.
"It's really important for them to sort of get a head start, if they want, on their college career," Soule said.
The U of I was the first school in the state to offer a bachelors degree in cybersecurity. Currently, the school has 21 students in the cybersecurity bachelors program. Including new registers for next school year, the number will jump to 32. The program just started in the fall of 2020 and CYB 110 is the first class in that bachelors program.
Soule said a lot of dual credit classes tend to be in core subjects like English, math and second languages. He said he's excited to see more courses in the technical engineering fields be offered for dual credit.
It also comes as the state is increasing computer science curriculum at all public institutions. Soule said it's important for teachers to come to trainings like the one the U of I is offering since a lot of veteran teachers received their degrees when computer science wasn't as prevalent.
"We want to fill that gap by helping train up the existing teachers," Soule said.
Alves-Foss said a common misconception of cybersecurity work is that it is done by "techie's" who are locked in a control center. Alves-Foss, who has been teaching computer science since 1992, said some of the school's earliest students went on to work for Idaho Fish and Game and caught poachers. Alves-Foss said graduates from the U of I have gone on to work for the National Security Agency, the Federal Reserve System and Disney.
"(Businesses) are very concerned about protecting their intellectual property," he said.
He added that some students take cybersecurity course before going into law enforcement careers.
Alves-Foss said the reason why cybersecurity jobs are so abundant now is because there's more technology every day, gesturing to a cell phone, laptop and tablet on his desk. With all of those devices connected to the internet, Alves-Foss said more cybersecurity is needed to help protect those devices and the information on them.
"I used to have a neighbor who would leave his front door unlocked so when his kids got home they could just go in," he said. "He also left his wifi unlocked. If you had 2 billion people going down your street every day, I think you'd lock your door."