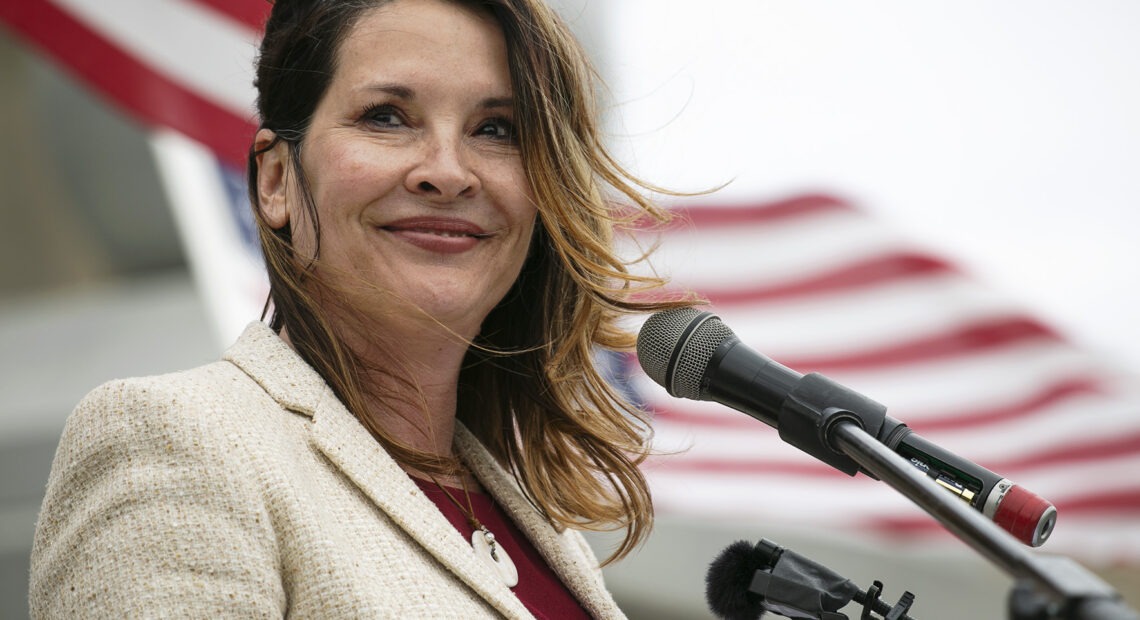 Janice McGeachin, Idaho's 2nd In Command, Announces Bid For Governor, Setting Tight GOP Primary
Originally posted on IdahoEdNews.org on May 19, 2021.
Lt. Gov. Janice McGeachin speaks at a Boise rally on Wednesday, May 19 2021 when she announced her run for Idaho Gov. Sami Edge/Idaho EdNews
Ending months of speculation, Republican Lt. Gov. Janice McGeachin officially entered the governor's race Wednesday.
McGeachin made her announcement at a morning news conference in Idaho Falls before traveling to Boise and Coeur d'Alene later in the day.
McGeachin's entry into the gubernatorial race sets up a potential showdown, and clash of ideologies, in the May 2022 GOP primary. Incumbent Gov. Brad Little hasn't yet announced his plans for 2022, but Little and McGeachin have frequently been at odds — especially in the past year, as McGeachin has persistently criticized Little's response to the coronavirus pandemic.
"What we have seen over the past year is unacceptable," McGeachin said Wednesday. "The violations of our individual rights, our state sovereignty and our traditional conservative values are intolerable. I refuse to stand by and allow these abuses to go unchallenged."
McGeachin filed paperwork Wednesday naming a campaign treasurer, a precursor to fundraising, Betsy Russell of the Idaho Press first reported Wednesday morning. McGeachin is among seven candidates to file such paperwork. That list includes Little; Ed Humphreys, a regional GOP chair from Eagle; Boise Republicans Jeff Cotton and Lisa Marie; Meridian Republican Cody Usabel; and John Dionne, an unaffiliated candidate from Boise.
Democrats, who have not held the governor's office since 1994, have no announced candidate.
McGeachin spoke from the steps of the state Capitol on the Boise leg of her announcement tour, surrounded by a semi-circle of fans holding large American flags. She spoke to well over 100 fans carrying "Don't Tread on Me" flags, #IAmIdaho campaign signs and sporting American flags and Thin Blue Line attire.
Paul Hoffman, a Nampa veteran, drove to the Boise rally to support McGeachin's campaign announcement in person, though it didn't come as a surprise. The Idaho Capital Sun broke news of McGeachin's run on Tuesday night, when her campaign website briefly went live.
More than a year out from the election, Hoffman said McGeachin already has his vote. He praised her focus on "personal freedoms" during the pandemic, which he called a hoax, and her advocacy of second amendment rights.
"It's great to see more women get involved higher up in politics," Hoffman added.
Idaho has never had a female Governor, though Paulette Jordan, a Democrat, was the runner up in the 2018 general election.
Well over 100 Idahoans attended McGeachin's Boise campaign announcement. Sami Edge/Idaho EdNews
The GOP primary could hinge on the pandemic, and Little's executive actions, designed to slow the spread of a virus that has claimed the lives of nearly 2,100 Idahoans.
Education could also play a prominent role in the election.
In April, McGeachin said she would assemble a task force to "examine indoctrination in Idaho education and to protect our young people from the scourge of critical race theory, socialism, communism, and Marxism." The group will hold its first meeting on May 27.
In an Idaho Education News podcast interview last week, Little was tight-lipped about McGeachin's plans. If parents and teachers have a say in the meetings, he said, the state could learn something from the process. But when asked if he was comfortable with the task force, Little said only, "We'll see."
Hours before the Legislature went on an 18-day COVID-caused recess on March 19, Humphreys introduced a bill that would have banned public schools from teaching racist and sexist content. His bill never received a hearing, but subsequently, legislators introduced and passed a nondiscrimination law that specifically called out critical race theory. Little signed the bill, but decried the "anecdotes and innuendo" at the heart of the Statehouse critical race theory debate.
The Idaho Education Association was quick to say McGeachin cannot be trusted.
"There is no ambiguity in her track record — she consistently attempts to undermine education funding and degrade our dedicated educators," IEA President Layne McInelly said in a statement. "McGeachin as governor would represent a huge step backward for Idaho students and public schools."
The teachers union endorsed Little in 2018.
A thumbnail biography
A native of Las Cruces, N.M., McGeachin graduated from Idaho Falls' Skyline High School and received a bachelor's degree from the University of Arizona. She represented the Idaho Falls area in the Legislature from 2003 through 2012. In 2018, she won a tightly contested five-way GOP lieutenant governor's primary, then comfortably won the general election, becoming the first female lieutenant governor in state history.
The money race: an early look
Little's campaign reported minimal activity in 2020, raising $5,501 and spending $6,675. His campaign entered 2021 with $136,759 on hand, and $800,000 in outstanding debt from his 2018 race, according to campaign finance reports.
McGeachin's campaign reported even less activity in 2020, raising $1,500 and spending $2,196. According to her 2020 report, she would have $23,172 that she could transfer into a race for governor.
Humphreys, meanwhile, has reported raising at least $77,000 since April. State law doesn't require candidates to report all contributions in real time, but they must report all donations of $1,000 or more within 48 hours.
This is a developing story. Check back for updates.
More about McGeachin's record — and her leaked announcement — from Idaho Capital Sun.