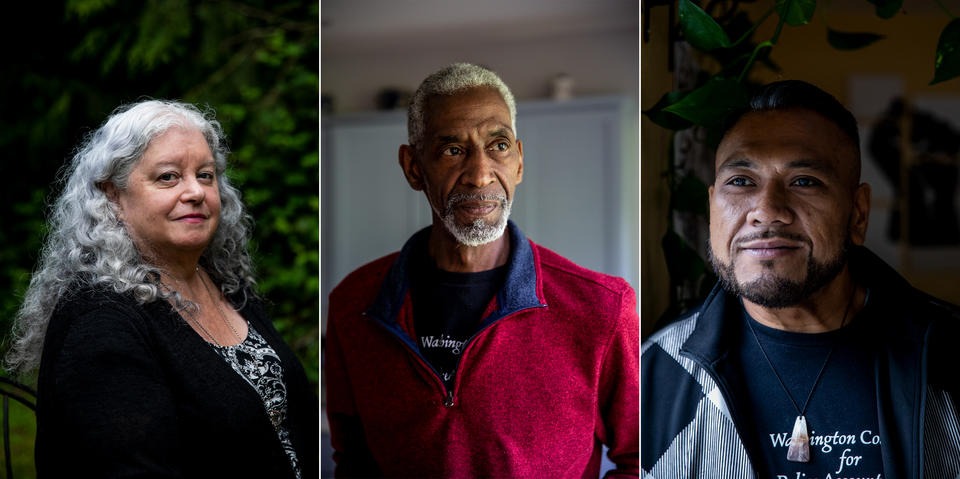 3 Washington Families On How New Police Laws Could Have Helped Their Loved Ones
BY MELISSA SANTOS / CROSSCUT
George Floyd's murder sparked worldwide protests against police brutality. When it came to new police accountability measures enacted in Washington state this year, the focus was on people killed closer to home.
Of the dozen police accountability bills that Gov. Jay Inslee signed into law last week, most, if not all, were shaped by family members of people who died in police custody.
A bill banning neck restraints, House Bill 1054, reflects the final moments of Manuel Ellis, a 33-year-old Black man who died during a police stop in Tacoma last March. Like George Floyd, Ellis died while telling Tacoma officers, "I can't breathe."
Another bill, House Bill 1267, which will require independent investigations of police uses of deadly force, also relates to the Ellis case. Last year, the governor's office took the Ellis investigation out of the hands of the Pierce County Sheriff's Department, reassigning it to the Washington State Patrol, after it became clear that an off-duty Pierce County deputy was at the scene when Ellis died. The state attorney general is expected to announce a decision this week on whether to file criminal charges against officers in that case.
Similarly, new restrictions on when police can shoot at moving vehicles seek to prevent another person from dying like Jacqueline Salyers, who was shot and killed by Tacoma police while driving in 2016.
Ellis and Salyers' family members were among those who pushed for changes in state laws. But there were many other families who lost loved ones and sought reforms.
A few of those families agreed to talk with Crosscut about how the new laws passed by the Legislature might have made a difference for them and their loved ones.
Here's what they had to say — and what they remember most about the people they lost.
Jesse Sarey, 26
Elaine Simons remembers her foster son, Jesse Sarey, as a little boy who loved Naruto, the Japanese manga series, and wrestling.
One day when Sarey was about 11, she took him and his brother Torell to see a WWE wrestling match.
"The boys got these funny-looking masks, and they got their golden belts, and they were walking around acting like they were wrestlers," Simons recalled.
Later, the two boys were practicing their moves at home, when Simons heard a huge crash. The boys had broken a futon — but neither would say what happened.
Sarey left Simon's home before too long, but over the years she still would see him at family events, where he would play with his little cousins. Sometimes, he would show off his breakdancing moves. He gave no outward indication that he was struggling with mental illness or being homeless, Simons said.
On May 31, 2019, Sarey was shot and killed by Auburn Police Officer Jeffrey Nelson. According to the King County Prosecuting Attorney's Office, Nelson told Sarey to leave the area outside a Walgreens after police had received complaints about a man throwing and kicking things.
Sarey left as instructed, but did so by jaywalking across a busy street toward a convenience store, according to the prosecutor's office.
Nelson followed Sarey to arrest him for disorderly conduct. Video footage shows Nelson punching Sarey several times. Nelson then drew his gun and shot Sarey in the torso, causing Sarey to slump to the ground against a freezer. Less than four seconds later, Nelson shot Sarey in the forehead while Sarey was still on the ground, the prosecutor's office said.
In August, the King County Prosecuting Attorney's Office charged Nelson with second-degree murder and first-degree assault, saying Nelson's shooting of Sarey was unreasonable.
"Our experts determined that Officer Nelson did not follow his training in a number of ways," King County Prosecutor Dan Satterberg said at the time.
But had Senate Bill 5051 been in effect five or 10 years ago, Simons believes Nelson wouldn't have had the chance to kill Sarey in the first place.
That's because two years before he shot Sarey, Nelson shot and killed another man, Isaiah Obet, in a manner Simons found strikingly similar. In a lawsuit against the city of Auburn, Obet's family said Nelson released his police dog against Obet, who appeared to be in mental distress, before shooting Obet twice. When Nelson fired the second shot, Obet was on the ground, not posing a threat, according to the family's lawsuit.
The same week Nelson was charged with the murder of Sarey, the city settled the lawsuit brought by Obet's family for $1.25 million.
Previously, Nelson had also fatally shot another man, Brian Scaman. Nelson wasn't disciplined over either of the earlier shootings, which the city of Auburn deemed justified.
If SB 5051 had been in effect, however, Simons thinks the state Criminal Justice Training Commission would have revoked Nelson's certification, preventing him from continuing to hold a job as a police officer and confronting Sarey.
"If it was in place when Isaiah Obet was murdered, then today my foster son, Jesse Sarey, would be alive," Simons said recently.
Auburn officials, however, disagree that the new decertification bill would have prevented Sarey's death.
"There are no incidents in Officer Nelson's employment history under this law that would have resulted in his decertification prior to this incident," said Auburn Police Chief Daniel O'Neil in a prepared statement.
According to the city, Nelson shot Obet because Obet was threatening a woman and trying to enter her car. Obet's family disputes this account.
The city has yet to provide Crosscut with copies of findings from the investigations into Nelson's prior uses of force, which Crosscut requested two weeks ago.
The independent investigations bill that passed, HB 1267, will create a statewide Office of Independent Investigations, to avoid situations where cops are investigating other cops. Simons thinks if the new office had been in existence 10 years ago, it might have reached a very different conclusion about Nelson's fitness to serve.
What's clear is Sarey's wrestling and breakdancing days are over, because of what happened at the convenience store that night.
Koleton Hart, Sarey's younger brother, wrote in a text message this week that he will miss wrestling with his older brother, as they did often when Hart was little. Hart, now 16, always lost those matches, but had been planning on taking his older brother down one day.
"… I was looking forward to a rematch," Hart wrote.
Leonard Thomas, 30
Leonard Thomas was a jokester who liked to make holidays special, his family said.
One Christmas, Leonard's dad helped wrap him up in a 6-foot-long box, hiding him by the Christmas tree.
It was a surprise for Leonard's mother, Annalesa, who frequently said she didn't need Leonard to give her anything for Christmas because his presence was enough.
"She's sitting here waiting for him to show up," Leonard's father, Fred Thomas, recalled. "And after about 15 minutes, he says, 'OK, I've got to do this,' and he opens the box and climbs out."
"It scared the daylights out of me," Annalesa Thomas said.
That was the last Christmas Leonard spent with his family. Five months later, he was shot and killed on his porch in Fife, while holding his 4-year-old son.
According to court documents, Fife police showed up to Leonard Thomas' home after he had told his mother that he was depressed over the death of a friend. Leonard had initially requested that his mother come and pick up his son, Elijah, and care for him overnight, but he changed his mind after she arrived. Annalesa then called the police, concerned that Leonard was drinking and might not be able to attend to his son. The two argued and Annalesa slapped Leonard with an open hand. Leonard grabbed the phone and told the dispatcher that his mother had hit him and he needed help.
When Fife police arrived, Leonard explained the situation over the phone and asked them to leave. A SWAT team instead responded to the home, asking Leonard to release his son. Leonard had custody of the boy and was unarmed at the time.
Eventually, Leonard agreed to let the boy leave. But as he was bringing the boy onto the porch, a SWAT team used an explosive device to breach the home's back door. Startled, Leonard reached for his son and moved to take him back inside. As Leonard did so, a Lakewood police officer shot him in the abdomen. An officer on the scene recounted Leonard's last words as, "Don't hurt my boy," as officers pulled Elijah out of his arms.
The Pierce County Prosecuting Attorney's Office ruled the 2013 shooting justified, based on officers' statements that they thought Leonard might hurt the boy.
But In 2017, a federal jury disagreed, finding that police had violated Leonard's Fourth and Fourteenth Amendment rights, including by using excessive force. The jury awarded the Thomas family more than $15 million in a civil-rights and wrongful death lawsuit.
The city of Lakewood, along with officers named in the lawsuit, appealed the record-setting judgment, but later settled for $12.5 million. The city of Fife settled for an additional $500,000.
The Lakewood Police Department — whose sniper, Brian Markert, fired the fatal shot that killed Leonard — declined to comment for this article. The officer who commanded the SWAT team, Mike Zaro, is now Lakewood's police chief. Zaro is out of the office through the end of May and did not respond to an email seeking comment.
Fred Thomas said he sees several ways the laws passed this year might have helped save his son's life, had they been in effect at the time of the shooting.
House Bill 1310 requires de-escalation tactics to be used, while setting a standard that police use deadly force only to prevent serious injury or death, either to an officer or someone else. The bill also calls for using less-lethal options first and taking "reasonable care" before using any kind of physical force.
During the 2013 confrontation, Fred Thomas said the officers on the scene did little to de-escalate the situation. He said his son didn't pose a threat to anyone's safety. According to court documents, "No officer heard Leonard make any threats to harm himself, his child or any officer" before the shooting.
"I mean, why do you call SWAT out for a child welfare check?" Fred Thomas asked.
Under the new law, "the response has to meet the level of emergency of the situation," he said.
Fred Thomas also thinks that an independent investigation, as required under House Bill 1267, may have reached a different conclusion about whether the shooting was justified.
"The reason we need civilians out there is to not have someone who is going to look at the situation and say, 'How do we clear the officer?' " Fred Thomas said.
Elijah, Leonard's son, is now 12. At a recent press conference, he wore a shirt that bore an old picture of his father holding him and smiling.
Leonard was a mechanic, and the family also made Elijah a pillow out of an old set of Leonard's coveralls.
A message on that pillow reads, "Made from the coveralls I used to wear. Whenever you hold 'em, know that I am there."
"Love, Dad."
Iosia Faletogo, 36
Po Leapai's best memories of his cousin, Iosia Faletogo, are from family barbecues over the years. "We were always singing, and rapping, and slapboxing — just doing what brothers and cousins do growing up," Leapai said recently.
Even as they grew older and went in different directions, whenever they would get together, "it was like no time had passed," Leapai said.
"The love was always there, consistently," he said.
On New Year's Eve 2018, Faletogo was expected at another one of those family barbecues, but he never arrived. A few hours before the gathering, he was shot and killed in the aftermath of a traffic stop in North Seattle.
According to a review by Seattle's Office of Police Accountability, two Seattle police officers stopped Faletogo because the registered owner of the car he was driving, a female relative of Faletogo, had an expired license. While watching the vehicle, the officers said they also saw Faletogo make an illegal lane change.
In a lawsuit filed earlier this year against the city of Seattle, Faletogo's family claims the officers were racially profiling him and had no valid reason to detain him.
"… It stands to reason that the officers' attention was captured — either explicitly or implicitly — by the fact that Iosia was a Pacific Islander man riding in a car with a black woman in a predominantly white neighborhood in North Seattle," the family's complaint says.
The lawsuit says the officers should have ended the interaction as soon as they realized Faletogo wasn't the registered owner of the car, as they no longer had reason to think he was driving with a suspended license.
Instead, the officers called for backup. Shortly after two other police cars showed up, Faletogo fled on foot and was chased by six officers.
The officers caught up to Faletogo and tackled him to the ground. As Faletogo was tackled, a gun fell out of his pocket or his waistband, according to the family's lawsuit. He then struggled with multiple officers, several of whom told him to not reach for the gun, according to the OPA report. Faletogo responded, "Nope, not reaching," right before Officer Jared Keller shot Faletogo in the head.
The OPA report found that Keller's actions were reasonable because Keller thought Faletogo was reaching for the handgun and would try to shoot one or more of the officers. That review also found the officers' pursuit of Faletogo was justified because of the officers' suspicions that Faletogo had a handgun and could endanger nearby people.
Nate Bingham, an attorney for Faletogo's family, said under the state's new use-of-force law, the entire pursuit would have been clearly out of bounds.
"Unless there is a crime or threat of bodily injury, no amount of physical force is allowed under the new law," Bingham wrote in an email, referring to HB 1310. "Iosia was not engaged in any crime and was not threatening anyone with bodily injury when the police first tackled him. Under the law, the physical conflict should not have even started."
Even so, not every problem will be resolved by the bills the Legislature passed this year, Bingham wrote.
Because the laws don't alter common police practices, such as officers trying to make the maximum number of stops or write the maximum number of tickets, "They are not going to fundamentally change how we perceive the relationship between the police and the community," he wrote.
"Especially for people of color, mundane interactions with the police can be dangerous," Bingham wrote. "… If we continue encouraging police officers to make as many stops as possible, these incidents will keep happening, regardless of what the new laws say."
To address that issue, Seattle's Office of Inspector General recommended earlier this month that the Seattle Police Department stop making routine traffic stops for civil and nondangerous violations.
Andrew Myerberg, the civilian director of Seattle's Office of Police Accountability, said he thinks such a change, if implemented, would help prevent future shootings like the one that killed Faletogo.
Whatever new laws are approved, however, Leapai said community oversight of police is vital to making sure those rules are upheld and followed.
Leapai continues to remember his cousin as a talented musician who could collaborate with anyone. In life, Faletogo founded a record label and helped organize open mic events where local artists would play their original music, Leapai said.
"He was a people person, and a lover of people," Leapai said. "… Iosia left big shoes to fill."
---