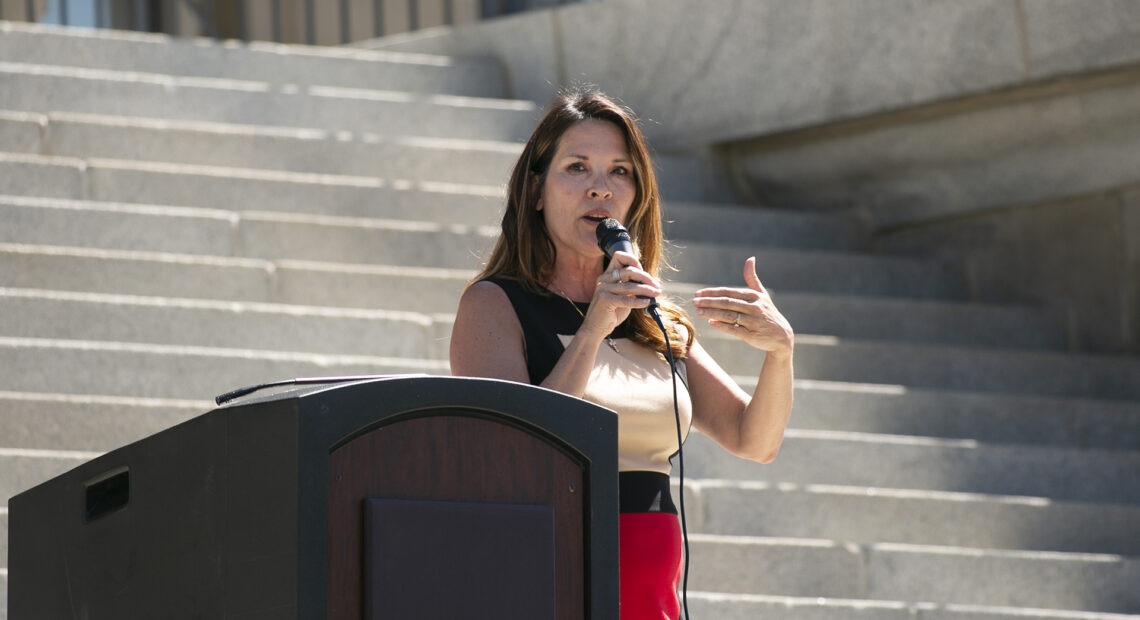 Analysis: Unmasking The Political Strategy Of Idaho Lt. Governor Janice McGeachin
Originally posted on IdahoEdNews.org on June 3, 2021
Lt. Gov. Janice McGeachin speaks at an anti-mask protest on the steps of the Idaho Capitol Tuesday. Nik Streng/Idaho Education News
Janice McGeachin's ban on mask mandates combined brilliant politics with slapdash policymaking.
What better way to foreshadow a wild ride of a 2022 gubernatorial race?
For anyone who somehow missed last week's news, the lieutenant governor made the most of her brief stint as acting governor. With Gov. Brad Little in Nashville, Tenn., for a Republican Governors Association conference, McGeachin issued an executive order rescinding local mask mandates. McGeachin said she wanted to keep kids from being forced to wear a mask — at least in the schools that are still in session, in districts with mask requirements still in place.
McGeachin's order didn't stay on the books long. On Friday, Little overrode McGeachin's executive order with a pointedly worded order of his own, saying he wanted to allow school districts and local governments to continue to make their own decisions. For added emphasis, Little made his executive order retroactive to 11 a.m. on May 27, the minute McGeachin's order had gone into effect.
Little may or may not have bypassed baggage claim in his desire to purge McGeachin's directive as quickly and as emphatically as possible. In this election cycle, who knows?
But McGeachin seized the opportunity to play to her base and dominate the news cycle.
If it sounds like a familiar formula, it should. It's no coincidence that McGeachin casts herself in the mold of former President Trump. There was something undeniably Trumpian in McGeachin's executive order.
It doesn't matter much that masks and mask mandates are becoming a thing of the past in schools and stores across the state. McGeachin threw a slab of red meat to her base of supporters — conservatives who have spent 15 months railing about Little's pandemic response.
And in the process, the intraparty feud between a sitting governor and a sitting lieutenant governor created a perfect news hook, and plenty of free airtime for a challenger looking to unseat an incumbent.
On top of all that, McGeachin forced Little into the fray.
For 24 hours, the Idaho political world wondered how (or whether) Little would respond to McGeachin's challenge. Little has been conspicuously quiet about McGeachin's hand-picked and ideologically stacked task force to study school indoctrination — another issue that allows McGeachin to energize her base.
Little couldn't really ignore McGeachin's executive order. And in a 700-word statement, Little accused McGeachin of "petty politics," an abuse of power that "amounts to tyranny" and sloppiness that could have "pretty alarming unintended consequences" for social workers and state lab employees who mask up for their own safety.
"This is why you do your homework, Lt. Governor," Little wrote. "Let me offer some advice as Idaho's duly elected governor – governing in a silo is NOT governing."
And this is where Little might wind up scoring a few political points of his own. McGeachin's executive order was undeniably Trumpian in another way. Instead of providing clarity, it created chaos.
As Clark Corbin of the Idaho Capital Sun reported this week, Little got wind of McGeachin's order as he stepped off a conference podium in Nashville — and not from McGeachin, but instead from Secretary of State Lawerence Denney.
OK. It's election season. But McGeachin didn't just sandbag a political rival.
Schools didn't know what was coming until the order came down. McGeachin blindsided officials in Idaho's largest district, the West Ada School District, where a mask mandate remains in place for the waning days of the school year. She also left the Idaho School Boards Association scrambling to make sense of the policy — and eventually, the ISBA said trustees have statutory and constitutional powers that superseded McGeachin's order.
McGeachin didn't just disregard protocol. According to Attorney General Lawrence Wasden's office, she ignored the law itself. In an opinion issued Friday, chief deputy attorney general Brian Kane said McGeachin's order defied school districts' "express statutory authority to protect the morals and health of their pupils." And after McGeachin has spent more than a year accusing Little of overstepping his executive powers, she found herself on the receiving end of the same criticism.
"There is no existing law prohibiting mask mandates," Kane wrote. "Thus, rather than ensuring that an existing law is faithfully executed, the acting governor's (executive order) prohibiting mask mandates has the effect of creating a law through executive order. This likely encroaches on the lawmaking power of the Legislature and violates the separation of powers between the executive and legislative branch."
McGeachin's office did not respond to a request for comment on Kane's opinion.
In the end, the war of executive orders probably didn't change many Republican voters' minds.
It serves as a rallying point for Team McGeachin, and hardliners who want to make Little pay for his pandemic policies (which, for the record, never actually included a mask mandate).
It serves as a case study for Team Little, which will undoubtedly try to paint McGeachin as an unprepared and unpredictable loose cannon.
In the end, it's a matter of which message energizes a voter base in a closed party primary.
That's 11 months out. For now, last week showed how McGeachin plans to campaign. And maybe, how she would govern.