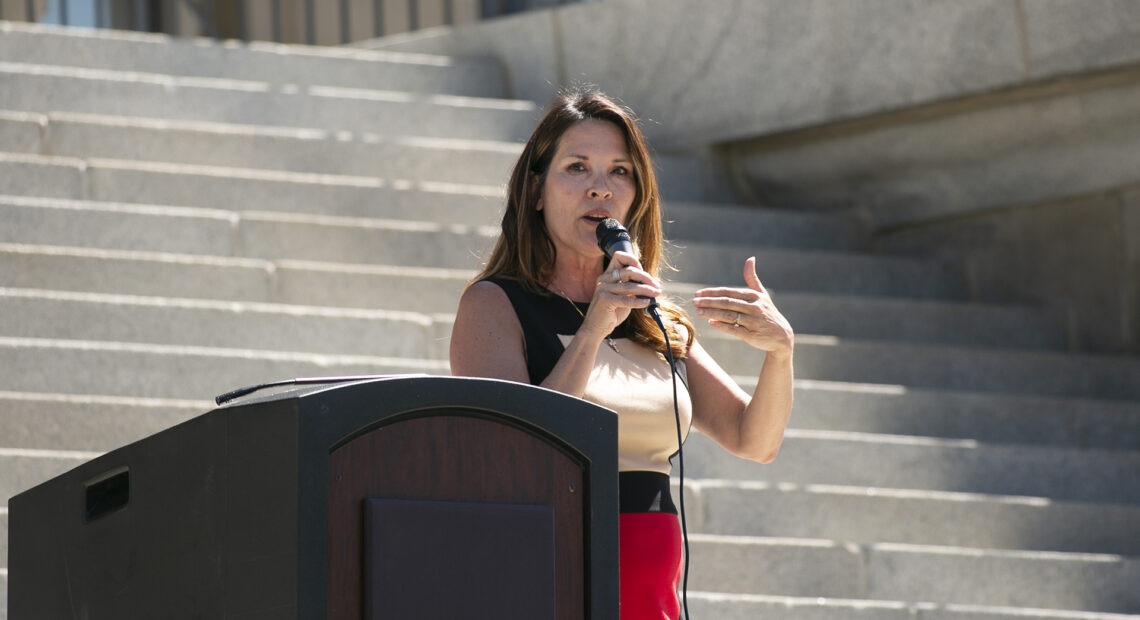 Extremism Expert Calls Idaho Critical Race Theory Debate A 'Cynical' Effort To Rally GOP Voters
A national expert on race and extremism said a recent spate of attacks on "critical race theory" in Idaho are part of a growing effort by conservative Republicans to exploit anxiety and engage voters in upcoming elections.
Meanwhile, the Idaho Freedom Foundation, in a letter to donors last month, took credit for a "never-before-seen" reckoning with Idaho's K-12 education system.
Eric Ward, executive director of the Western States Center and a senior fellow at the Southern Poverty Law Center, said some Republican politicians have taken up critical race theory as a way to rally a base of voters who are experiencing anxiety about demographic, social, political and economic changes the country is going through.
"What they are thinking about, quite cynically, is the next election cycle and the way they keep their base mobilized," Ward said in a telephone interview Wednesday. "The way they do it is to take boogeymen out of the closet that don't even exist and use them to exploit that change-anxiety."
Ward said the attacks on critical race theory gained steam after former President Donald J. Trump's administration called the theory "divisive anti-American propaganda" and Trump encouraged states to ban it. From there, it spread quickly among conservative Republicans in several states. 
"It's nothing more than a cynical attempt to defund education in Idaho and to drive political division in Idaho," Ward added. "To distract the voters of Idaho from the inability of state legislators to produce real, tangible change that brings prosperity to Idahoans."
Ward said critical race theory is an academic theory, stemming from a set of scholarly writings from the 1970s and early 1980s, that examine the impact and legacy of race and injustice in the legal system. Ward said critical race theory examines systems and institutions, not individual people.
The critical race theory debate dominated the late stages of the 2021 legislative session. Some conservative Republican legislators cast the debate differently than Ward, saying it was about protecting students. Without providing many specific examples, they warned students were being indoctrinated in schools at all different levels in Idaho.
Republicans used allegations about Idaho schools forcing critical race theory and social justice on students to kill a $6 million federal grant for early childhood education, and to kill the original versions of the higher education and public school teachers' salary budget bills. 
About the expert
Eric Ward's background isn't in public education. Instead, his career has been examining and advocating against hate.
Ward, who describes himself on LinkedIn as a civil rights strategist, has worked as a community organizer and in philanthropy for more than 30 years. In the 1990s, he organized the Community Alliance of Lane County (Oregon) Communities Against Hate project in response to white supremacists and far-right activities. 
He now leads Western States Center, a Portland-based nonprofit that supports social movements and places an emphasis on racial, gender and economic justice. 
"We assist communities and civil society to effectively respond to social movements that exploit bigotry and intolerance," the organization's website says.
Critical race theory debates are taking place across the country
Ward said what is happening in Idaho isn't unique. 
Oklahoma passed a law banning teaching critical race theory, and GOP legislators have advanced similar bills in Wisconsin and New Hampshire. Republicans in several other states are also attempting to ban critical race theory, although some efforts have failed, States Newsroom and the Idaho Capital Sun reported. 
Ward traces some of the outrage from year's debate back to the 1619 Project, a Pulitzer Prize winning project by the New York Times Magazine examining slavery, as well as competing efforts from Presidents Trump and Joe Biden. 
After criticizing the 1619 Project, Trump created the 1776 Commission via executive order to develop a "patriotic education" and "teach our children about the miracle of American history."
Shortly after taking office this year, Biden terminated the 1776 Commission.
"Then we see the outrage machine, this Republican apparatus they were using as a form of attack to mainstream this disinformation campaign around a concept called critical race theory." Ward said. "We are now witnessing its impact in far flung places as Idaho, from Texas to Kentucky to New York City. Interesting enough, it has very little to do with critical race theory."
Several Idaho educators, including Reps. Matthew Bundy, R-Mountain Home, and John McCrostie, D-Garden City, who teach, say they have not seen any evidence of critical race theory being taught in Idaho schools.
"This whole discussion on critical race theory coming into classrooms this year, that's nuts," McCrostie said during a debate April 13, shortly before House Republicans used critical race theory to kill the original $1.1 billion budget bill for public school teacher salaries. Ultimately, the bill was rewritten and passed.  
Idaho task force continues to examine critical race theory
Lt. Gov. Janice McGeachin has launched a hand-picked education task force "to examine indoctrination in Idaho education based on critical race theory, socialism, communism and Marxism."
"As I have traveled around the state and spoke with constituents and parents, it has become clear to me that this is one of the most significant threats facing our society today," 
McGeachin told the Idaho Capital Sun last month. She said she is worried about how Biden's rules and initiatives could impact Idaho classrooms. 
Earlier this week, she took to social media and quoted Trump's criticisms of critical race theory.
"'Republicans at every level should move immediately to ban critical race theory in our schools. And we should ban it in our workplaces. We should ban it in our states. And we should ban it in the federal government! And it should be done immediately.' — President Trump,'" McGeachin tweeted Monday, linking to a video of Trump speaking at a North Carolina GOP convention.  
McGeachin said in a written statement announcing the task force. "We must find where these insidious theories and philosophies are lurking and excise them from our education system."
McGeachin and the co-chairwoman of her education task force are both seeking higher office in 2022. McGeachin, R-Idaho Falls, is running for governor and state Rep. Priscilla Giddings, R-White Bird, is running for lieutenant governor.
The task force held its first meeting May 27. It did not accept any public testimony and no people of color spoke during the five-hour meeting. 
A week after its first meeting, Idaho School Boards Association President-elect Jason Knopp withdrew from the task force, Idaho Education News reported Friday.
Knopp wrote the task force "seems to have more to do with partisan campaigning than it does with approaching a sensitive topic with respect, care and the involvement of all voices at the table."
Leaders of the Idaho Education Association, the statewide teachers union, asked and offered to make current classroom teachers available for McGeachin's task force, but were not included in the task force, the association said previously. 
The next education task force meeting is scheduled for June 24 at the Statehouse.
Additional task force meetings take place July 29 and Aug. 26. The task force members are all volunteers and are not reimbursed for travel, time or expenses, McGeachin's office has said. 
The Idaho Capital Sun filed a public records request seeking the public comments she solicited through her website regarding what schools teach Idaho students. 
McGeachin's office supplied 238 pages of records earlier this month — but all of the comments, as well as the names of people who left commenters and their contact information, were blacked out with large boxes.  
The Idaho Freedom Foundation's role in 2021 education debates
Behind the science, the Idaho Freedom Foundation has played a role in the critical race theory debate this year.
In a May 27 letter to the group's donors, Idaho Freedom Foundation President Wayne Hoffman took credit for much of this year's pushback against education.
"In the 2021 session, IFF and people like you built a never-before-seen reckoning for Idaho education," Hoffman wrote in the letter, a copy of which the Idaho Capital Sun obtained. 
Hoffman also called on donors "like you to help provide the momentum to reshape education before it is too late." 
In the letter, Hoffman said the Legislature passed an anti-indoctrination bill, House Bill 377, "thanks entirely to our reports." Every Republican present in the Idaho House and Senate voted in favor of House Bill 377, which states that tenets often found in critical race theory "exacerbate and inflame divisions on the basis of sex, race, ethnicity, religion, color, national origin, or other criteria in ways contrary to the unity of the nation and the well-being of the state of Idaho and its citizens."
In signing House Bill 377 into law, Gov. Brad Little warned legislators that claims of widespread indoctrination in Idaho classrooms are a serious allegation. 
"We must be focused on facts and data, not anecdotes and innuendo," Little wrote. 
Hoffman also said the foundation's "research hit higher education in the purse," by cutting $2.5 million from higher education budgets.
Finally, Hoffman wrote the foundation and its donors helped kill the $6 million early childhood education grant.
"Thanks to IFF's analysis, Idaho legislators rejected giving millions to a left-wing nonprofit teaching 0-5 year-olds how they and their parents are racists."
Previously, in a 2019 op-ed piece, Hoffman wrote, "I don't think government should be in the education business."
"It is the most virulent form of socialism (and indoctrination thereto) in America today," Hoffman wrote.
He added that teachers and students are "victims" of the Idaho Constitution's requirement for the state to maintain a free, uniform and thorough system of public schools.
The Idaho Freedom Foundation did not respond to a request Wednesday for an interview on the foundation's role in this year's education debates and its assessment of critical race theory in Idaho.
Idaho Capital Sun is part of States Newsroom, a network of news bureaus supported by grants and a coalition of donors as a 501c(3) public charity. Idaho Capital Sun maintains editorial independence. Contact Editor Christina Lords for questions: [email protected]. Follow Idaho Capital Sun on Facebook and Twitter.