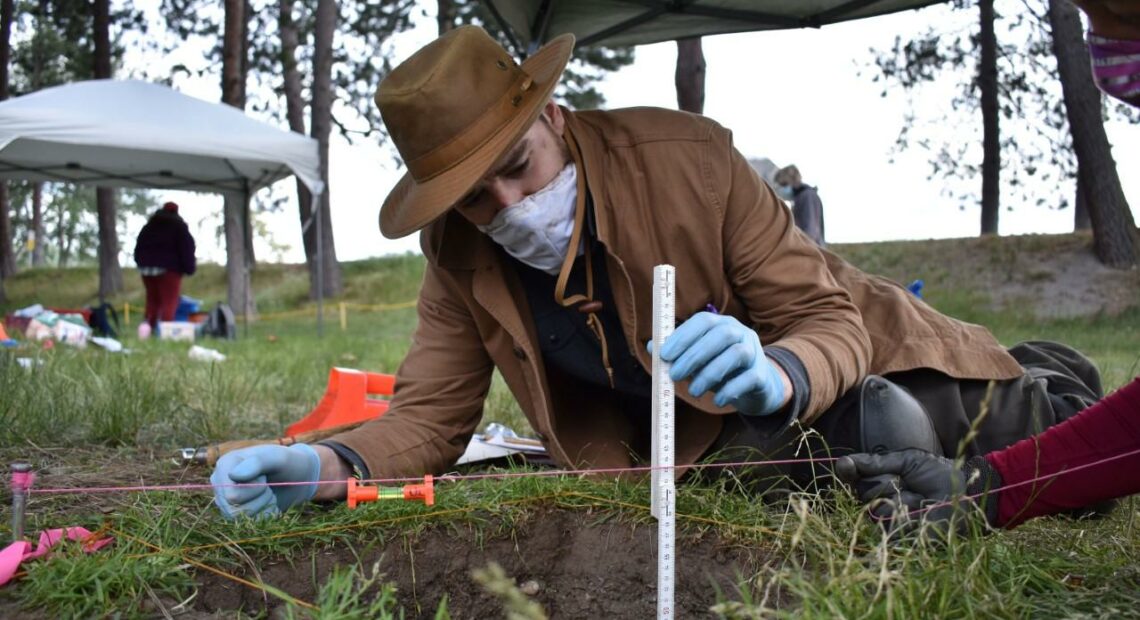 University Of Idaho Researchers Finish Archaeological Dig In Coeur d'Alene
Anthropologists from the University of Idaho and 16 students yesterday wrapped up a two-week archaeological dig on the North Idaho College campus in Coeur d'Alene.
It was led by U of I Anthropology Professors Katrina Eichner and Mark Warner.
"It's kind of looking to see if there is evidence of Fort Sherman that has been in the area, if there's still existing evidence of Fort Sherman in the places we're testing or if it's been chewed up," Warner said.
Fort Sherman, of course, was a military fort in the area in the 1870s and 1880s, on the site of what is now North Idaho College, and on the ancestral homeland of the Coeur d'Alene Tribe.
After two weeks of digging and sifting through things, Warner says the evidence is mixed.
"We're finding some materials, nothing exciting. Nails, window glass, a few fragments of ceramics and other materials that is dating to that period, but nothing that is saying, 'Here's a big trash pit from this period of time,'" he said.
But finding artifacts from a century-and-a-half ago is only part of the point of the dig, Warner said. The other goal, probably a bigger thing right now, is to make archaeology more accessible and interesting to the general public.
"It's probably the seventh or eighth project the University of Idaho has done, engaging, specifically designed to be archaeology in public. In other words, open to the people to visit, open to see, open to get hands on a perspective of Idaho's history, which I think is something people forget about. They think you can only learn about history through books or museums. Well, you can learn about history through archaeology as well and when we can dig in a city, we can share that with an awful lot of people," he said.
Warner gives credit for this dig to his colleague, Katrina Eichner.
"She had an interest in military forts. She had done earlier research on military forts and excavation of forts in Texas and this provided her an opportunity to expand her research in the area where she's now living," he said.
Eichner, because of health issues, wasn't able to participate in this dig, but Warner says she's been his partner in several similar projects.
"We've done several down in Boise. Two years ago we did one on the grounds of Moscow High School. Basically, it's an opportunity to come see history," he said.
Now the Coeur d'Alene dig has been finished and the artifacts that were found may be sent off to a lab for testing.
Warner was joined by 16 students from five universities, including the U of I and North Idaho College, as well as from colleges in Illinois, Virginia and California.
Copyright 2021 Spokane Public Radio. To see more, visit spokanepublicradio.org