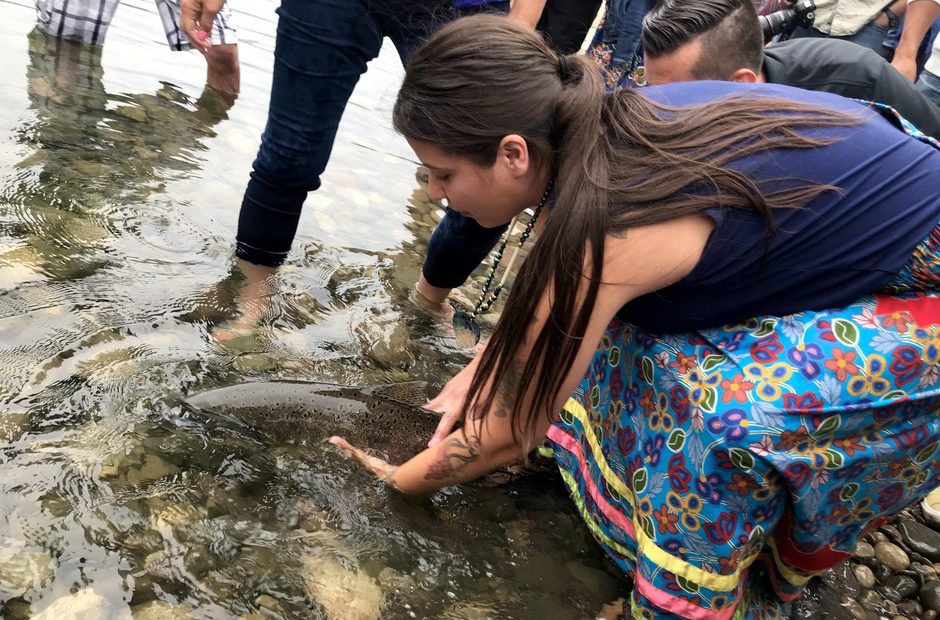 'The Very Essence Of Our Being': Northwest Tribes (And Politicians) Gather To Discuss Future Of Salmon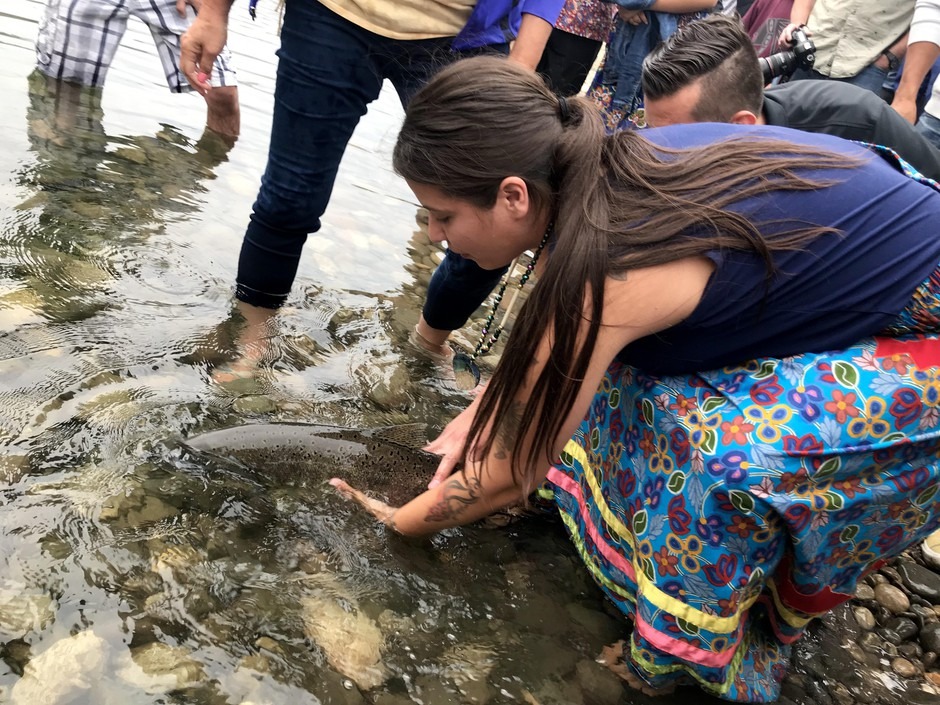 Tribes across the Northwest called for immediate action to remove the four Lower Snake River dams during a two-day Salmon and Orca summit in western Washington. The group called on President Biden and congressional members to "take bold action, now."
Many tribal leaders placed support behind Idaho Republican Congressman Mike Simpson's broad concept to breach the dams while still finding ways to support the resulting holes in industries like energy development and agricultural irrigation.
Washington Gov. Jay Inslee spoke on the second day of the conference, connected virtually from off site. He continued to call for more talks on how to move forward – at one point jumping in to tell Suquamish Chairman Leonard Forsman, "We should have daily discussions."
Inslee and Sen. Patty Murray have not signed on to Simpson's $33.5 billion dollar concept. In May, they said solutions for the Snake River dams controversy need more work. 
During the conference, Inslee called this a "critical" moment. Climate change, and the recent heatwave, make the urgency even more apparent, he said.
"I believe we should be – and have to be – committed to getting down to business to define what can provide the services that these dams provide, so we can take the next steps in this regional discussion," Inslee said. "… To define how to replace these services so that we can build more support in our communities to taking the next step in the dam breaching discussion."
He said that should happen "in the months ahead."
In the online chat discussion, attendees called Inslee's comments "encouraging" news for dam breaching.
"Well, I didn't expect to hear the Gov say 'breach the dams!' explicitly, but he did come as close as I think he dared, with his statement about the next step being to replace the services provided by the dams!" Marjorie Millner wrote.
Simpson was the only member of Congress to attend the meeting in-person, although Murray and Idaho Sen. Mike Crapo sent staff members to the event. Other staff attended over virtually.
"Sen. Murray understands the federal government's need to honor its treaty obligations, in particular with the tribe of the Pacific Northwest," said Shawn Bills, Murray's state director, who attended the summit in her place.
Bills said Inslee and Murray would work with the Northwest congressional delegation to "prepare next steps."
Removing or altering the four Lower Snake River dams would take an act of Congress.
Who wasn't there
Eastern Washington Reps. Dan Newhouse and Cathy McMorris Rodgers, whose districts include the dams that would be removed, have long supported keeping them in place. They have denounced Simpson's plan, arguing that salmon and dams can coexist.
Washington state Rep. Debra Lekanoff, the only Native American woman currently in the state Legislature, called to create a comprehensive plan that "benefits and protects salmon for all people."
"If you have a healthy salmon, you have a healthy people. You have a healthy social structure. Your people in Washington state and in the Pacific Northwest will thrive, if you have a healthy salmon," Lekanoff said.
Throughout the two-day conference, leaders from various tribes across the Northwest pushed for support of Simpson's plan or another plan that could move forward quickly with dam breaching.
"We're looking to solve here," said Nez Perce Vice-Chairman Shannon Wheeler. "We're not looking to talk or rearrange anything that's in the equation. We have everything that's in the equation. We just have now. We have to solve for x. We have to solve for y. We have to solve for z."
To help with those solutions, Nisqually Indian Tribe Chairman Willie Frank III said he'd continue his family history of fighting for treaty rights. 
"Growing up, one of the things that I was taught was that we need to work together – our tribes, our state and our federal partners – to do what's best for the environment and do what's best for the natural resources," Frank said.
Frank said that all tribes across Indian Country are suffering losses, from salmon to orcas to buffalo. "It all ties in together because we are all one," he said.
Salmon on a "quasi-extinction threshold"
Snake River spring and summer chinook are approaching a "quasi-extinction threshold," said Nez Perce fisheries manager Dave Johnson. He says 42 percent of the wild salmon are returning to the basin to spawn, which means there aren't enough spawners to sustain the population.
Looking at different streams in the basin, Johnson said the tribe found multiple streams with 50 fish or fewer on spawning grounds for four consecutive years.
"What we found was shocking," he said. "Really, what it means is that you're running out of options. … You could have a landslide in a particular area – you could have a heatwave, like we're having right now. There just aren't enough fish on the spawning grounds to save that particular population."
He said recovering those populations is very challenging, without "substantial intervention."
Johnson said populations are declining by 19 percent each year. Following those trend numbers, 77 percent of spring and summer chinook in the Snake River Basin could reach the quasi-extinction threshold by 2025.
Simply turning right at the Snake River dramatically decreases the chance of survival, as the salmon pass through four dams, Johnson said.
Culverts, he said, are a big challenge – something the Nez Perce have worked on for years, and something many in the Northwest congressional delegation have argued would be a better way to help salmon than including Simpson's concept in President Biden's infrastructure plan.
"(Culverts) really open up miles and miles of habitat," Johnson said. "But, in this case here, think of (the dams) as a culvert. But these 'culverts,' unlike other ones, they actually kill fish. … These four dams are a huge series of culverts that need to be addressed."
Youth Leadership Council
A group of high school students from the Confederated Tribes of the Umatilla Indian Reservation pushed for the dam issue to be addressed. The Youth Leadership Council recently sent a letter, signed by Native youth from 10 tribes, asking Biden to take the matter seriously.
"America made a deal and promised that we would be able to fish forever. We can't fish if there aren't any salmon left," 17-year-old Keyen Singer, of the Confederated Tribes of the Umatilla Indian Reservation, read from the letter at the conference.
A change.org petition from the group has collected 10,801 signatures as of July 8. The goal is 15,000 signatures.
As leaders from tribes across the Northwest took to the microphone to express their deep concern for the survival of salmon – and the endangered orcas that rely on them for food – person after person spoke about how few salmon are left. They demonstrated an urgency that's needed to save them, especially in a changing climate.
Dams built in the 1930s have blocked salmon from tribes on the Upper Columbia. While they're working to reintroduce salmon above the blocked area – a plan that could take decades – they say they've now got to get salmon from trucks.
Hemene James, of the Coeur D'Alene Tribal Council, said his tribe has been without salmon for nearly 100 years. James said his tribe should serve as a warning.
"The very essence of our being is the salmon. When that gets taken the people can never be whole again," James said. "My people are relegated to getting fish out of the back of a truck. … You all that have salmon, you should be freaking out. Excuse my language, you should be downright crapping your pants because you don't want to end up like us."