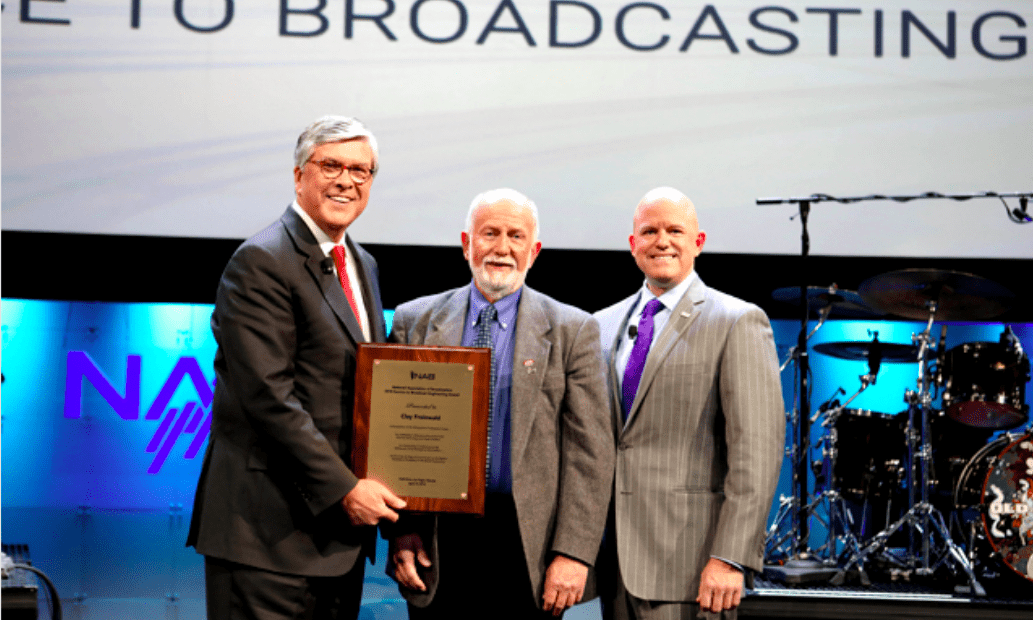 Emergency Alert System: Clay Freinwald is at the Hub of Safety
"This is a test of the Emergency Alert System. This is only a test." As fires and severe weather ramp up across the region, however, we may hear more from the Emergency Alert System (EAS)—and they will not all be test messages, but real warnings of danger. NWPB is key to the EAS, as the station serves as one of a number of critical links in the complex web of information channels that feed into and distribute EAS messages.
At the center of the regional system, NWPB Engineer Clay Freinwald has served as chairman of the Washington State Emergency Communications Committee for 25 years; he retires from that post in September (but luckily for us, not from NWPB). Clay has played a key role in updating, maintaining, and integrating new technologies into the system that connects us all to critical emergency information.
Recently Clay and his NWPB engineering colleagues installed a new transmitter serving Omak, restoring service to a wide swath of north-central Washington after an old transmitter began to fail. This project marks 60 years since he began his career. Early in that career, he began working with emergency broadcast systems, when he became a founding member of Broadcast Warning Working Group, helping broadcasters and others understand and implement EAS technology.
In 2018 Clay received the Service to Broadcast Engineering Achievement Award by the National Association of Broadcasters for his work with EAS. In addition to his work for NWPB, Clay current provides site services for four American Tower sites around Seattle; he does contract work for KIRO(FM) and KING(FM); and he helps out at Bustos Media station KMIA(AM) in his hometown of Auburn.
Clay describes the EAS as a complex web of inputs, hubs, redundant communications channels, and outlets. National messages are distributed via primary entry points; national AND state messages are relayed via state relay networks. All messages are then distributed to local broadcasters and cable companies via "local primary stations"—of which, NWPB is one. NWPB serves both as a key distribution point and as a broadcaster through its network of radio and TV signals. Microwave links, web, and broadcast signals are all part of the mix of technologies used by this web.
And that just describes, in overview, the analog component of the public alert and warning system. There is a digital component as well, which operates in parallel and uses the Internet.
The addition of text messaging to deliver emergency information requires additional steps and separate messages for the Wireless Emergency Alert system. It's a parallel system developed for text messages, like the ones you may have received during national testing of the system in recent years.
So when you next hear a test of the Emergency Alert System, you'll understand that such a complex network must be checked regularly so it's there for you when an emergency occurs. You'll know that your station plays a pivotal role in the delivery of these messages not just to the NWPB audience, but to other broadcasters in the region. And you'll know that Clay Freinwald had a hand in making it all work.