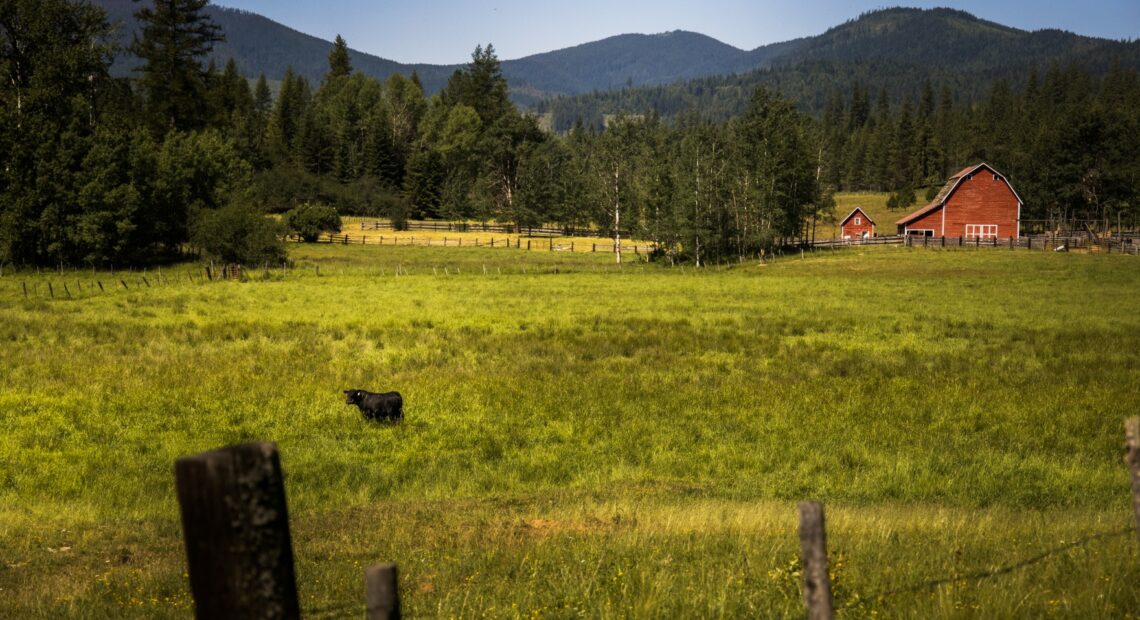 Easterday Idaho: What's To Become Of A Water-Rich Northwest Ranch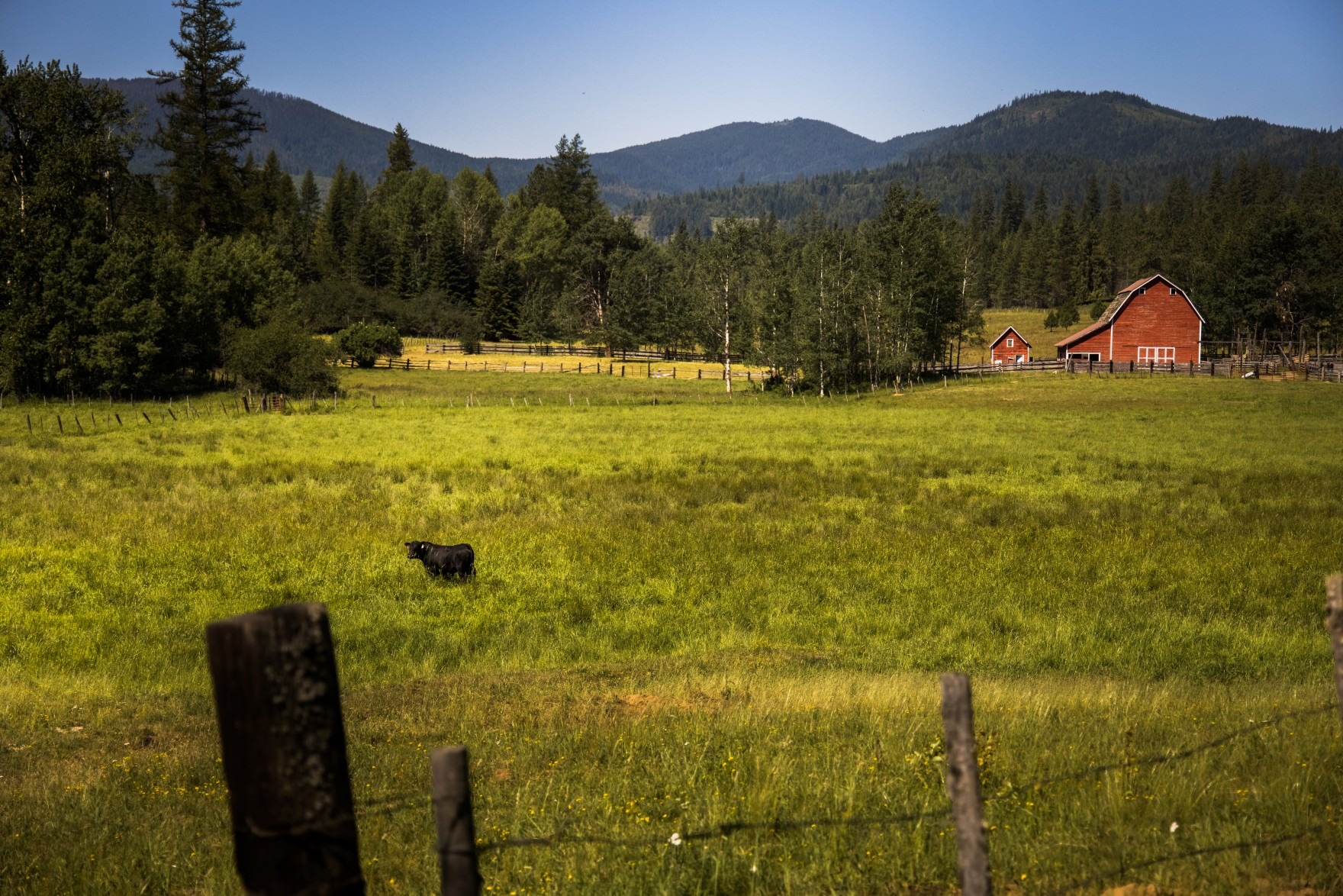 The saga of the troubled Easterday ag empire is spreading to rural Idaho. At issue: The fate of an Easterday ranch centered on a beautiful meadow that contributes water to the Spokane region.
A boundless emerald meadow surrounded by timber is the hidden lowland jewel of a ranch deep in Kootenai County, Idaho.
Owned by the Easterday family, it fronts a wide swath of the upper of two Twin Lakes, where turtles hide and lilypads form a deep band in the cool waters. Upland, from the fringe of the meadow — cattle heads appear as small toffee-brown and black polka dots, their slick, summer-fat bodies mostly obscured in the deep grass.
Fish Creek, which meanders through the meadowlands, and the Twin Lakes feed the massive Spokane Valley — Rathdrum Prairie Aquifer, says Dave Schaub, executive director of the Spokane-based nonprofit Inland Northwest Land Conservancy.
"So many of us depend upon [the aquifer] for our clean and plentiful drinking water," Schaub says. "And so ecologically these [Easterday] lands are vital, in addition to being such an essential part of our landscape, just from our viewing of and enjoyment of natural open spaces in our region."
The Twin Lakes and Fish Creek — along with Lake Pend Oreille and Lake Coeur d'Alene — all empty their waters into the Spokane Valley — Rathdrum Prairie Aquifer. That's the aquifer that runs generally west and quenches the thirst of the cities of Spokane and Spokane Valley. Schaub jokingly calls the aquifer "the bathtub," because all the water from the mountains drains downward into its basin.
"The Spokane Valley — Rathdrum Prairie Aquifer is a massive underground lake that we all dip our straws into to drink out of — our wells, our municipal water, ect.," he says. "A lot of the water recharges and replenishes the aquifer from the rim of the bathtub — from the forested hills and mountains around the aquifer."
But this vast ranchland could be in jeopardy as the extended Easterday family empire is coming under immense strain. Two major pieces of the Easterday family's many businesses — a ranch operation and separate farming operation — are being liquidated in a federal bankruptcy. It's the fallout from one of the largest cattle swindle-schemes in U.S. history. He made up fictitious cattle and their care and feeding for several years. Cody Easterday has admitted to federal charges, and agreed to pay back more than $244 million in restitution. Much of the money went to fund Easterday's habit of speculating on the futures market, where he lost more than $200 million. He could face up to 20 years in prison when he goes before federal Judge Stanley Bastian slated for 1:30 p.m. on Oct. 5 in Richland.
But now, according to court documents and insiders close to the case, Tyson Fresh Meat's lawyers and other creditors are starting to circle around the rest of the family. A trust is proposed under the bankruptcy plan of reorganization. Without a settlement, the trust for the Ranches Estate might sue other Easterday family members for additional assets. That includes this Idaho property that belonged to Cody's late father, Gale. Now, some residents of the lake are concerned. Will the ranch be broken apart? Will developers pave over this emerald meadow?
Water Rich
In addition to the scores of homes and cabins surrounding the lake, the waters of the Twin Lakes are home to osprey, eagles, great blue herons, kingfishers, migrating trumpeter swans, small goldeneye ducks, great American white pelicans, hummingbirds, along with trout, bass, crappie, perch, kokanee, northern pike, white tailed deer, elk and even moose. As rivulets of ice melt, the headwaters come down the nearby mountains into the large Rathdrum Prairie. Fish Creek meanders through the lush Easterday meadow.
A few years ago, the group Twin Lakes Improvement Association spent about $140,000 restoring a stretch of Fish Creek to reduce sediment and nitrates and with the hopes of bringing back more kokanee fish.
"I would really hate to see that [ecological project work] to be taken away perhaps by a developer or whatever," says Steven Kolb, a 22-year Twin Lakes resident and past leader of the Fish Creek Restoration Project. "The loss of it would definitely have a negative impact on our area. Easterdays have been a good steward all along. It would really be upsetting to see all that taken away."
Some Twin Lakes residents also worry that if the land should be sold, development pressure would lead to the land being broken up, and fertilizers, pesticides, oils, septic systems would muddy the lands that are now just used for ranching.
Schaub says there is a massive rate of development across the Inland Northwest in the Coeur D'alene and Spokane metro area. After a year of tough COVID, many people are moving out of larger cities and denser urban areas. Schaub says he hopes conservation can help maintain clean drinking water. The Easterday lands also score high when analyzed by a computer program his nonprofit uses that gauges resilience to climate change, Schaub says.
"We are increasingly looking to those lands that surround the aquifer, where there are larger intact pieces of property where conservation outcomes can serve. Those multiple layers of priorities that we can have: The natural, the ecological, the human," Schaub says.
History Floods In 
The Spokane Valley — Rathdrum Prairie Aquifer is a product of the Missoula Floods.
Bruce Bjornstad, geologist and author, says after an ice dam broke dozens of times near present day northern Idaho, the fast moving water rapidly slowed as it hit the broad Rathdrum Prairie — depositing deep layers of sediments, rocks and boulders. With each flood, more coarse sediment was added to the valley floor. The aquifer now runs deep through those gravelly sediments like a slow underground river to the West, Bjornstad says in his book, "On The Trail Of The Ice Age Floods: The Northern Reaches."
"Any building or increased population above the aquifer has the potential to release more contaminants," Bjornstad said in a recent interview. "It's a huge water source that's supporting millions of people. You don't want it to get contaminated, because it's the only practicable source of water for the Spokane Valley. If there's a source of contamination that's feeding into the aquifer — it could ruin the aquifer over the long term."
These clean waters are critical to the Spokane metro area. And Inland Northwest Land Conservancy's Schaub is determined to save as much water-rich land as he can. He's already begun meetings with possible benefactors, who have high interest in preserving these types of water-rich open lands, although, Schaub stresses, a conservation easement or purchase is only done with willing landowners.
Guilt And Strain  
Idaho Ranch owner Gale Easterday died last year when his red pickup crashed head-on into his own company's Easterday potato semi truck on a highway in Pasco. Now, his grief-stricken wife Karen, her family and their many lawyers, are trying to sort out his affairs and the bankruptcies caused by their son Cody, who was a partner in many of their businesses.
So far, Karen Easterday and her lawyers have had to produce thousands of pages of documents to satisfy the creditors in the bankruptcy. And the creditors for one of the Easterday family businesses that are in bankruptcy, Easterday Ranches, are going after other Easterday family members, court documents say.
An objection by Karen Easterday's lawyers reads: "The Ranches Committee [of Easterday creditors] has also failed to show good cause for its sweeping discovery requests for several other unrepresented individuals (together with Ms. Easterday, the "Easterday Individuals") named in the Rule 2004 Motion whose only apparent relationship to the Bankruptcy Cases is that they share a surname or are otherwise related to Ms. Easterday."
Lawyers representing creditors from the Easterday Ranches' operation appear particularly keen to recoup more assets to pay large sums lost in the swindle. One creditor — Tyson Fresh Meats — lost hundreds of thousands of head of ghost cattle to Cody Easterday's fraudulent books. So, that sum is weighty on the Ranches sides of the bankruptcy. One of the Easterday's major farms — nearly the size of Manhattan — was just auctioned for $210 million to The Church Of Jesus Christ of Latter-day Saints' agribusiness arm — but most of the money will go to the Farms side of the bankruptcy.
The Ranches creditors are asking for all communications from WhatsApp and other messaging apps to post-its from nearly the entire Easterday family including: Cody Easterday, his wife Debby Easterday, mother Karen Easterday, deceased father Gale Easterday, sister Kimberly [Easterday] English, brother-in-law Scott English, sister Jody Easterday, brother-in-law Andrew Willis, brother Cully Easterday and sister-in-law Shani Easterday. Creditors are also looking into getting assets from the companies those people own including: Easterday Farms Dairy, Easterday Farms Produce Co, EPO, LLC, 3E Properties, LLC, and G2E2, LLC.
Monte's Tour
Monte Nail, an accountant with a modern second home on Twin Lakes, enjoys his toys. Some for his grandkids, some for himself.
We load up into one of those toys, a utility-terrain-vehicle, kind of an overgrown golf cart, and lurch up the hill behind his large barn-shop building.
Nail explains that this large ranch is bordered on most every side by Inland Paper Company property. Together the landscape is working — but pastoral.
"We're just worried that someone would develop this up in here," Nail says. "To just keep it natural like it is — it's great habitat."
At a travel-trailer guard shack a freckled woman named Jo Cook wields a clipboard and takes our names.
Nail starts the engine again and we smoke up West Twin Lakes Road all the way to babbling Fish Creek.
There, he cuts the engine and we pause.
"We're concerned that this will go into bankruptcy, and then someone will buy it out, because land up here is just going crazy nowadays," he says. "It's a nice setting up there, and I could see someone wanting to put a bunch of houses up there. And then that would kind of mess up that part of the lake. And there would be some runoff."
But to truly get an idea of how vast the more-than 1,140 acre ranch is, we jump in Nail's nearly 20-foot Harbercraft aluminum fishing boat.
We circle the long side of the lake, passing by Nail's waterfront neighbors before heading back up to the mouth of the vast marshy meadow. Drifting for a moment amid the lily pads, Nail looks back toward the verdant Easterday ranch.
"We just kind of like it the way it is," Nail says. "Pretty selfish, huh."