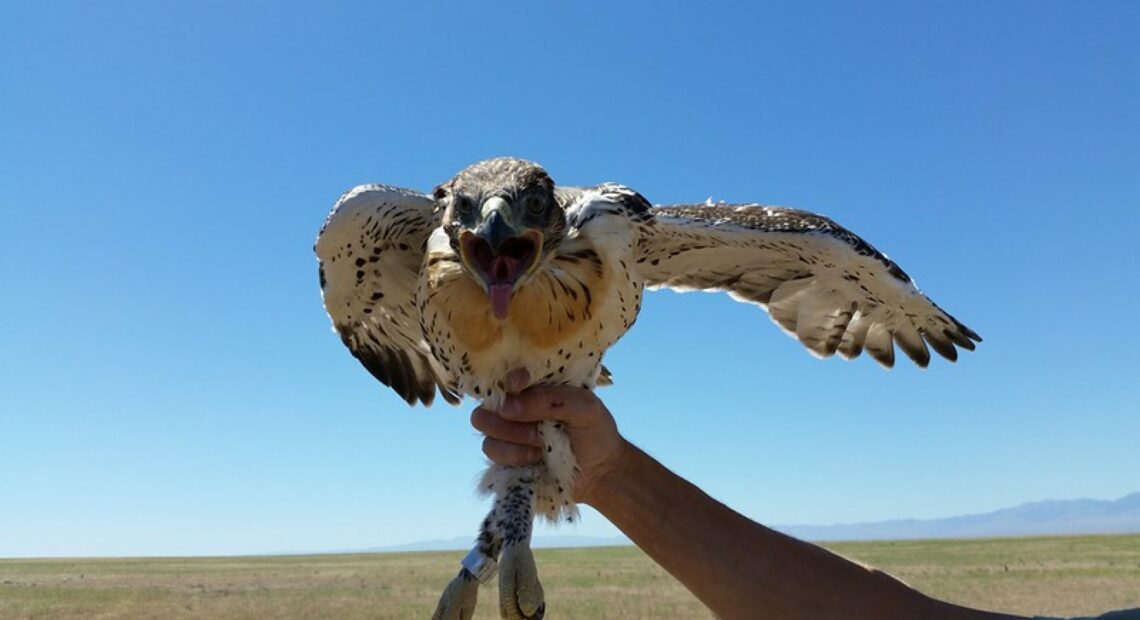 Ferruginous Hawks In Washington Deemed Endangered
The number of ferruginous hawks in Washington continues to decline. The birds face multiple threats, including wildfires, urban sprawl and loss of prey.
Washington's ferruginous hawk population is continuing to slip. The state Fish and Wildlife Commission unanimously voted at a meeting in August to change the hawk's status from threatened to endangered, in an effort to stop the decline.
Multiple factors led to fewer fledgling hawks surviving in recent years, biologists said. The core breeding habitat surrounds southeastern Washington's Tri-Cities region, which reduces habitat in an ever-expanding urban sprawl. Fewer prey now roam across the landscape. Further, wildfires have consistently burned through important shrub steppe habitat.
"Our population is still at very low numbers and hasn't rebounded," said Gerald Hayes, a biologist with the Washington Department of Fish and Wildlife.
Ferruginous hawks were listed as threatened in Washington in 1983. To bring more attention to the plight of the hawk, the commission changed the hawk's status to endangered status.
The department reviews the status of the ferruginous hawks at least every five years. During surveys for this status review, biologists and volunteers monitored 230 nesting territories. Preliminary data shows 39 occupied nests. Of those, 28 nests had one or more young hawks survive. A total of 77 young hawks left the nest.
There has been a significant decline in ferruginous hawk breeding pairs since the mid-1990s, biologists said. They surveyed an average of 55 breeding pairs between 1992 and 1995. This year, surveyors found 32 breeding pairs, around a 42% decline.
Research from the 1920s indicates the hawks were once very plentiful in the Mid-Columbia region based on the number of nests found near Kiona in Benton County.
Ferruginous hawks migrate to different locations throughout the year, spending roughly one-third of their time in breeding areas such as the Mid-Columbia. Most of the hawks in Washington overwinter in California's Central Valley.
The birds are deemed a sensitive species in Oregon. Ferruginous hawks are more commonly spotted in northern Malheur County and along the foothills of the Blue Mountains.
For hawks in Washington, the lack of prey is a major concern. Ground squirrels and jackrabbits that live in the shrub steppe are facing the same threats as ferruginous hawks, Hayes said. Multiple ground squirrel and jackrabbit species also are candidates for Washington's endangered species list.
Commissioner Molly Linville, a former biologist with the U.S. Fish and Wildlife Service in Benton and Franklin counties, said anecdotally, she noticed as prey declined, so did ferruginous hawk nesting success.
"The white- and black-tail jackrabbits and Washington ground squirrel declined really rapidly as the Tri-Cities started to develop," Linville said.
Prey also has declined in the winter ranges of the hawks outside Washington.
The department might integrate habitat improvements that could help hawks and their prey, said Taylor Cotten, conservation assessment section manager with the department. The department is studying a multi-species model that could work to recover many species at once, he said.
"A lot of attention is specifically around the prey base and understanding what the threats are to the prey base and conservation for those species as well," Cotten said.
Another big problem for the hawks and their prey: wildfires.
Since 1995, wildfires have overlapped with ferruginous hawk nesting territory, Hayes said. That's especially true in recent years near the core breeding habitat.
"Many of these large, hot wildfires have resulted in the conversion of shrub steppe to monocultures of cheatgrass, with indirect effects on ferruginous hawks by both short- and long-term loss of prey species," Hayes said.
The department is also monitoring how the birds fare near wind and solar energy projects. The department is uncertain exactly how much renewable energy development is contributing to the decline of the hawks, Hayes said.
Commissioner Lorna Smith cited a 2016 study in the Journal of Wildlife Management that found increased renewable energy development had a negative effect on nest success, especially for ferruginous hawks.
"Wind turbines are a real potential issue," Smith said. "I don't know how large, but it is something of concern."
According to the department's draft report, wind turbines could strike the birds. Energy development also could fragment habitat or lead to changes in behavior of the hawks as they avoid renewable projects.
In addition, climate change could cause problems for the birds, according to the report. Increased droughts and wildfire occurrences could lead to fewer prey species for the ferruginous hawks to eat. Moreover, the effects of climate change could further fragment the shrub steppe habitat, according to the report.
Marie Neumiller, Inland Northwest Wildlife Council's executive director, said the conservation group was concerned about the multiple threats damaging Washington's shrub steppe habitat. She said cooperative efforts are needed to restore habitat that's hit on all sides with effects from wildfires, urban and energy development, and invasive species.
"Protecting species that depend on this habitat, like mule deer, sage grouse, and ferruginous hawks, is going to be a very delicate dance," Neumiller said.