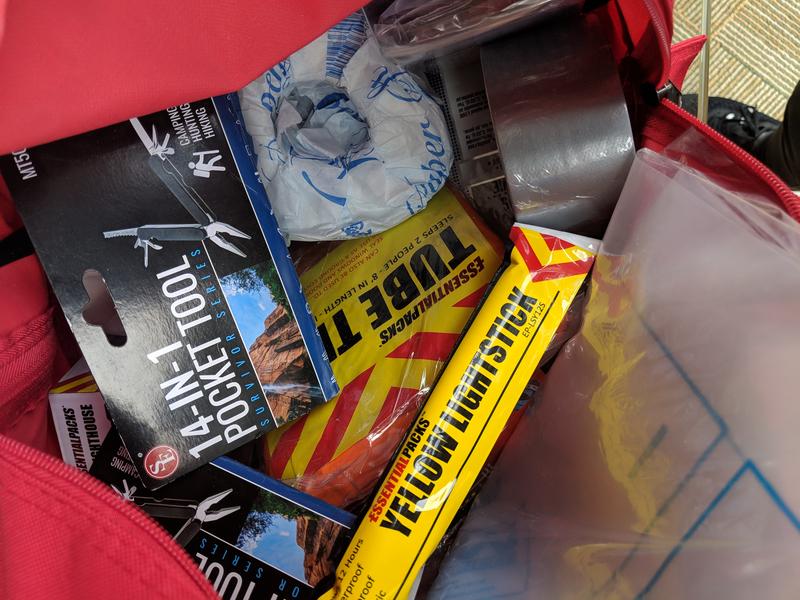 Are You 'Two Weeks Ready' For Post-Quake Survival? WA And OR Say You Should Be
For National Preparedness Month, NWPB is republishing this informative piece by Tom Banse orignally posted in 2018.
The state of Oregon has set an ambitious goal to prepare more families in earthquake country to be "two weeks ready" after a disaster. Washington's emergency management agency is also seeking more funding to prepare people in a similar way. 
In a newly released earthquake resilience plan, Oregon Gov. Kate Brown's office set a goal to have a 250,000 households prepared to be self-sufficient for two weeks. The task of reaching that goal by the year 2021 falls to Oregon's Office of Emergency Management, where Andrew Phelps is the director.
"We're really calling it almost our preparedness moonshot," Phelps said. "We don't know exactly how we're going to reach this goal of 250,000 households, but we know there is a benefit to doing this."
Phelps says incentives may come into play. Oregon, like Washington, will need to rally private and nonprofit partners, as well as local government, to help.
The standard advice for how much food, water, medicine and supplies to stash away in case of a Cascadia megaquake was raised a couple of years ago from 72 hours to two weeks' worth. A multistate earthquake response exercise called Cascadia Rising indicated it could take up to two weeks for help to reach some areas.
Phelps said the first task for the "two-week ready" project is to figure how many households are currently prepared to ride out a catastrophic earthquake and the immediate aftermath.
"If you look at anecdotal evidence and some surveys that the Red Cross and some other organizations have done, you see anywhere between 8 and 12 percent of households in this state are prepared," Phelps said in an interview Friday. "So that puts us well short of the 250,000 household goal that we have."
The misery on display this week in the Florida Panhandle as Hurricane Michael survivors scrounge for clean water, food, fuel and medical care underscores the challenge of getting broad slices of the population to take preparedness seriously.
"As an emergency manager, it's incredibly frustrating to see these events unfold when you know there are actions and steps people can take to be better prepared," Phelps said.
In its 2019-21 budget request to Gov. Jay Inslee and the state legislature, the Washington Military Department, which oversees the state's emergency management division, asked for $4.7 million in new funding to create "a robust, dynamic Catastrophic Preparedness Program." Part of the requested funding is proposed for a public outreach campaign to urge Washington residents to be prepared to be on their own for two weeks following a disaster. The agency also wants to develop a "longitudinal survey tool" to establish the baseline level of preparedness and then to measure the effectiveness of outreach activities.
Unlike Oregon, the Washington proposal does not specify a specific number of households to have ready by a certain date. The agency's updated strategic plan does set a target of hitting 30 community expos or preparedness fairs per year.
The budget request said the Northwest has a 25-40 percent chance of being shaken by a magnitude 8.0 earthquake from a partial rupture of the offshore Cascadia earthquake fault over the next 50 years. That statistic comes from research published by Oregon State University geologist Chris Goldfinger.